Mirage led wave of expanded casino floors, but cycle might be trending downward
December 27, 2013 - 9:44 pm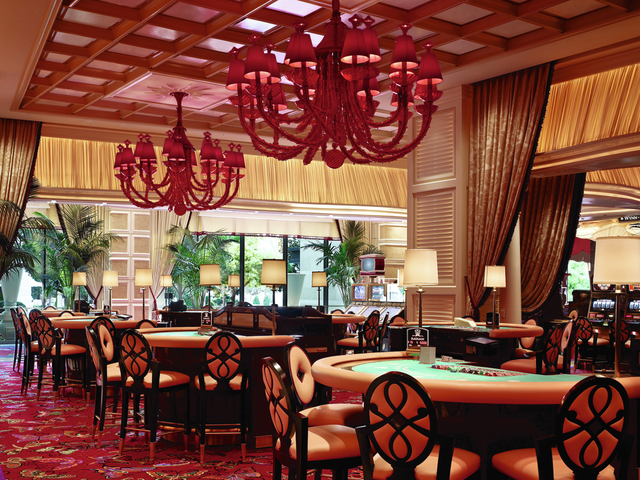 There are casinos, and then there are casinos.
Nevada has 265 licensed gaming floors statewide, but to see the man among boys, head over to Wynn Las Vegas and Encore, which state Gaming Control Board researchers classify as the state's largest casino space. The properties' gaming areas take up a combined 185,000 square feet — the same as 78 average-sized single-family homes, or 155 Subway sandwich shops.
OK, so the two megaresorts have separate casinos. They technically count as a single space, though, because they operate under one gaming license. If you think that's fudging a bit on ranking the biggest single casino expanse, then the place you want to check out is MGM Grand. There, you can walk in and see laid out before you a 171,500-square-foot gambling Xanadu. The floor is a bit smaller than your standard Wal-Mart Supercenter and just as expertly designed to part you and your money.
Nevada's casinos weren't always this huge, and in many parts of the state, they still aren't. The average casino statewide was 32,234 square feet in fiscal 2012, according to Gaming Control Board stats. Cactus Pete's, the big deal in the Northern Nevada pit stop of Jackpot, has 26,000 square feet of space. Hawthorne's El Capitan has 10,000 square feet.
Even the Strip's old-school casinos are more intimate than their younger counterparts. The Flamingo has 77,000 square feet, and the former Sahara had 85,000 square feet. The Tropicana's casino floor comes in at 50,000 square feet, and Bally's, which opened in 1973 as the MGM Grand, has 67,000 square feet.
But like pretty much everything else in "new" Vegas, developer Steve Wynn took things over the top. His Mirage, which kicked off the modern boom when it opened in 1989, has 100,000 square feet. MGM Grand followed in 1993 with its super-sized floor. Bellagio opened in 1998 with 116,000 square feet and The Venetian a year later with 120,000. CityCenter's Aria, the last hotel-casino designed during the boom, has a 150,000-square-foot floor. In fact, the average square footage of Nevada casinos soared 39.8 percent from fiscal 1990 to fiscal 2012, said Mike Lawton, the Gaming Control Board's senior research analyst.
As with any cycle, casino floor sizes might be coming full-circle.
The newest megaresort, The Cosmopolitan of Las Vegas, went 1980s-style with its 100,000-square-foot casino. That's just the start of a looming downward trend, said David Schwartz, director of UNLV's Center for Gaming Research. As slot machines go multidenominational, able to take pennies, nickels, quarters and dollars, casinos will need fewer of them, Schwartz said.
"The floors are definitely getting less crowded."

Celebrating the Silver State