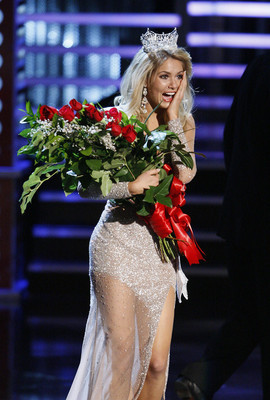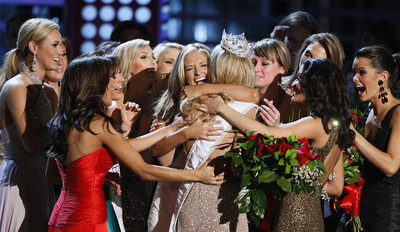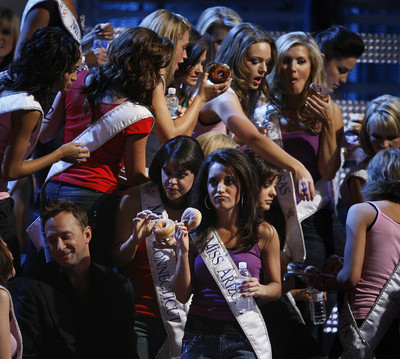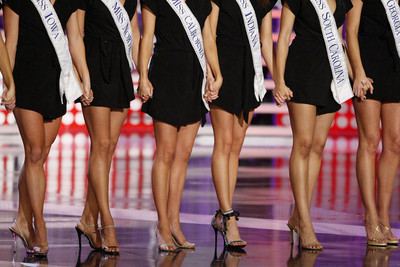 Miss Michigan Kirsten Haglund, 19, was crowned Miss America 2008 in a two-hour ceremony at Planet Hollywood Resort on Saturday night, marking what organizers hope is a new beginning for the 87-year-old pageant.
Haglund, a Broadway hopeful and the granddaughter of Miss Michigan 1944, beat out first runner-up Miss Indiana Nicole Elizabeth Rash for the crown, a $50,000 scholarship and one-year stint as spokeswoman for the organization.
From the moment contestants took the stage Saturday, it was obvious that this was no ordinary Miss America Pageant. Everything, from the music to the clothes worn by contestants, was hipper, trendier and more modern than ever.
Wearing blue jeans and spaghetti-strap tank tops, contestants strutted to techno-pop house music spun by a disc jockey on stage, then showed their personalities by poking fun at themselves during introductions.
"When you come here, your money stays here and we love that," Miss Nevada Caleche Manos said during her turn at the microphone.
Manos did not advance to be among the 16 finalists.
This year's buzz phrase was "the 'It Girl,'" a hipper version of Miss America that pageant organizers hope will serve as a role model to younger generations, giving them women to idolize other than troubled pop stars such as Lindsay Lohan and Britney Spears.
Throughout the pageant, which felt at times like an episode of "The Bachelor" or "American Idol," contestants talked about why they would make the perfect It Girl. In the end, judges chose Haglund, a music student at the University of Cincinnati, who sang "Somewhere Over the Rainbow" for the talent competition and who wore a black bikini during the swimsuit contest.
She also answered a question about whether people who have sexually transmitted diseases should disclose their status to their fiancé, citing honesty and integrity as important personal characteristics.
After the pageant, Haglund pledged to use her crown to bring awareness to her personal platform, eating disorders, adding that she had recovered from one during high school.
She also said she was the best choice to bring a new look and more attention to the Miss America Pageant, which has struggled to recapture an audience that has dwindled in recent years.
The show was aired on The Learning Channel for the first time, bringing in "Entertainment Tonight" reporter Mark Steines and Clinton Kelly of the network's popular show "What Not to Wear" to give the ceremony a hip feel.
During the elimination process, contestants' names were read and, instead of leaving the stage after being eliminated, they remained, watching from seats on stage. When Miss Utah Jill Stevens was eliminated, she jumped to the floor and cranked out a set of push-ups. Stevens was the only armed services veteran in the pageant, having served as a medic during a deployment to Afghanistan.
Kelly greeted the contestants who did not advance with plates of carbohydrates as consolation prizes: cream puffs and other pastries. He also discussed with them the merits of "butt glue" for keeping swimsuits from riding up during the swimsuit contest.
The pageant capped off a four-week reality show in which contestants were given makeovers, trendy hairstyles and attitude adjustments.
"I'm very happy to say I was the youngest contestant coming into it," Haglund said during a news conference after the competition. "This is what this program needs, someone young, someone relevant. I was in high school two years ago. … I feel in touch with what young girls are feeling."
ON THE WEB View the slideshow