MONTE CARLO FIRE FORCES OUT THOUSANDS
January 26, 2008 - 10:00 pm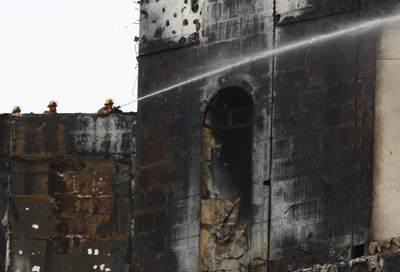 Columns of black smoke loomed over the Strip on Friday as flames burned atop the Monte Carlo, forcing thousands of people to evacuate and stirring memories of Las Vegas' darkest day.
The fire started just before 11 a.m. on the upper reaches of the 32-story hotel. Fueled by highly flammable construction foam, the flames quickly spread along the building's facade while firefighters standing on the roof and hanging out hotel room windows attacked them with water.
"It started with a little smoke, and I thought it was, like, kitchen smoke," said Angel Hernandez, who works at a nearby kiosk on the Strip. "The next thing I saw was the black smoke and I went, 'That's not the kitchen.' "
The plumes of smoke soon attracted hundreds of onlookers, who craned their necks and snapped pictures with camera phones from the crowded sidewalks on Las Vegas Boulevard. Meanwhile, news helicopters swirled overhead, capturing live footage of the growing conflagration that conjured images of the deadly MGM Grand fire in 1980 that killed 87 people.
Firefighters knocked down the flames by 12:15 p.m., but not before they had blackened a large swath of the building's exterior. At least 13 people were treated for smoke inhalation, but authorities reported no major injuries. Two people were transported to area hospitals because they didn't have their medications, and another because she'd fallen during the fire.
"It could have been very serious," Clark County Fire Chief Steve Smith said in commending his firefighters' aggressive attack against the blaze. "This is what we train for."
Investigators had not determined what started the fire, which was first reported by passing motorists, he said. Part of the investigation will focus on a report of welders working on the roof around the time the fire started, officials said.
Most of the fire damage was done to the building's exterior, although a handful of rooms suffered significant water damage, officials said.
Roughly 950 hotel employees and 5,000 guests were evacuated from the 3,000-room hotel and casino, which was at 97 percent occupancy, after the fire started. Monte Carlo officials ordered an "immediate evacuation," MGM Mirage spokesman Alan Feldman said in a statement.
However, many guests said the building had been burning for some time before they were told to leave by employees banging on doors or a public-address announcement. Others said they didn't wait to be told to evacuate.
British tourist Matthew Hepples, in Las Vegas for a wedding, said he approached a group of housekeepers in the hall after hearing a fire alarm announcement.
"I asked the cleaners what was happening," the 35-year-old said. "They said, 'Fire drill.' They didn't seem too concerned."
He got out anyway.
Inside the Monte Carlo poker room, the gambling didn't stop even after a casino floor television came on with live footage of the fire, said Rich Vetterl, a 53-year-old chemist from North Carolina.
"It was strange playing poker and watching the building burn," he said. "It was almost like being on the Titanic as it was going down. It was surreal."
After several minutes, the dealer at the table waved her arms, stopped play and told everybody to evacuate. The poker players calmly stood up and left, with many taking time to cash out their chips, he said.
Many hotel guests complained about the hotel's evacuation procedures. Several said they never heard an alarm, and some who heard it said it didn't convey any sense of urgency.
Maryland resident Steven Siegel, who was in his room on the 25th floor, said he heard several announcements over the public-address system saying hotel officials were seeking the alarm's source. The announcements continued for nearly half an hour, he said.
"It took them 20 minutes from the first alarm to say we should get out, but when I got out, three whole floors and half a wing were burning," he said. "I don't know why they didn't evacuate people earlier. It would have been nice if they'd said, 'For your own safety, please leave your hotel room.'"
Canadian tourist Robert Drzazga said he heard the alarms inside his 17th-floor room but didn't know the building was on fire until his wife, who had stepped outside the casino and saw the smoke, called him on his cell phone.
Drzazga said many people he spoke with decided, as he did, to flee after frantic phone calls from relatives who were either watching the fire on the news or from the street below.
"The announcement said, 'We're investigating the situation.' Meanwhile, we're getting phone calls that there are big chunks of plaster falling off the building that are on fire," he said.
Eric Wappel, a 23-year-old from Indiana, learned of the fire from his mother, who called him after seeing the flames from Interstate 15.
"I was panicking because I remember the MGM Grand fire and people jumping out the windows," said Debbie Wappel, 49. "And my sons were still in there."
Both sons got out safely.
Even some hotel employees, such as housekeeper Stella Ivanova, had no idea what was happening outside.
"I saw flaming material falling down," said the 38-year-old, who was cleaning windows on the eighth floor. "I didn't hear an alarm. I was lucky. … I heard on the radio there was a fire."
For Indiana resident Alexandra Solis, the hint to leave came with a security guard pounding on the door of her room about 11:15 a.m.
The guard hollered at Solis to get out, so she ran barefoot down 32 flights of stairs and met her friend and suite-mate, Christina Redden, in the lobby.
"We have no idea where we'll stay tonight," said Redden, in town to celebrate her 23rd birthday with her parents and Solis. "It's my first time in Las Vegas. We wanted to go out and we wanted to have a good time. Now, half the money we have to gamble could be up in flames."
MGM Mirage spokeswoman Yvette Monet said the company's hotels have a standard PA script for the initial phases of an emergency that asks guests to "please stand by" while hotel staff investigates. After the investigation, a second message gives either an all-clear or evacuation order.
"All of our guests were evacuated quickly and without incident," she said.
The fire chief said the delay in calling the evacuation wasn't necessarily improper.
For example, if an alarm was activated for a confined fire, hotel officials would rather people stay in their rooms so hallways would remain clear to allow firefighters to respond more quickly, Smith said.
"It's just control of the masses, mainly," he said.
Scores of evacuated hotel guests found themselves at the MGM Grand Garden Arena, wondering what they were going to do after being whisked away to the resort across the street.
"It's like being in the hurricane that hit Louisiana," 56-year-old Bill Armburstmacher from Michigan said, gesturing into the arena. "We have the dome here. We have the evacuees."
Hotel workers walked around passing out free potato chips, granola bars and water. Volunteers from the American Red Cross' Disaster Relief team helped guests who left medications in their rooms and those with minor injuries.
Many evacuees appeared dumbfounded by the sudden turn of events.
Glen Gomez awoke from his room on the 17th floor to the fire alarm announcement. Groggy, the 35-year-old sauntered over to the window, where he saw bits of papery ash falling to the ground. Then he looked up and saw a fiery inferno.
"I said, 'This place is on fire, guys!'" he said.
He ran to the hall and banged on his friends' doors. They didn't believe him at first.
The friends headed down the stairs. About 15 minutes later they heard the evacuation order over the public-address system.
Guests said most of the evacuation was orderly and calm, but some didn't appreciate being moved twice — first from the Monte Carlo to New York-New York, and then from New York-New York to the MGM Grand Garden Arena.
"I know it's an emergency, but there should have been some evacuation plan that was more organized than this," Redden said.
Monte Carlo guests were eventually booked into rooms at other company resorts, including the Signature Towers, MGM Grand, Mandalay Bay, The Mirage and Treasure Island. Company officials said Monte Carlo guests scheduled to check in over the weekend would have their reservations honored at other MGM Mirage properties.
County officials allowed MGM Mirage employees to begin escorting guests to their rooms to gather personal belongings shortly after 9 p.m. The company expected the process to continue through the night and into this morning, MGM Mirage spokesman Gordon Absher said.
Monte Carlo guests with rooms on floors 3 through 26 were being contacted in their new rooms. County inspectors had not cleared rooms on floors 27 through 32, and those rooms might not be accessible until later today, he said.
In a statement Friday evening, Monte Carlo President Anton Nikodemus said the resort's employees would receive pay, health and welfare benefits and toke and tip replacement for 30 days or until the hotel-casino reopens.
Nikodemus said the company wanted to ease the minds of workers.
Despite the harrowing day, many displaced guests, including Randie Siegel, who was staying on the 25th floor, said they would consider another stay at the Monte Carlo.
"Maybe we'd stay on a lower floor, though," she said.
Review-Journal staff writers Howard Stutz and Annette Wells, and View staff writer Fred Couzens, contributed to this report. Contact reporter Brian Haynes at bhaynes@reviewjournal.com or (702) 383-0281.
Multimedia Monte Carlo three-alarm fire video Displaced Monte Carlo guests moved to MGM View the slideshow AP Video • Send your photos of the Monte Carlo fire to the Review-Journal.