Mormon imposters convicted in Las Vegas attack and robbery
September 30, 2014 - 3:22 pm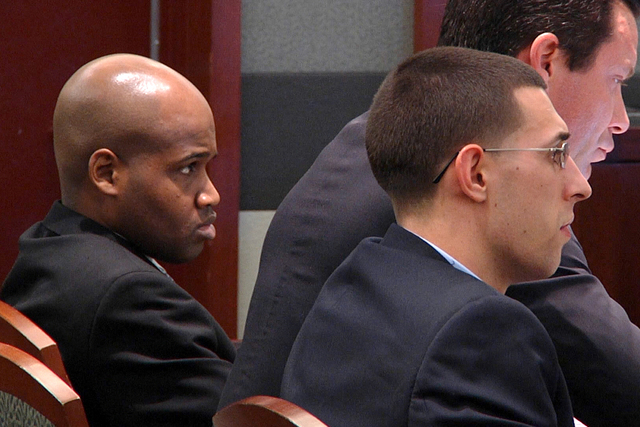 Two men who prosecutors said used the Mormon religion as a ruse for a Las Vegas robbery were found guilty Tuesday.
A Clark County jury took a day to convict Robert Estall and Abraham Austin of robbery with a deadly weapon, first-degree kidnapping with use of a deadly weapon, battery and other charges.
Prosecutors said the two men dressed in matching white collared shirts, black ties, black pants and black shoes and beat Terence Delucia while robbing him at gunpoint in June 2013.
"This jury told the community at large that it's an egregious crime to take advantage of the trust that the religion has established," prosecutor John Giordani said.
Estall and Austin, who defense lawyers said served in the Air Force together, had reportedly approached Delucia's front door, posing as missionaries who wanted to talk about religion.
Estall took the stand during the trial and denied being at Delucia's home the day of the robbery. Estall said he and Austin showed up to the house, near Flamingo and Buffalo, to buy marijuana three days before Delucia said he was attacked.
Giordani and prosecutor Michael Schwartzer said Estall's story didn't make sense. Delucia's wife and daughter also took the witness stand, describing the morning of June 27, 2013, when two men entered their home.
"These people could not be making that up," Giordani told the jury. "And if they did, they deserve Oscars. You heard them on the stand. They're not Oscar-worthy actors."
When the men first knocked on Delucia's front door, they told him they wanted to speak with him about Jesus and handed him a pamphlet, Delucia said.
He tried to turn them away, but when he attempted to shut the door, he felt Estall's arm around his neck. Then a hand covered Delucia's face as he called to his wife, Ida.
"Ida, it's happening again," Delucia yelled.
A year earlier, four men broke into Delucia's home and stole $30,000 and marijuana from him. They were never caught.
That's why he installed the cameras outside the front door that caught Estall and Austin walking through a gate.
Delucia's wife testified Tuesday that she and her daughter hid inside closets while the robbers asked "Where's the safe?" and "Where's the money?"
One of the men struck Delucia with a handgun on the right side of his head, causing him to bleed.
They led him to the garage and demanded marijuana before forcing him face down on the ground. They told him to start counting before they fled.
Last week, Estall testified that an acquaintance had given him Delucia's name.
Estall told jurors that he was "looking for quality marijuana at a reasonable price." The defendants did not intend to pose as Mormon missionaries, Estall told jurors, but instead had been instructed to wear business attire so they wouldn't arouse suspicion from neighbors.
"You know what? I believe him," Schwartzer said in closing arguments. "I believe he was there to buy quality marijuana for a reasonable price. But I think his reasonable price was free."
Estall's defense lawyer, Carl Arnold, argued that no blood or fingerprint evidence tied the defendants to the scene on the day Delucia said he was robbed.
"There's reasonable doubt all over the place," Arnold said.
Austin did not testify during the trial.
Delucia, who is not facing criminal charges, testified that about an ounce of marijuana and $3,000 cash was stolen during the robbery. Delucia has admitted to smoking pot, but said he only sold small quantities to friends.
"We continue to maintain that the witnesses were not credible and the evidence was weak," said Austin's attorney, David Fischer.
The case drew wide media attention when the robbers were captured on surveilance video outside the Delucia home dressed like evangelists.
After the verdicts were read Tuesday afternoon, Estall's family members left the courtroom sobbing.
District Judge Michelle Leavitt ordered Austin and Estall held without bail. The men face life in prison at a sentencing scheduled for December.
Contact reporter David Ferrara at dferrara@reviewjournal.com or 702-380-1039. Find him on Twitter: @randompoker.