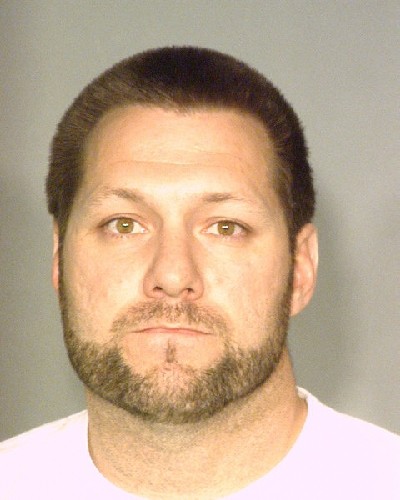 This wasn't exactly behavior befitting a gentleman.
Three members of the Gents motorcycle gang are facing an attempted murder charge after a dispute with a rival member nearly turned deadly.
Bradley Boudreau, 37, Jason Minkler, 36, and Lyle Harrold, 24, were booked at the Clark County jail after police said they attacked a rival member of the Gents last year.
According to their Las Vegas arrest report, the three suspects and a fourth man, Christopher Pella, waited in two separate vehicles for James Christian Steorts, a member of a rival faction of the Gents, to return home about 1:30 a.m. Aug. 8.
When Steorts drove his motorcycle into the neighborhood, he was confronted by the four men, and Boudreau pointed a gun at Steorts, the report said.
Steorts fled on the motorcycle and was chased by the men in a Ford Escape and a Hyundai Sante Fe, the report said. Steorts slowed his speed as he approached Flamingo Road and Tenaya Way, and Harrold, driving the Sante Fe, crashed into the back of the motorcycle, the report said.
Steorts was thrown from the motorcycle into the intersection, where the men proceeded to kick and punch him, the report said.
The men then took Steorts' leather jacket with his Gents insignia, the report said.
Minkler and Boudreau were arrested Thursday, jail records show.
Harrold was arrested in October.
In addition to the attempted murder charge, the three men face charges of battery, robbery and coercion.
Pella, the fourth suspect, was not listed in county jail records. It's unclear whether he was a suspect.
The police report said Steorts suffered minor injuries .