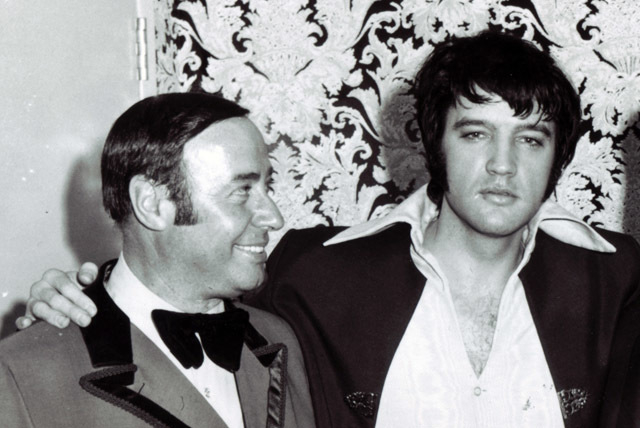 There was a time on the Strip that Emilio Muscelli was an essential man to know.
With a snap of his fingers he could get you an audience with the King, or a face-to-face meeting with the Chairman of the Board.
It was nice to meet the governor, but it was important to know Emilio Muscelli, the legendary Strip maitre d' during the golden age of entertainment on the Boulevard. Muscelli died in April at age 91.
Whether at the Sands with Sinatra or the Hilton with Elvis, Muscelli had the magic touch in Las Vegas at a time it relied more on human relationships and unwritten rules than something as stuffy as an employee manual.
With his heavy Italian accent and impeccable manners, Muscelli not only performed his duty for decades, but he did so in style. He did so without ever forgetting the opportunity he'd been given in America and Las Vegas.
I was proud to include him in my upcoming book, "Vegas Voices: Conversations with Great Las Vegas Characters," not merely because of his long and colorful life but also because of the perspective he brought to his experience. Although Emilio was old school in many ways, he never forgot the importance of education to his success.
He was more than a gracious fellow in a tuxedo. He was also a successful real estate investor who was especially proud of his family and friends, including the powerhouse local attorney Sam Lionel. The two played golf regularly until just a few weeks ago.
Emilio was born in Italy and served briefly in the Italian army in World War II before proudly switching to the American side. He continued to pick winners the rest of his life and credited his time in college for his success.
"Ever since I was young I understood the importance of education," Muscelli said. "Education is everything in life. It's so very important. I was at Roma University. I was educated. I learned that the most important thing if you're going to go anywhere over there is you have to be educated. … When I came to America, I had nothing, but I had my education."
He landed a job in New York washing dishes at the Copacabana, which was fronted on behalf of Murder Inc. by future Sands boss Jack Entratter. When Entratter moved to Las Vegas, Muscelli accompanied him.
"When they decided to open the Sands in Las Vegas, they said, 'You want to be the maitre d'?' Of course I did," he recalled. "… Everything was first class at the Sands. I was more than the maitre d'. I had to help set up the hotel. I was also put in charge of putting together the chefs. We brought a complete crew from France, all first class."
Through the years he collected friends from every corner of society. From "Jimmy Blue Eyes" Alo to Perry Como, everyone seemed to know Emilio at the Sands. And when Kirk Kerkorian opened the International, he was wise enough to hire Muscelli to run the showroom.
"I used to work 24 hours a day," he said, laughing at the memories. "But it was very fun. The girls were very beautiful. I tell you, this town was a lot of fun after 3 o'clock in the morning!
"For 30 years I had the best job in Las Vegas. I was the man who was between the big gamblers and the hotel. I helped make sure they were happy clients. Those happy clients were good for the hotel. And everybody who came to town knew Emilio."
Those lucky enough to know Emilio Muscelli will miss his distinctive voice now that he is gone.
John L. Smith's column appears Sunday, Tuesday, Wednesday, Thursday and Friday. Email him at jsmith@reviewjournal.com or call 702-383-0295.