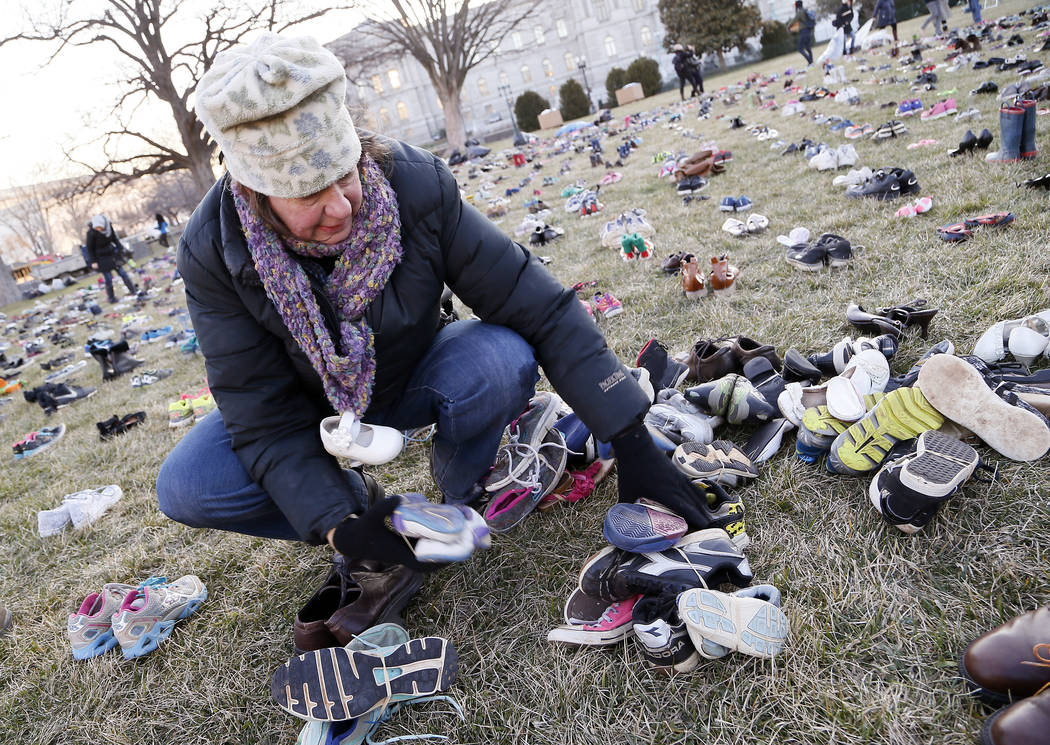 WASHINGTON — A stark reminder and memorial to the children's lives lost to gun violence was spread out on the U.S. Capitol lawn on Tuesday, a sight that prompted passersby and tourists to take photos of an unsettling scene.
An advocacy group, Avaaz, placed 7,000 pairs of children's shoes on the lawn — each pair representing the life of a child killed by gun violence since the horrifying Sandy Hook Elementary School shooting in 2012 in Connecticut.
Inside the Capitol, Rep. Rosa DeLauro, D-Conn., paid tribute the children whose lives have been lost since the mass shooting. She said open access to weapons is "giving power to trembling hands."
7,000 pairs of children's shoes in front of the U.S. Capitol in memory of those killed by gun violence since Sandy Hook shooting in 2012. @reviewjournal pic.twitter.com/s2duYhMQ09

— Gary Martin (@garymartindc) March 13, 2018
Several mass shootings have occurred since Sandy Hook, including the Oct. 1 tragedy in Las Vegas, a church shooting in Sutherland Springs, Texas, and another school shooting last month in Parkland, Florida.
Gun control advocates and students seized on the most recent school shooting to call on Congress to take up legislation to tighten background checks and restrict access to certain weapons.
President Donald Trump favored age limits on gun purchases and other restrictions immediately after the Florida shooting. But the president backed away from those proposals and instead outlined school safety measures this week favored by the National Rifle Association.
Contact Gary Martin at gmartin@reviewjournal.com or 202-662-7390. Follow @garymartindc on Twitter.