California mudslide victims range from age 3 to 89
January 12, 2018 - 2:09 am
Updated January 12, 2018 - 2:38 am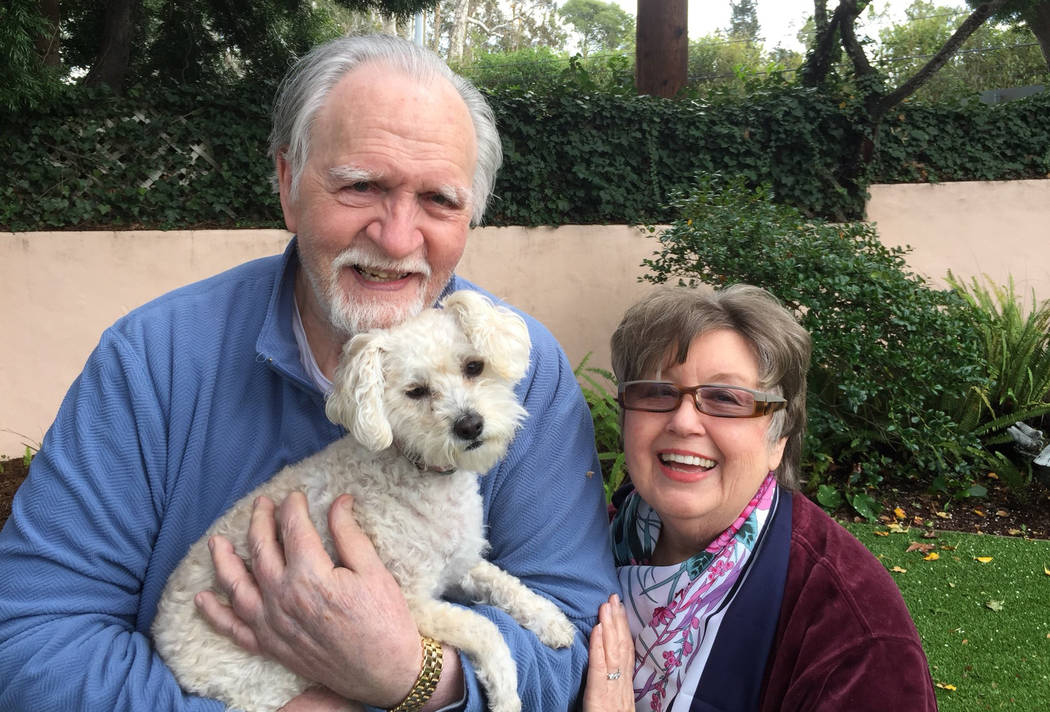 MONTECITO, Calif. — A victim of California's deadly mudslides had celebrated his 89th birthday just hours earlier, while another was a ballerina turned real estate agent known as "The First Lady of Luxury Real Estate" in parts of Montecito, an enclave for the wealthy and famous.
Survivors included a 14-year-old girl miraculously pulled muddy and dazed from a home collapsed by the flows that killed her father.
The number of missing has fluctuated wildly, due to shifting definitions, the inherent uncertainty that follows a natural disaster, and just plain human error.
On Thursday, the number provided by authorities went from 48, down to eight, then back up to 43. Officials say a clerical mistake led to the figure of eight being released.
The youngest victim, 3-year-old Kailly Benitez, was one of four children killed.
The other children killed were 6-year-old Peerawat Sutthithepn, 10-year-old Jonathan Benitez and 12-year-old Sawyer Corey.
As their names and those of 14 other victims were released Thursday, crews kept digging through the muck and rubble looking for more people.
"At this moment, we are still looking for live victims," Santa Barbara fire Capt. Gary Pitney said. But he confessed: "The likelihood is increasing that we'll be finding bodies, not survivors. You have to start accepting the reality of that."
As authorities looked for victims and residents took stock of the devastation Thursday, some were left to wonder how they survived when neighbors didn't.
Here are some of their stories:
Jim and Alice Mitchell had been married for more than 50 years and had just celebrated Jim's 89th birthday when they were swept away along with their beloved dog Gigi.
Jim, who worked in labor relations, and Alice, a schoolteacher, had raised their two children in Southern California's Orange County before moving to Montecito in 1995 after retiring.
"They're an adorable couple, and they were in love with their house," their daughter, Kelly Weimer, said Wednesday before learning they had died.
She last spoke to them Monday when she called to wish her father a happy birthday.
The couple had planned to stay in the night of the storm and have a quiet dinner. Their grandson had taken them out to celebrate the day before.
The Mitchells are survived by their two children, six grandchildren and two great-grandchildren.
___
Rebecca Riskin was the picture of success and health before she was killed.
Her firm, Riskin Partners, credited the former ballerina with having closed more than $2 billion in high-end real estate sales since founding the company in the early 1990s.
"She's leaving a huge void. She was exceptional," said Gina Conte, who described the 61-year-old Riskin as her best friend, mentor and confidante.
Conte said Riskin, who was the maid of honor at her wedding, took joy in pairing the perfect home with the perfect family and loved cooking, going for long walks and spending movie nights with her family.
Riskin was swept away after a mudslide tore through her living room, Conte said, adding that her husband survived because he was in bed in a part of the house that stayed intact. Her body was found Wednesday near a highway.
Riskin Partners spokeswoman Erin Lammers said Riskin was a member of the American Ballet Theater in New York before an injury cut short her dancing career. She returned to her hometown of Los Angeles in 1979, where she began selling high-end real estate on the city's west side. She moved to Montecito in the early 1990s.
Riskin is survived by her husband, two grown children and a grandson.
___
Lauren Cantin, 14, became the face of survival when rescuers pulled the mud-covered girl from her flattened home earlier this week. Authorities said her 49-year-old father, David, died and her 16-year-old brother, Jack, is missing.
NeoTract, a maker of devices used in the medical field of urology, launched a fundraising page Wednesday, asking for financial support for the family of Cantin's mother, Kim, a marketing executive for the company.
In its first hours, it far surpassed its goal of $20,000.
It took firefighters hours to dig Lauren out of the mud that destroyed her home.
"I thought I was dead for a minute," she told them before an ambulance took her away.
___
Dr. Mark Montgomery and his 22-year-old daughter, Caroline, were among those killed in the disaster.
Mark Montgomery was a member of the Santa Barbara College Hospital medical staff. Hospital spokeswoman Maria Zarte says Montgomery was an orthopedic surgeon with a subspecialty in hand surgery.
The 54-year-old graduated from Princeton University and Columbia University Medical School.
No information was immediately available about his daughter.
___
The hammering rain was terrifying enough, but when David Weinert saw the house across the street erupt in flames fueled by a severed gas line, he knew it was time to abandon his Montecito home.
"Load up the car, get the dogs, we're out of here," the 58-year-old shopping center developer says he told his wife.
Unfortunately, there was no place to go. A police officer told him mudslides had already blocked all the roads out of town.
After driving for a few minutes, he realized the officer was right and went home. There he saw mudslides enveloping his street.
"The winds were just crazy. Trees were cracking. It was scary all right," he said Thursday.
Weinert's house was somehow spared but one of his neighbors, Riskin, was swept to her death.
___
Josephine "Josie" Gower, who also died in the Montecito mudslides, was celebrated by family as a woman who loved and embraced life for each one of her 69 years.
"I have never met anyone quite like her and never will again," her daughter-in-law Sarah Gower wrote on Facebook after authorities confirmed Gower was one of 17 people killed by mudslides. "She was the life of the party, always, and loved us all so fiercely. She lived for her kids and for our kids."
Gower's own Facebook page reveals a blonde with a playful love of life. One photo shows her dressed as a mermaid by a pool while others show her riding horses and cuddling with her cats.
"A bundle of fun," her daughter-in-law said. "She was just simply the most loving, cheerful, beautiful, strong, independent force. We will miss her so."
She is survived by two adult children and three grandchildren.
___
With time running out to find any victims alive, attorney Trevor Quirk and a handful of friends donned chest-high waders, grabbed shovels and chain saws and canvassed mud-saturated streets looking for survivors.
They failed to find any Wednesday, the 41-year-old married father of three said, but didn't find any bodies either, which provided him some solace.
"You're walking around in waist-deep soup," he said of the grueling undertaking. "It's very thick mud and you're just poking around. You could be stepping on a body and not even know it. … It's almost like being blindfolded and poking around in the dark."
The next day, the attorney from nearby Ojai turned his efforts to helping at a relief center, leaving it to authorities to search.
"At this moment we are still looking for live victims," Santa Barbara Fire Capt. Gary Pitney said Thursday. But he added that "the likelihood is increasing that we'll be finding bodies, not survivors."
___
For a time during the deadly storm, 81-year-old Paula McDonald was one of the missing, without electricity or cellphone service and unable to reach her children to say she was all right.
McDonald was still at home in a retirement community Thursday, adding there was no point in leaving now because she needs oxygen that is hard to transport to a hotel.
She took a look around outside to see just what the driving rainstorm had wrought as it triggered mudslides on hillsides laid bare by a massive wildfire last month.
"It's just incredible. Seeing pictures doesn't do it justice," she said of the downed trees, flattened houses and muddy streets. "I thought the fires were the worst things I'd seen in my life."
___
One of the oldest victims was Roy Rohta, revered founder of a private Catholic school in nearby Ventura.
The 84-year-old former real estate broker had fled his Montecito home just last month when it came under threat from the wildfire. He died at that home, authorities confirmed Thursday.
"Roy believed intensely in the power of a Catholic education," St. Augustine Headmaster Michael Van Hecke, told The Associated Press earlier this week. "He's been a deep supporter of the school in every way and a mentor to me personally, to the faculty and to the kids."
Officials of the K-12 school Rohter founded in 1994 said his wife was injured in the mudslide but survived.
"Pray also for his wife, Theresa, the gentle giant of charity and grace, and for his children and grandchildren," the school said in a statement.