Death Valley heat hit a new record in June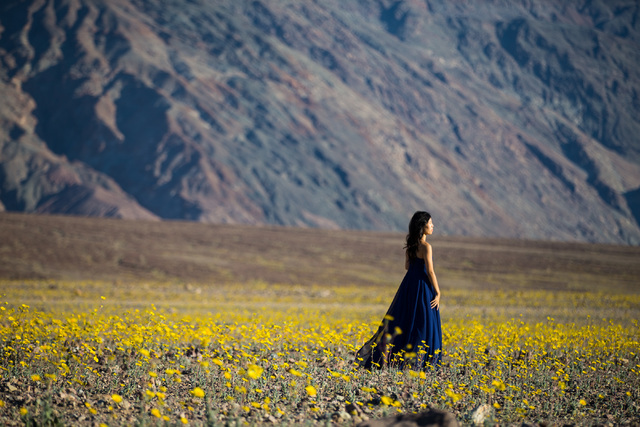 Death Valley is hot. That's not exactly breaking news.
But the level of heat seen last month in the world's warmest place was enough to make even the people who live and work there take notice.
The national park 100 miles west of Las Vegas just wrapped up its hottest June in more than a century of recordkeeping, with an average temperature of 101.9 degrees.
And that's the average for the month, not the average daily high, which clocked in at 115.5 degrees in June.
"We're not even in the hottest part of the summer yet," said Death Valley National Park Superintendent Mike Reynolds in a written statement. "Who knows what July and August will bring."
Last month's record heat included a long stretch on June 21 when the temperature never fell below 101.
The new mark of 101.9 tops the previous record of 101.3 set in June 2013 at the park's official weather station in Furnace Creek, California. The average temperature for a typical June in Death Valley is 95.5.
According to the National Weather Service, Las Vegas also just sweated through its hottest June on record, with an average temperature of 92.8, nearly a full degree warmer than the previous mark of 91.9 set last year. That broke a record of 91.5 degrees from June 2013.
Four of the five warmest Junes on record for Las Vegas have come since 2006, and the three warmest have all been recorded since 2013, according to the weather service.
Death Valley holds the record for highest officially recorded temperature on the planet: 134 degrees on July 10, 1913.
In a typical year, the park experiences about 140 days of triple-digit temperatures, including 89 days at 110 degrees or hotter, 18 days above 120 and three days above 125.
Death Valley has already hit a daily high of at least 120 eight times in 2016.
A park visitor died in the above-average heat early last month, prompting a warning from the Park Service about travel in remote areas in extreme weather.
"A few weeks ago a German motorcycle rider died on the unpaved Harry Wade Road," Reynolds said. "If he had been on a well-travelled road, other park visitors would have seen him and taken him into their car to cool off. That probably would have saved his life."
The punishing heat doesn't curb visitation the way you might think, Reynolds said. "August is the park's third busiest month, behind only March and April. Many of these visitors are from other countries and they come here to experience our world-famous extreme temperatures."
Some of those visitors got more than they bargained for on Friday, when a thunderstorm knocked out power — and, more importantly, the air conditioning — for 38 hours as temperatures soared to 115.
The outage forced many hotel guests and park residents to flee the park in search of climate-controlled comfort in the nearby Nevada towns of Beatty, Pahrump and Amargosa Valley, some with the assistance of Nye County's Emergency Management Team and the American Red Cross.
Contact Henry Brean at hbrean@reviewjournal.com or 702-383-0350. Find @RefriedBrean on Twitter.
RELATED
Catch 'superbloom' of wildflowers at Death Valley — PHOTOS