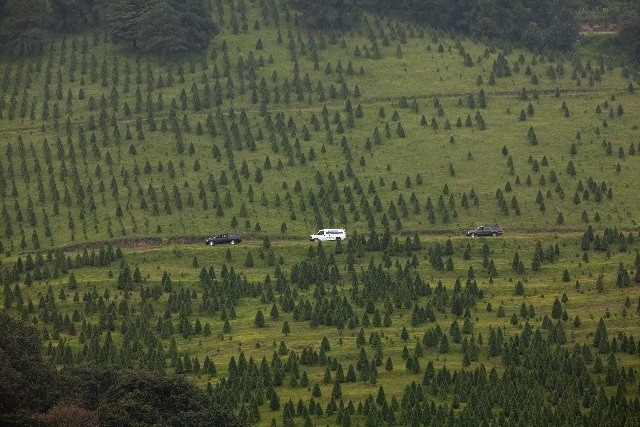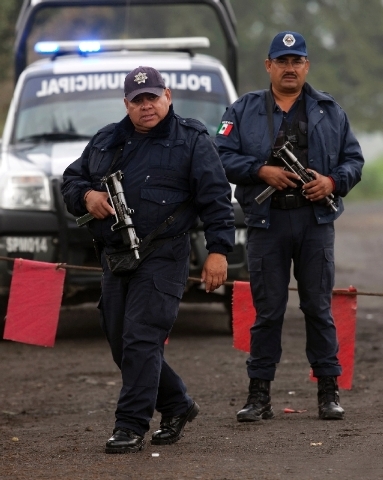 TLALMANALCO, Mexico — The bodies were headless and covered in lime and asbestos, hidden under a thick concrete slab — young men and women not seen since they went out partying in an upscale area of Mexico's capital nearly three months ago.
As the families of 12 missing youths settled in Saturday for an anguished wait for DNA identification, they and others said this past week's gruesome discovery at a muddy mass grave in the countryside east of Mexico City was bitter vindication for those who have said all along that the city's top law-enforcement officials downplayed the disappearances and were at best incompetent in trying to find their loved ones.
The bodies were only found once federal investigators stepped in — after waiting impatiently for local police to make progress.
The kidnappings and slayings have revealed a gangland battle for control of the lucrative drug trade in the poshest bars and nightclubs of a megalopolis that had been an oasis of calm during Mexico's nearly seven-year drug war. The head of Mexico City's police on Saturday deployed more officers and a helicopter to some of the city's upscale districts along with the rough neighborhood of Tepito where most of the victims lived, fearing retaliatory attacks.
A federal official who helped discover the bodies said that they were found separately from their heads in what could be a frightening echo of the brutal mutilations of drug cartel victims in other parts of Mexico. The official spoke on condition of anonymity because he was not authorized to discuss the investigation.
"Mexico City is not a bubble. If we don't put a stop to it, we're going to fall into a serious security problem," said Miguel Amelio Gomez, a security consultant and former investigative police chief for Mexico City's attorney general.
The kidnapping occurred three months ago midday on a sunny Sunday in an upscale district in the heart of Mexico City. Five cars pulled up outside the after-hours club known as Heaven, a block from federal police administrative offices and the U.S. Embassy. Eight men and four women who had been partying all night left and climbed inside, grainy surveillance video shows. Then they vanished.
Mexico City police said they were working on the case. But after more than two months of little progress, federal investigators were brought in. They discovered 13 bodies, apparently the 12 young victims and an unidentified person, on Aug. 16 on a ranch 35 miles from where they disappeared. Tattoos and dental work identified at least five of the victims from the Heaven club. Work to identify the rest continued Saturday, and families pleaded for the remains to also be examined by forensic experts abroad, arguing they can't trust their country's investigators.
Relatives of the 12 expressed grief, frustration and mistrust at the dis­covery. And they accused Mexico City's law-enforcement authorities of moving slowly on the sensitive investigation, perhaps because they were afraid of what it might reveal.
"It's all really confusing to us," Beatriz Loza, the aunt of victim Monserrat Loza, said Saturday. "The investigation failed. I can't believe that three months have passed."
Four current and former law-enforcement officials said the massacre appears to have been orchestrated by a wealthy and powerful drug gang as revenge and a warning to a group of poorer interlopers trying to seize territory in some of the city's trendiest neighborhoods. The officials spoke on condition of anonymity because they were not authorized to reveal details of the investigation.
With about 100,000 police officers in the capital, Mexico's largest cartels have little public presence here. The retail drug business is booming, however, and local drug gangs collectively make $100 million to $200 million a day selling drugs, said Gomez, the former district attorney's investigative chief.
Investigators said they think dealers from the poor eastern neighborhood of Tepito have been trying to move in on the Union of Insurgentes, a gang that's named after the city's prosperous main north-south thoroughfare and controls sales in virtually all of the nightspots in the wealthiest parts of the city. The gang in control hires women as spies to flirt with potential rivals looking to sell drugs on their territory, and valets are used as lookouts, Gomez said. Corrupt police with annual salaries of less than $10,000 are paid to turn a blind eye.
Two owners of the Heaven bar, Mario Ledezma and Ernesto Espinosa Lobo, have been arrested. Some of the witnesses have testified that both were working with the Union of Insurgentes, according to an investigative document written by Mexico City prosecutors .
Ledezma claimed in a statement to authorities that he was threatened by armed men from the gang who informed him that they were going to sell drugs in his bars — and kill him if he objected.
Ledezma said they told him if they ever saw other people dealing in the bars they had claimed as territory, those rivals would disappear.
Of the 12 victims, at least some had family ties to a Tepito gang.