I-15 north reopens, but uncertainty hangs heavy as Blue Cut wildfire grows
August 17, 2016 - 10:39 pm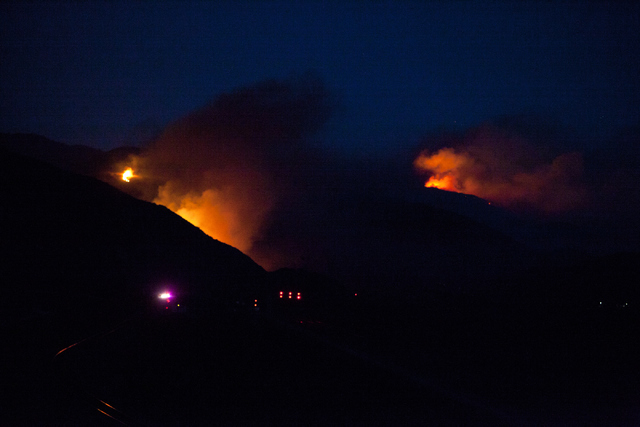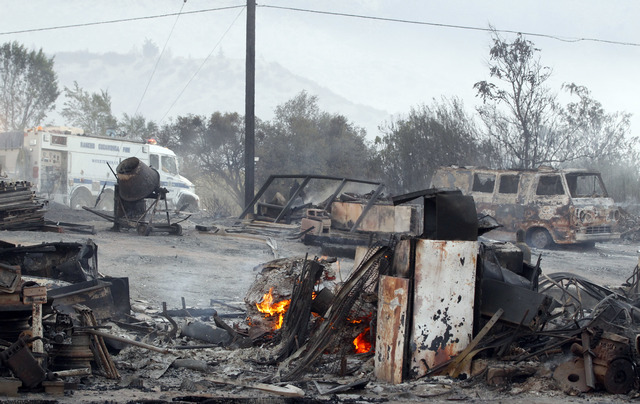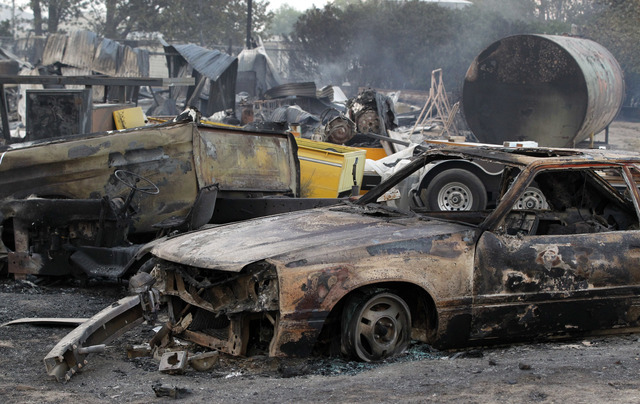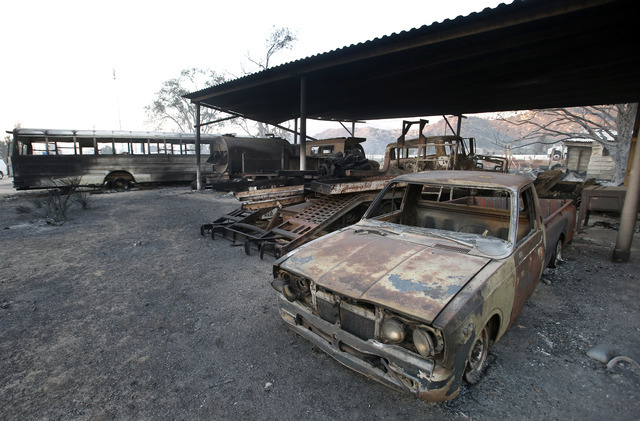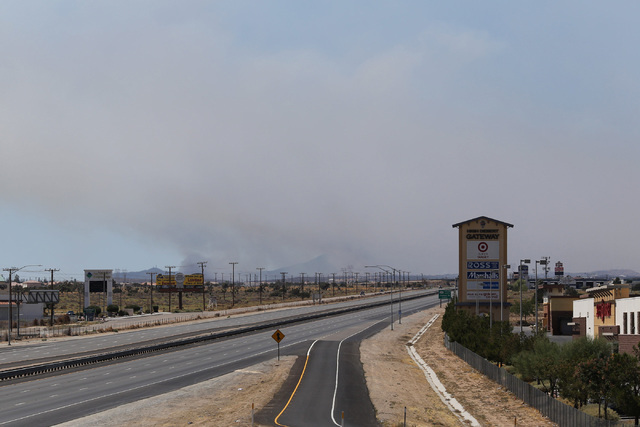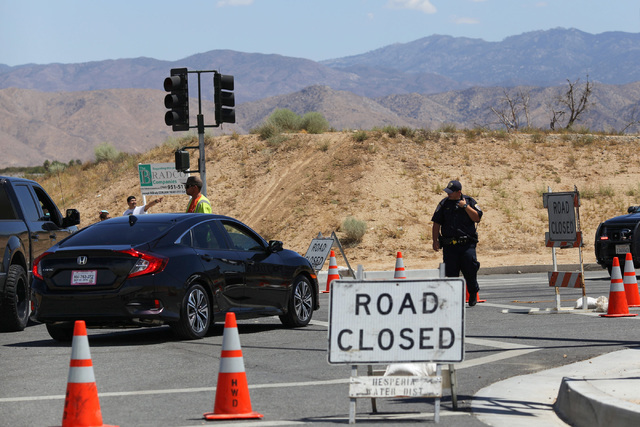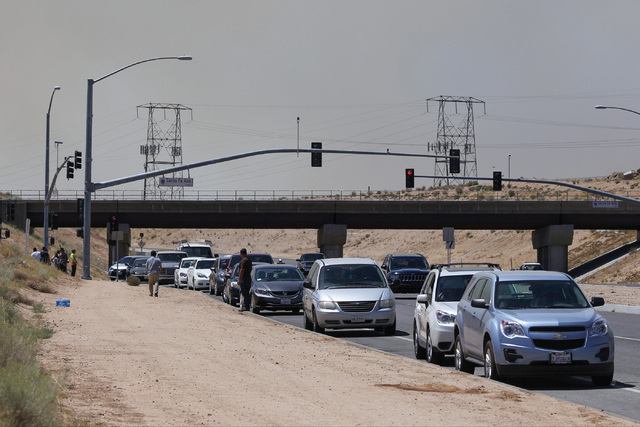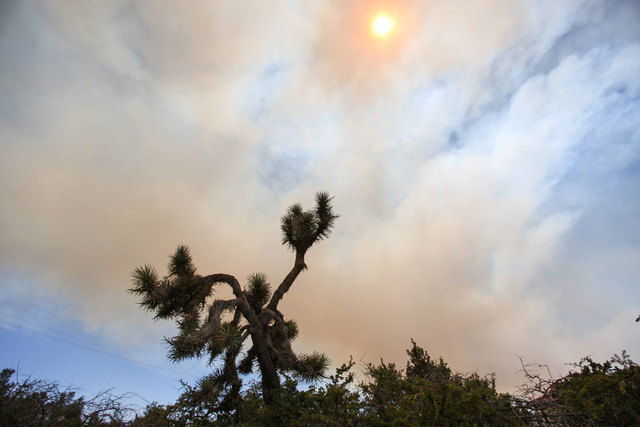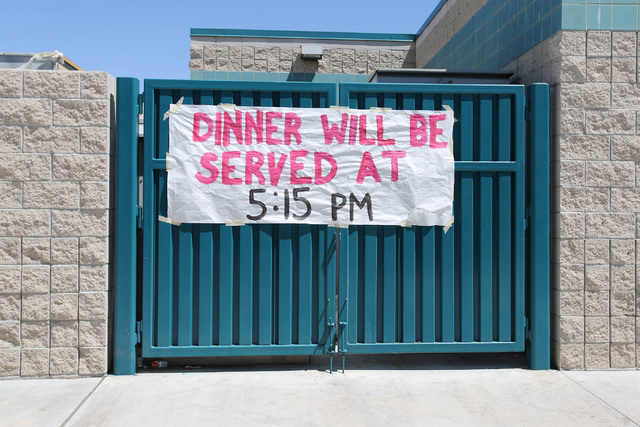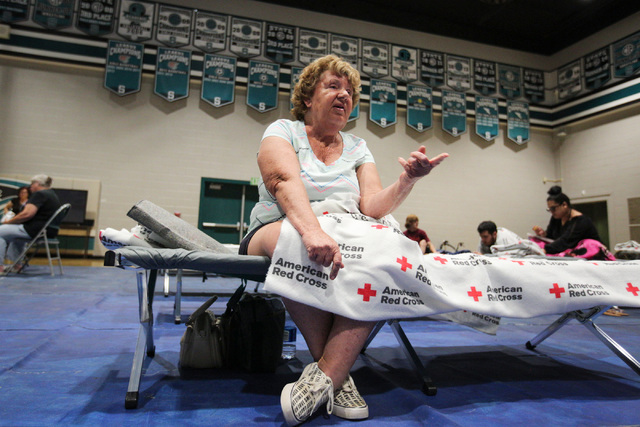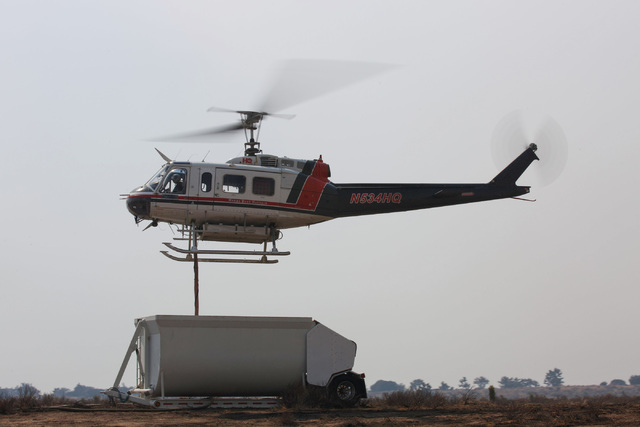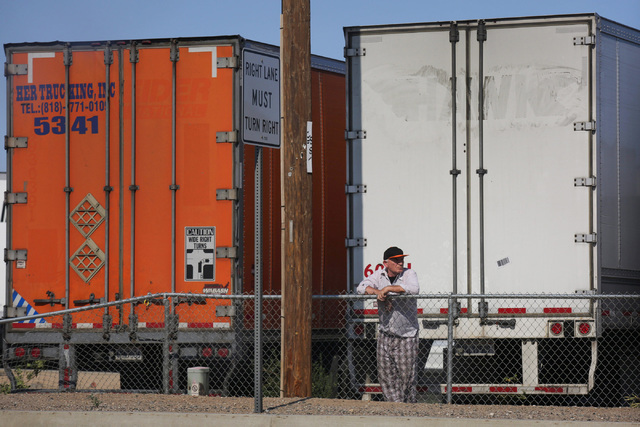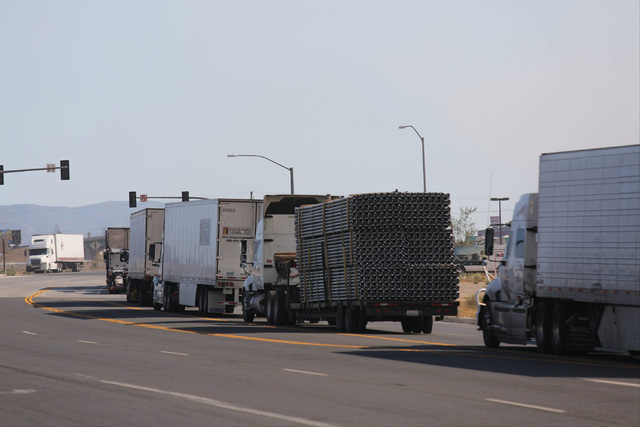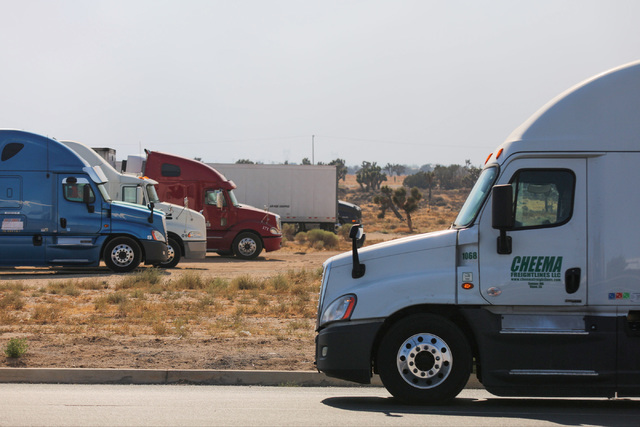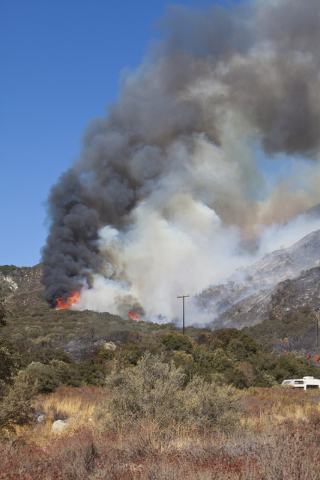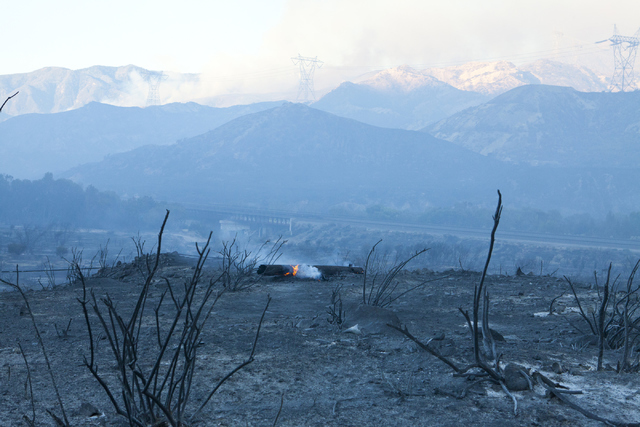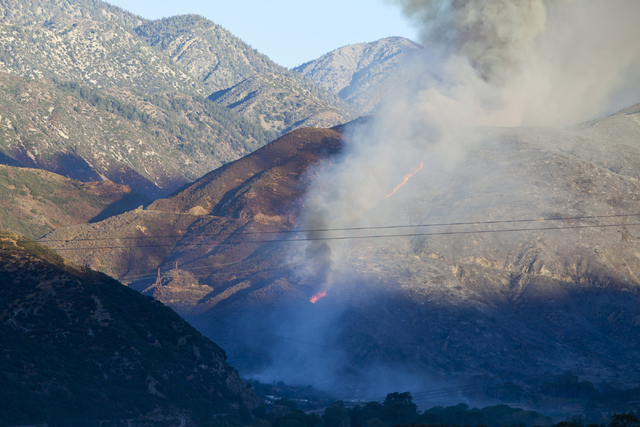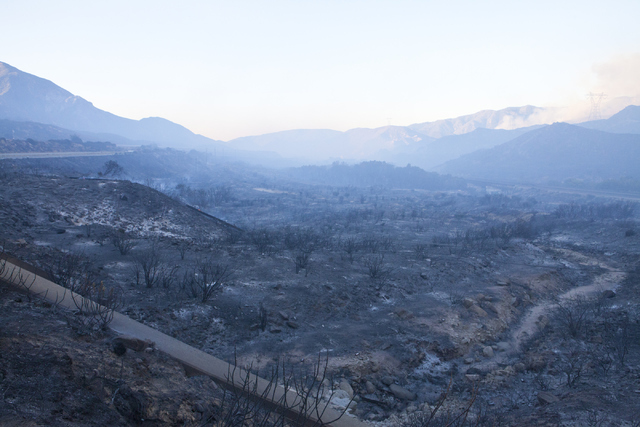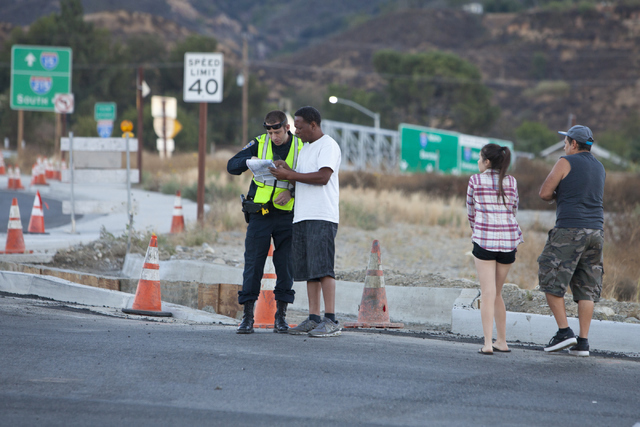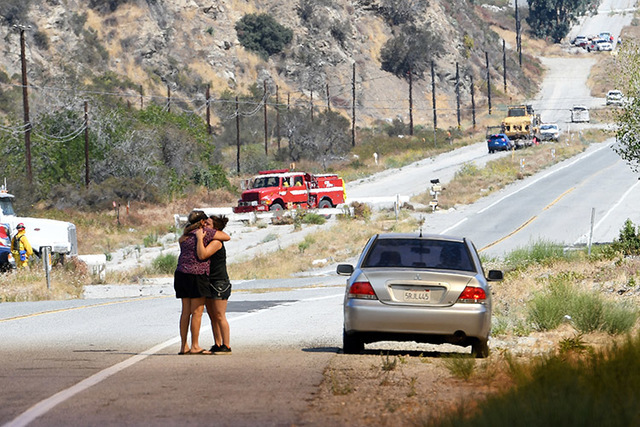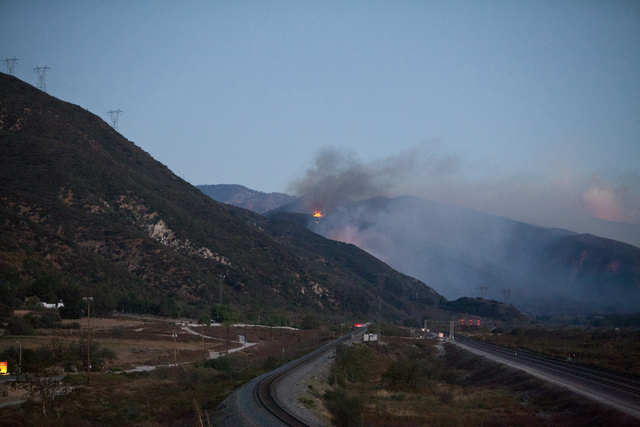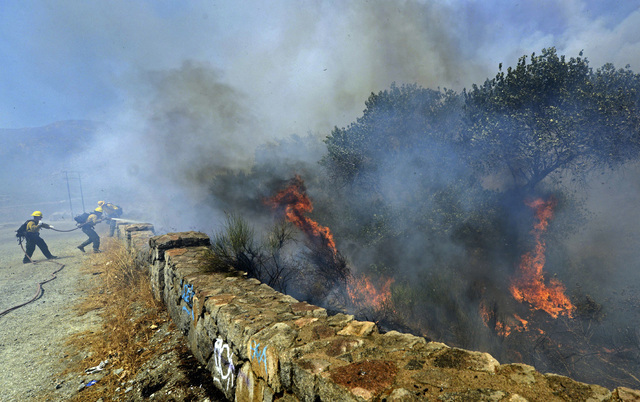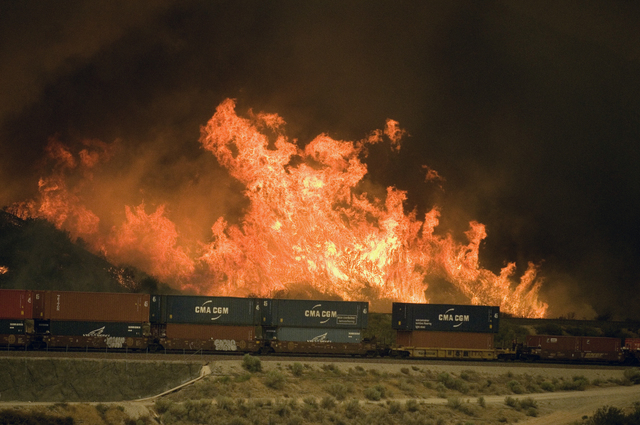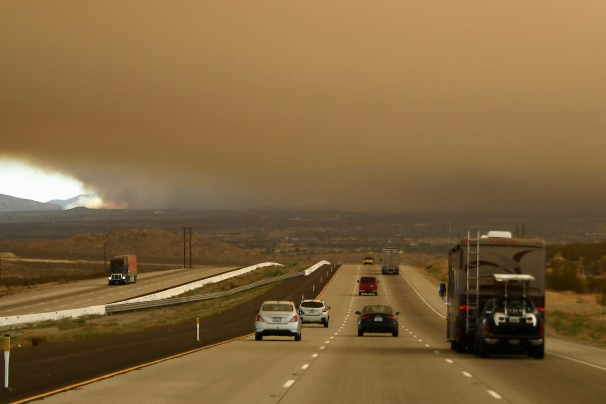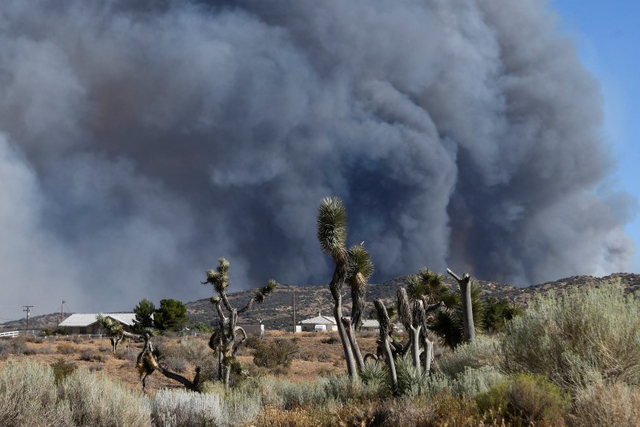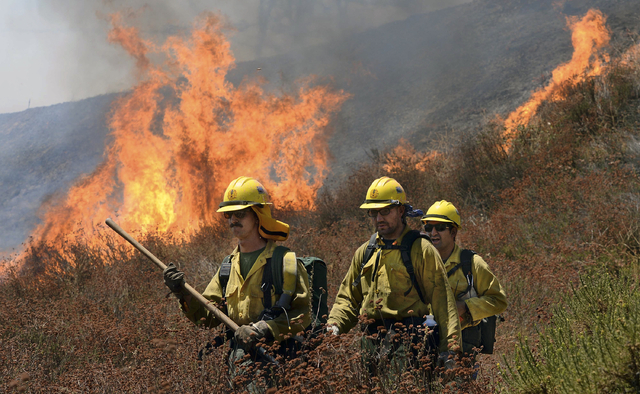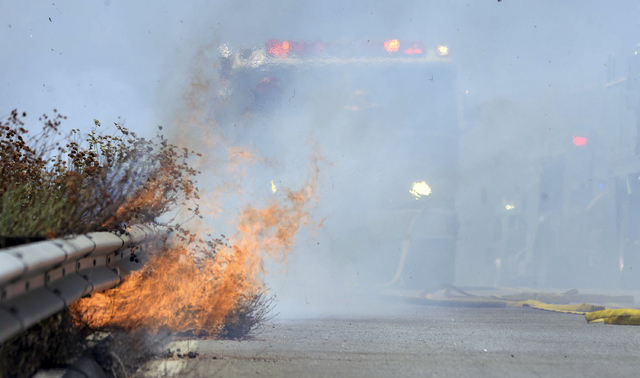 HESPERIA, Calif. — Uncertainty hung over this dry desert city on the northeastern flank of California's massive Blue Cut wildfire late Wednesday, as weary evacuees in a crammed emergency shelter and sold-out hotels awaited news about their homes in the blazing canyon beyond.
By Wednesday afternoon, authorities still could not say how many houses had been destroyed by the fast-moving wildfire, but they prepared communities along Interstate 15 through Cajon Pass for bad news.
"There will be a lot of families that come home to nothing," San Bernardino County Fire Chief Mark Hartwig said after a Wednesday morning flight over a scene he described as "devastating."
The wildfire 225 miles southwest of Las Vegas broke out at about 10:30 a.m. Tuesday and grew, forcing the closure of Interstate 15 in Cajon Pass, just west of Hesperia. The northbound lanes of the critical transportation artery connecting Southern California with Southern Nevada were reopened late Wednesday, but the southbound lanes remained closed until further notice.
By Wednesday evening the wind-whipped blaze had scorched more than 25,000 acres as it fed on drought-stricken vegetation and an untold number of structures. State fire officials said the fire was only 4 percent contained.
"It hit hard. It hit fast. It hit with an intensity that we hadn't seen before," Hartwig said.
The fire continued to climb the flanks of the San Gabriel Mountains toward the town of Wrightwood, where authorities said that only half of the community's 4,500 residents had complied with evacuation orders covering a total of more than 34,000 homes and some 82,000 people. No deaths were reported, but cadaver dogs were being used to search ruins for anyone who might have been overrun by the flames.
AT THE SHELTER
About 140 people spent Tuesday night on cots in the gym at Sultana High School in Hesperia. American Red Cross volunteers and others from the community provided food, comfort and aid to the evacuees.
Georgia Duncan, spokeswoman for the Red Cross in San Bernardino County, said capacity at the shelter is a little more than 200 people, so preparations were being made for a second shelter at the county fairgrounds in nearby Victorville, next to the evacuation area for people's horses, llamas and other large animals.
West Hesperia resident Pauline Burridge said she first noticed the smoke out her window late Tuesday morning. A short time later, the retiree got a call from the recorded voice telling her to evacuate, so she left with nothing but her medication, some important papers and a few of her late husband's prize wood carvings.
"All I could see from my place was just black smoke. It was just black," she said as she sat on the edge of her cot in the high school gym.
Burridge's son, Dean, arrived at the evacuation shelter Wednesday afternoon from Huntington Beach, California, after a four-hour drive that usually takes a little over 60 minutes.
He said this is the second or third time in the past 25 years that a fire funneled by Cajon Pass has forced his mother from her home, though her house has never burned. "The whole area is prime for it to just come on up," he said.
The speed of the fire astonished those in its path.
"This moved so fast," said Darren Dalton, 51, who had to flee his house in Wrightwood with his wife and son. "It went from 'Have you heard there's a fire?' to 'mandatory evacuation' before you could take it all in."
Hundreds of cars packed with residents and their belongings and animals streamed out of the town.
Shannon Anderson of Blue Mountain Farms horse ranch in Phelan had to evacuate 40 horses as the fire approached. "It's raining ash," Anderson said, still breathing hard.
Six firefighters were briefly trapped by flames at a home where the occupants had refused to leave, forcing the crew to protect the house, fire officials said.
Eric Sherwin of the San Bernardino County Fire Department said the flames had burned at least a dozen buildings, some of them homes. He said he had seen all kinds of things burn, including the Summit Inn, a historic diner along I-15 where Elvis Presley once dined.
California Gov. Jerry Brown declared a state of emergency in the area within hours of the fire breaking out, a move that usually comes after a blaze has caused several days of destruction.
DETOURED AND DISPLACED
Hesperia resident Mark Yamada stopped at a blocked road early Wednesday afternoon to ask a police officer for the latest on the fire.
He had his four children in the car and was headed the long way to suburban Los Angeles — more than three hours of driving instead of the usual one — to drop them at their grandparents' house.
Just in case, he had also brought along family photos on a computer hard drive and all the paperwork for his home about a half-mile north of the evacuation zone.
"What are you going to do, bring the whole house?" he said.
His wife wasn't with them. She had spent the night at a friend's house at the opposite end of the burning canyon because she couldn't get home from her nursing job in Rancho Cucamonga.
Yamada said there was no easy way to reach her, with most of the roads between them either closed or clogged with traffic trying to get around the growing blaze.
By late afternoon, the northwestern horizon in Hesperia was shrouded by a towering wall of smoke. The sun sinking behind it became an orange ball that cast faded blue shadows on the ground. Bits of ash drifted from the sky like tiny snowflakes.
In a field across from Fire Station 305, just north of I-15 in Hesperia, a pair of whirling helicopters took turns dipping into a hydrant-fed water tank before circling back to the fire line.
At a Pilot truck stop just down the road, firefighters in dirty turn-out gear from several different Southern California communities loaded bottled water and ice.
Outside, dozens of tractor-trailers crowded into every available space and lined both sides of the road, waiting for the interstate to reopen.
Fort Worth, Texas, trucker Lance Mordi said he was forced off the closed interstate with his load of L.A.-bound peppers at about 5 p.m. Tuesday. Two hours later, he had to move his truck a few miles east to get away from the advancing flames.
The word around the truck stop was that I-15 might open again on Thursday. He said he hoped his peppers would survive until then, adding, "They're going to have to."
Dallas-based trucker Ted Loeuk's trip from Golden, Colorado, to City of Industry in California also was interrupted at about 11 p.m. Tuesday.
A few people suggested some winding detours around the mess, but Loeuk decided to stay put because he didn't want to burn up his fuel or get stuck on a road too small for his truck.
"I think the Pilot had something to do with it," Loeuk joked as he looked out toward where the fire was burning, "They wanted the business."
The Associated Press contributed to this report.
Contact Henry Brean at hbrean@reviewjournal.com or 702-383-0350. Find @RefriedBrean on Twitter.
RELATED
Here's how to travel between Las Vegas and LA to get around SoCal fire
Sections of I-15 closed as more than 82,000 people flee Southern California wildfire