Paul Manafort financial fraud case goes to jury
Updated August 15, 2018 - 7:39 pm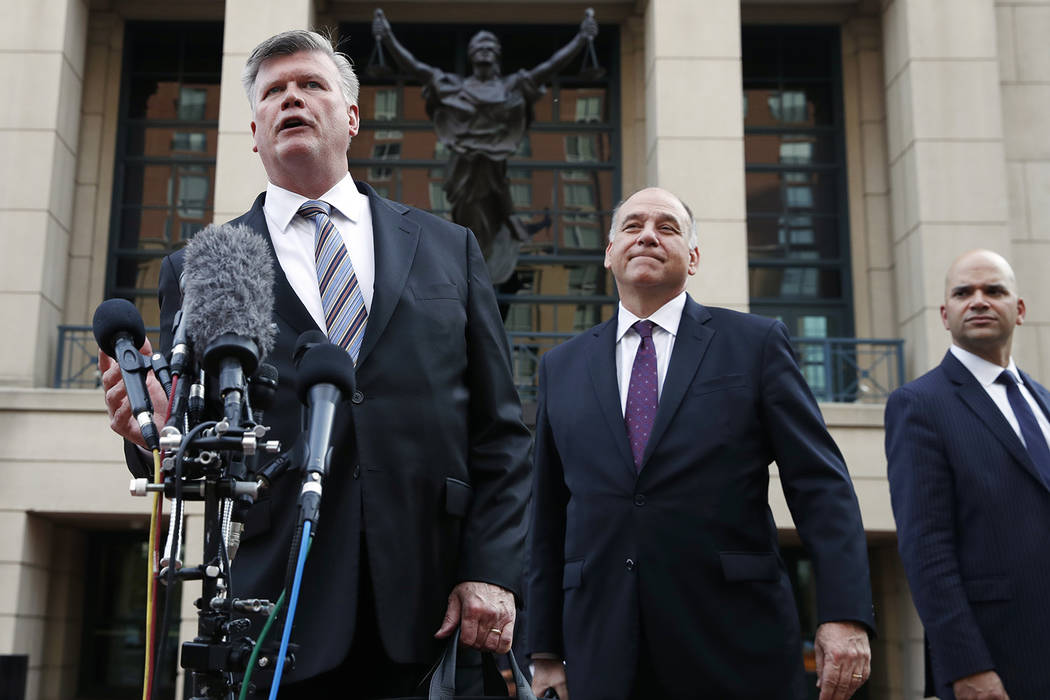 ALEXANDRIA, Va. — Jurors will start deliberating the fate of former Trump campaign chairman Paul Manafort on Thursday, a day after the prosecution and defense delivered their closing arguments in the first case brought to trial by special counsel Robert Mueller.
While Mueller's investigation began as a probe into Russian interference in the 2016 presidential election, the charges against Manafort are limited to tax fraud, bank fraud and failure to disclose foreign bank accounts.
Before a courtroom packed with journalists and political tourists eager to have a seat in history, U.S. District Judge T.S. Ellis limited the prosecution and defense teams to two hours of arguments each on this 12th day of the trial.
Hustling to meet the judge's tight clock, prosecutors laid out a paper trail that documented Manafort's glory years of big paydays, followed by two years without income.
From 2010 through 2014, as the trailblazing political consultant advised Ukraine President Viktor Yanukovych, Manafort enterprises raked in some $60 million that was diverted into 31 overseas bank accounts, federal prosecutor Greg Andres charged, to avoid paying taxes on the income, the basis for five counts of tax fraud.
After Yanukovych fled Kiev in 2014, the money spigot ran dry, and Manafort committed fraud to obtain loans to keep the money coming, the government argued.
"Mr. Manafort lied to keep more money when he had it, and he lied to get more money when he didn't," Andres said.
After the prosecution rested its case on the trial's 11th day, defense attorney Kevin Downing announced that the defense team would not present evidence, and Manafort confirmed to Ellis that he would not testify in his own defense.
Defense attorney Richard Westling told jurors that the Manafort legal team decided against presenting evidence because the government had failed to meet the burden of proof.
Westling also argued that the special counsel's office pursued a case that probably would not have led to trial under the usual Department of Justice handling.
Downing then told jurors that the prosecution's star witness, former Manafort associate Rick Gates, was the real shady character in the case.
"He came in here trying to look all clean," Downing said of the 46-year-old Gates, who had shaved off his beard before he testified last week. But on questioning he "showed himself to be the liar that he is."
Downing went on to finger Gates as the culprit who also "orchestrated a multimillion-dollar embezzling scheme" to bankroll his "lavish lifestyle." Gates admitted during his testimony that he had embezzled Manafort's money.
But Andres downplayed Gates' role in his case.
"The star witness in this case," Andres said, "is the documents." Andres referred to emails in which Manafort directed Gates and others to help provide false documents to lower his tax bill or win approval for loans.
Manafort's wife, Kathleen, sat in the front row behind her husband during closing arguments. At one break with the jury out of the room, Manafort's lawyers huddled around their client, with Westling's right hand on his back.
"We are proud and honored to be able to represent Paul Manafort at this trial," Westling announced as he began his closing argument. He recalled Manafort's work advising Trump and former Presidents Gerald Ford, Ronald Reagan and George H.W. Bush.
Trump has noted that Manafort was head of his campaign for a matter of months after first campaign manager Corey Lewandowski was fired and before Kellyanne Conway took the helm.
While the charges against Manafort have nothing to do with the 2016 campaign, Trump's name came up last week when prosecutors released an email in which Manafort pushed to get a political appointment in the Trump administration for Federal Savings Bank executive Stephen Calk, whose bank approved Manafort's application for two loans valued at $16 million.
Wednesday, Westling injected politics into the trial when he charged the special counsel selectively culled dirt on Manafort and failed to call several witnesses to the stand, including Calk. Westling also argued that the Federal Savings Bank loan was not in default until Manafort was indicted.
Jury deliberations start at 9:30 a.m.
Contact Debra J. Saunders at dsaunders@reviewjournal.com or 202-662-7391. Follow @DebraJSaunders on Twitter.