Presidential hopefuls look East, West for delegate support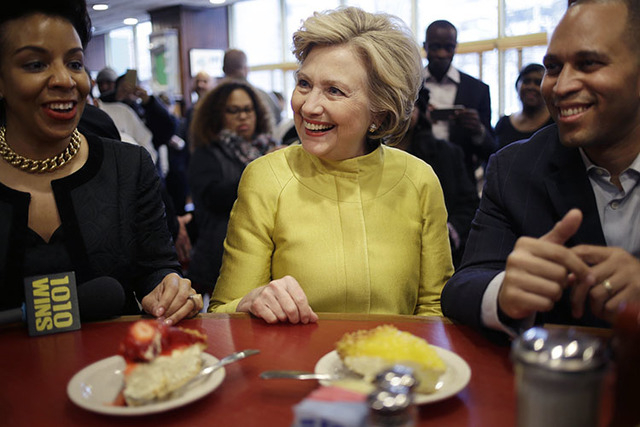 COLORADO SPRINGS, Colo. — Looking both East and West for support, Republican presidential candidates angled Saturday to pick up more delegates in Colorado while at the same time bidding for favor a half-continent away in New York's all-important April 19 primary. On the Democratic side, Bernie Sanders picked up another win in Wyoming's caucuses.
Republican Ted Cruz hoped to add to his edge in Colorado over front-runner Donald Trump when 13 more delegates were to be chosen at the state's GOP convention. Cruz already had locked up the support of 21 Colorado delegates and visited the state to try to pad his numbers there.
Keeping up his tussle with Trump over values, Cruz told the Colorado crowd it's easy to talk about making America great again — "you can even print that on a baseball cap" — but that the more important question is which candidate understands "the principles and values that made America great in the first place."
Trump left the Colorado convention to his organizers, and spent about a half-hour on Saturday touring the National Sept. 11 Memorial and Museum in lower Manhattan. The billionaire businessman, who makes much of the heroism of New Yorkers after the 9/11 attacks, left without speaking to reporters who were invited along for the visit.
His campaign issued a statement describing the site as "symbolic of the strength of our country, and in particular New Yorkers, who have done such an incredible job rebuilding that devastated section of our city."
"This is what 'New York values' are really all about," it added, a not-too-veiled poke at Cruz, who has taken heat for his earlier criticism of "New York values."
Ohio Gov. John Kasich, far behind Trump and Cruz in the delegate, also was campaigning in New York.
Democratic presidential hopefuls, too, were focused on New York's big trove of delegates even as Wyoming gave its nod to Sanders over Hillary Clinton.
Sanders got word of his Wyoming win from his wife, Jane, midway through a rally in Queens. A raucous cheer went up from the New York crowd, but the Wyoming win won't help Sanders make up much ground in the delegate race. He picked up at least seven delegates to Clinton's six, with one delegate yet to be allocated.
That means Clinton has 1,286 delegates based on primaries and caucuses to Sanders' 1,037. When including superdelegates, or party officials who can back any candidate, Clinton has amassed even more delegates: 1,755 compared to 1,068 for Sanders. It takes 2,383 delegates to clinch the Democratic nomination.
Sanders, who grew up in Brooklyn, kicked off a four-stop New York City swing with a rally at a theater in Manhattan. He took a light-hearted jab at Clinton's move to New York in 2000 to represent the state in the U.S. Senate.
Speaking about the upcoming New York primary, Sanders said: "Remember, this is Hillary Clinton's adopted home state," to laughs from the crowd. "That's not a crime, just wanted to make that point," he added.
Sanders, who has now won seven of the last eight state contests, tried to stick more to the issues after a fractious week in which he questioned Clinton's qualifications to be president.
He said it was "amusing" to see the Democratic front-runner join New York Gov. Andrew Cuomo this past week to celebrate a bill raising the state's minimum wage to $15, noting that she supports raising the federal minimum wage to only $12.
Clinton, who planned a Brooklyn campaign stop later in the day, does back Senate legislation that would give cities and states the ability to set a higher hourly threshold. She made a stop at Junior's restaurant in Brooklyn, where she spoke admiringly of the cheesecake, before her campaign event.
On the Republican side, Trump holds a wide delegate lead nationally, but there seems to be a real chance no one will claim a majority of GOP delegates before the national convention in Cleveland in July.
In Colorado, where more than 3,000 people at the state convention were picking 13 delegates, Cruz supporters sported bright orange T-shirts with his slate of delegates printed on the back. Trump's organizers distributed a slate that listed incorrect information for four of his candidates.