Protests around US support New York officer convicted in shooting
February 20, 2016 - 9:22 pm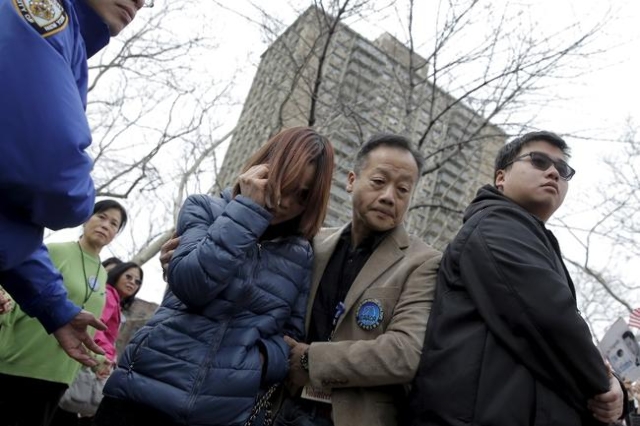 Thousands of people protested around the country on Saturday in support of a New York City police officer who was convicted of manslaughter this month for fatally shooting an unarmed black man, according to media reports.
The New York Times reported that several thousand gathered in Brooklyn to rally behind Peter Liang, who was found guilty in connection with the death of 28-yaer-old Akai Gurley.
Gurley, who was black, was killed by a bullet fired from the gun of Liang, who is Chinese American. The bullet ricocheted off a wall in a public housing stairwell on Nov. 20, 2014.
The Los Angeles Times said hundreds of demonstrators, many of Chinese-American descent, took to the street there on Saturday while the Philadelphia Inquirer reported that some 2,000 people rallied in that city.
About 150 gathered in downtown Ann Arbor, Mich. in solidarity, carrying signs reading "Condolences to Akai Gurley. Justice for Peter Liang" and "No scapegoat. No silence," according to the Ann Arbor News. The Arizona Republic reported a similar number of demonstrators gathered in Phoenix.
Gurley's killing added to nationwide protests in cities like Baltimore and Ferguson, Mo., over the use of police force against people of color following a spate of high-profile police killings of unarmed black people since mid-2014.
The rookie officer Liang was on patrol inside a Brooklyn public housing project with his partner and drew his gun upon entering a pitch-black stairwell.
He fired a single bullet that glanced off a wall and into the chest of Gurley, who was walking one floor below. Liang said he pulled the trigger because he was startled by a noise.
Prosecutors argued in court that Liang fired toward the sound deliberately and that he must have known only another person could have caused the noise that surprised him.
He faces up to 15 years in prison when he is sentenced in April.
Liang's indictment last year came weeks after a grand jury declined to charge a white New York officer in the chokehold death of Eric Garner, an unarmed black man, sparking citywideprotests.
Liang's partner, Shaun Landau, was fired by the New York Police Department shortly after Liang was found guilty.