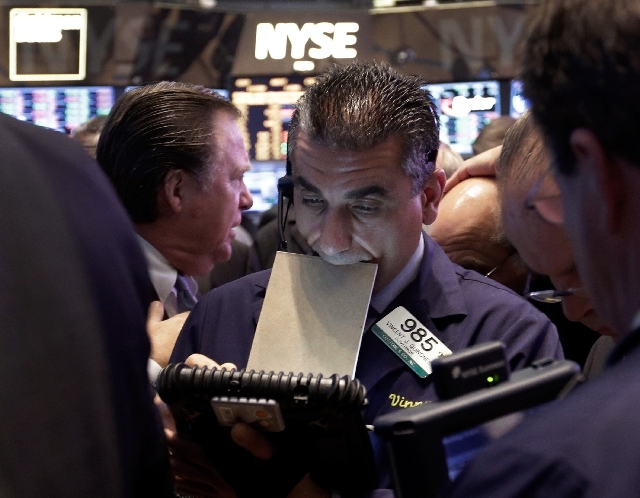 NEW YORK — Steady growth in hiring last month sent the stock market sharply higher Friday.
U.S. employers added 175,000 jobs in May, slightly more than the 170,000 forecast by economists, according to data provider FactSet. More people also began looking for work, another encouraging sign.
The report gave a boost to stock market bulls, who expect the Federal Reserve to keep up its stimulus program as the U.S. economy continues to recover moderately. That combination pushed the Dow Jones industrial average and the Standard & Poor's 500 index to record highs last month.
For investors who expect the Fed to stay the course, "these types of slow economic growth reports speak to that," said Kevin Mahn, chief investment officer at Hennion & Walsh Asset Management. "It keeps interest rates at record lows and it keeps the equity markets humming."
The Dow Jones Industrial average was up 181 points, or 1.2 percent, to 15,222 as of 11:52 a.m. Eastern Daylight Time. Boeing led the Dow higher with a gain of $2.24, or 2.3 percent, to $102.01. Twenty-eight of the 30 stocks in the Dow rose.
The Standard & Poor's 500 index gained 17 points, or 1 percent, to 1,639. The Nasdaq composite rose 33 points, or 1 percent, to 3,457.
The gains were broad. Nine of the 10 industry groups in the S&P 500 index rose, led by industrial stocks, which stand to benefit more than other sectors if the economy picks up. Among industrial companies, General Electric rose 36 cents, or 1.5 percent, to $23.73.
The only S&P industry group that fell was telecommunications, a so-called defensive sector that investors favor when they are seeking safety and high dividends.
The market slumped on Tuesday and Wednesday after disappointing reports on private-sector hiring and manufacturing. The S&P 500 index lost 1.9 percent over those two days. Friday's gain erased the S&P's loss for the week. It's now up 0.6 percent for the week.
Financial markets have turned volatile over the past two weeks as traders parse comments from Federal Reserve officials for hints about when the central bank will cut back on its support and the impact that will have on long-term interest rates and the economy. The Fed is buying $85 billion of bond every month to keep interest rates low and encourage borrowing and spending.
The S&P 500 index is down 1.7 percent since reaching a record high on May 21. The next day, Fed Chairman Ben Bernanke said the Fed could act to ease up on its economic stimulus program in one of its next few meetings
In government bond trading, the yield on the 10-year Treasury note rose to 2.15 percent from 2.08 percent late Thursday as investors moved out of safer assets.
The Labor Department's monthly survey of employment is one of the most important gauges of the U.S. economy and receives close scrutiny from investors. It can frequently cause big moves in financial markets, especially if the report shows that employment is stronger or weaker than economists were expecting.
On May 3, the government reported not only a strong pickup in hiring in April but it also revised sharply upward its estimates for job growth in February and March. That sent the Dow Jones industrial average past 15,000 for the first time, while the S&P 500 index broke through 1,600.
In the weeks following that report, bond yields rose from 1.63 percent as high as 2.20 percent May 31. That meant investors thought the economy was strengthening, dampening the appeal of low-risk assets like bonds. It also meant investors believed the Fed would act sooner than previously thought to curtail its bond-buying program.
The lukewarm jobs report all but eliminates any chance of the Fed easing, or tapering, its stimulus program at its next two-day policy meeting, which starts June 18, said Phil Orlando, chief equity strategist at Federated Investors.
"This was, in our view, very much a `Goldilocks' number," said Orlando. "There is zero chance that the Federal Reserve is going to start tapering monetary policy" at its next meeting.
That keeps in place the dynamic that has supported the market's rally this year. The Fed's policy keeps interest rate rates low and bond prices high. That increases demand for riskier assets like stocks.
An improving economy and rising interest rates have also helped support the dollar this year. The U.S. currency rose against the euro and the yen Friday.
The price of gold fell $36, or 2.6 percent, to $1,379 an ounce. Gold has fallen sharply this year as a rising stock market and a strengthening dollar have diminished its appeal as an alternative investment.
In other commodities trading, the price of oil rose $1.42, or 1.5 percent, to $96.16 a barrel.
Among other stocks making big moves:
– Gap rose 96 cents, or 2.3 percent, to $44.85. The San Francisco-based clothing store chain reported late Thursday that its sales jumped 7 percent in May, more than expected, helped by strong results at its namesake Gap and Old Navy stores.
– TiVo plunged $2.40, or 17.4 percent, to $11.36 after the company settled patent disputes with several technology companies including Cisco and Motorola Mobility but received far less than what most investors inspected. TiVo has posted annual losses in nearly all of the past 10 years.
– Thor Industries rose $4.36, or 10.6 percent, to $45.63 after the company reported a 6 percent increase in income. The results beat market expectations on stronger sales of RVs and a lower tax rate.