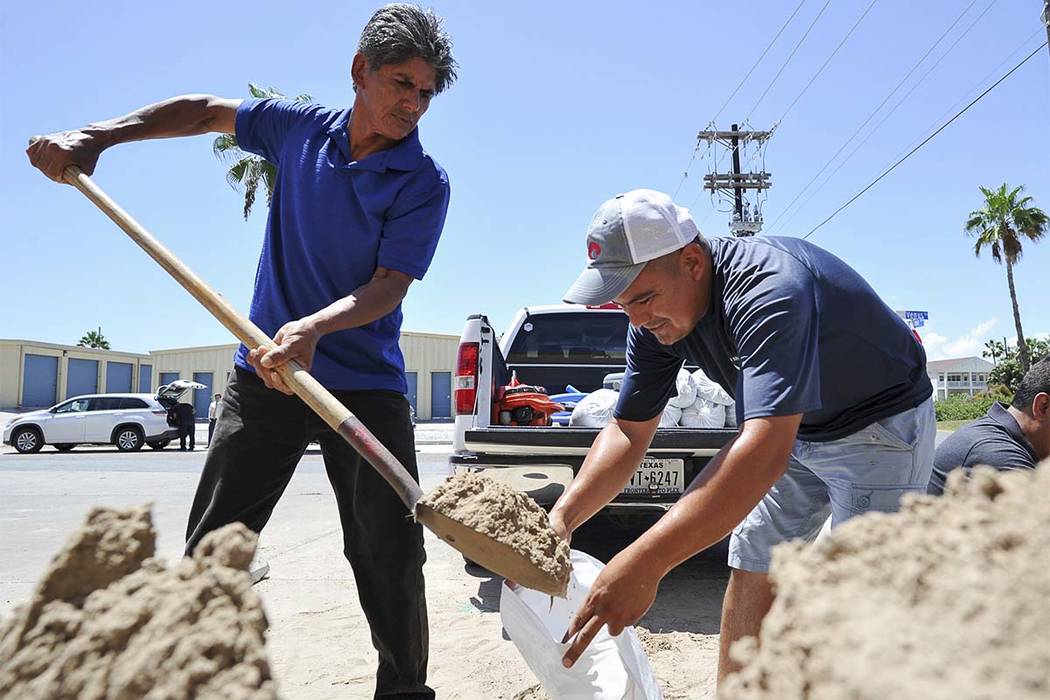 The National Hurricane Center says Tropical Storm Harvey is now Hurricane Harvey and is forecasting it will become a major hurricane to hit the middle Texas coastline.
Sustained winds have reached 80 mph (129 kph). A major hurricane means winds greater than 110 mph (177 kph).
Forecasters said a "life-threatening" storm surge along with rains and wind were likely as Harvey was intensifying faster than previously forecast.
Landfall was expected late Friday between Port O'Connor and Matagorda Bay, a 30-mile (48-kilometer) stretch of coastline about 70 miles (110 kilometers) northeast of Corpus Christi.
The hurricane center says it's possible the storm then could just stall inland for as many as three days, exasperating the threat of severe flooding.
The last major hurricane to hit Texas was Ike, in September 2008. It brought winds of 110 mph (177 kph) in the Galveston and Houston areas and left damages of $22 billion.
Long lines extended from grocery stores along the Texas Gulf Coast early Thursday as residents braced for the storm that forecasters say could drop as much as 20 inches of rain.
A hurricane warning was issued for most of the central and southern Texas coast Thursday morning, from Port Mansfield to Matagorda, as Harvey regained strength while drifting into the Gulf of Mexico.
In Corpus Christi, dozens of people waited in line at a Sam's Club on Thursday. The city and other communities along the coast were shipping in sandbags, extra water and other items.
As of Thursday morning, the storm was centered about 335 miles (540 kilometers) southeast of Port Mansfield and was moving north-northwest near 10 mph (17 kph).
Texas Gov. Greg Abbott has ordered the State Operations Center to elevate its readiness level, making state resources available for possible rescue and recovery actions. Abbott also pre-emptively declared a state of disaster for 30 counties on or near the coast, to speed deployment of state resources to any areas affected.
Emergency officials on Wednesday asked residents along the upper Texas coastline to move or prepare to move inland. Those in low-lying areas were urged to seek higher ground, and those elsewhere were told to monitor official announcements closely.
On South Padre Island, people filled sandbags and loaded them into cars and vans Wednesday to take to protect exposed homes and businesses. Others in the forecast path of the storm sought out generators, plywood and other goods from hardware stores. Meanwhile, rice farmers in coastal Matagorda County moved quickly to harvest their crops.