Utah's Zion National Park struggling to keep up with growing crowds
August 6, 2016 - 10:47 am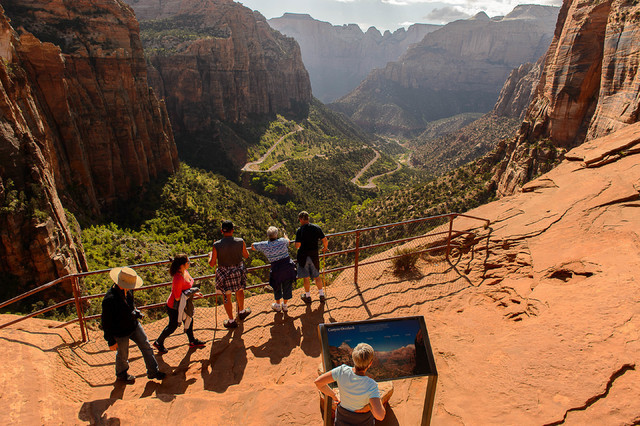 ST. GEORGE, Utah — Zion National Park officials say visitation has already grown by 11 percent this year and is on track to surpass 4 million visits.
The St. George Spectrum reports that Superintendent Jeff Bradybaugh says it's tough to keep up with the crowds during peak times like holiday weekends.
Bradybaugh told the Washington County Commission that park officials are trying to determine how many people a day can be accommodated at the park without stressing the natural environment being preserved for future generations.
Zion chief of commercial services Jack Burns says rangers struggle to keep up with basic demands like trash removal.
He says noise and graffiti have become problems, as well as visitors who have carved out 30 miles of new foot trails in the last year alone.
The park is a popular destination for tourists coming from Las Vegas. Also, the National Park Service is celebrating its centennial this year, which may be a contributing factor to the growth in visitation.
Last year, Zion National Park, with more than 3.6 million visitors, ranked 24th among the nation's most visited park service sites. Blue Ridge Parkway in Virginia was No. 1 with about 15 million visitors.
RELATED
Lake Mead ranks fifth among nation's most visited parks
Climber dead after fall at Zion National Park
10 National Park Service playgrounds within easy reach of Las Vegas
Biologists worry after condor hatchling at Zion National Park loses its father
2 more bodies found in Zion; 18 now dead in Southern Utah floods