Wind conditions should ease, helping crews battle Midwest wildfires
Updated March 8, 2017 - 6:47 am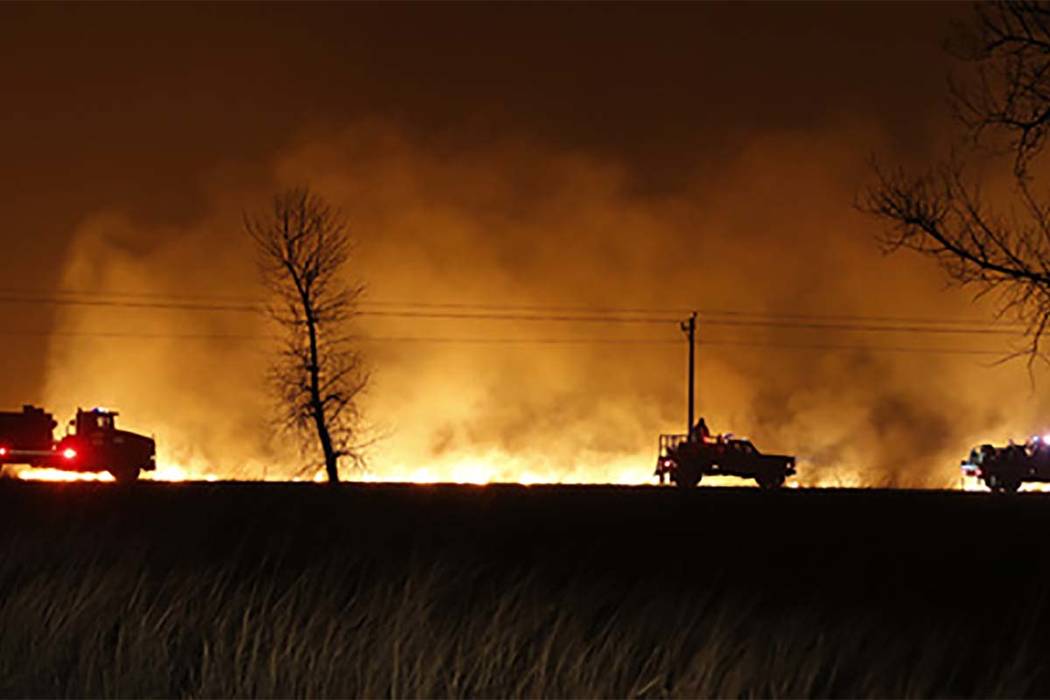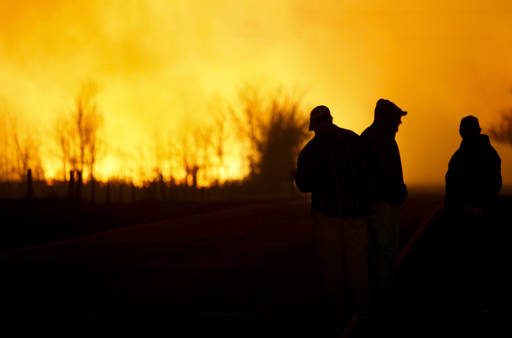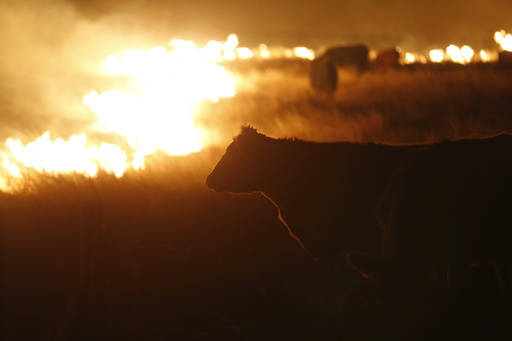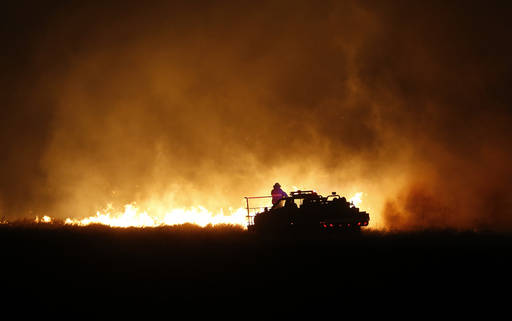 HUTCHINSON, Kan. — Winds are expected to slow down Wednesday, but weather conditions are still not ideal for emergency crews battling wildfires in four states that have killed six people and destroyed hundreds of square miles of land.
Bill Bunting, forecast operations chief for the Oklahoma-based Storm Prediction Center, said Tuesday that the powerful wind gusts that fanned the wildfires in Kansas, Colorado, Oklahoma and Texas should ease to about 10 to 20 mph on Wednesday. He said temperatures should peak in the 70s, with afternoon humidity low.
"These conditions will make it somewhat easier for firefighting efforts, but far from perfect. The fires still will be moving," Bunting told The Associated Press. "The ideal situation is that it would turn cold and rain, and unfortunately that's not going to happen."
In addition to those four states, conditions were ripe for fires in Iowa, Missouri and Nebraska. That followed powerful thunderstorms that moved through the middle of the country overnight, spawning dozens of suspected tornadoes, according to the National Weather Service.
Kansas wildfires have burned about 625 square miles of land and killed one person. The Kansas Highway Patrol said Corey Holt, of Oklahoma City, died Monday when his tractor-trailer jackknifed as he tried to back up because of poor visibility on a Kansas highway, and he succumbed to smoke after getting out of his vehicle. Two SUVs crashed into the truck, injuring six people, state trooper Michael Racy said.
Most of the state's charred land is in Clark County, where 30 structures were damaged, said Allison Kuhns, a county emergency management office spokeswoman. About half of those structures are near Englewood, one of two communities evacuated. Kuhns said there also have been significant cattle losses as entire ranches were engulfed.
That fire started in Oklahoma, where it burned an estimated 390 square miles in Beaver County. Officials said a separate blaze scorched more than 155 square miles of land in neighboring Harper County, Oklahoma, and was a factor in the death of a woman who had a heart attack while trying to keep her farm near Buffalo from burning.
Oklahoma Gov. Mary Fallin on Tuesday declared a state of emergency in 22 counties due to the wildfires.
The largest evacuations elsewhere were in Reno County, Kansas, where 10,000 to 12,000 people voluntarily left their homes Monday night, said Katie Horner, a state Department of Emergency Management spokeswoman. She said 66 people were in shelters Tuesday in Hutchinson, 40 miles northwest of Wichita.
Several hundred more people evacuated their homes in Russell, Ellsworth and Comanche counties, in central Kansas.
In the Texas Panhandle, three fires burned about 500 square miles of land and killed at least four people. One of them near Amarillo was fully contained by late Tuesday afternoon, while a larger fire in the northeast corner of the Panhandle near the Oklahoma border was 50 percent contained, according to Texas A&M Forest Service. That larger fire was responsible for a death on Monday, authorities said.
A wildfire in Gray County, also in the Texas Panhandle, killed three ranch hands trying to save cattle, said Judge Richard Peet, the county's head administrator. One of the three apparently died of smoke inhalation Monday night and the other two were badly burned and died on the way to hospitals, he said.
Forest Service spokesman Phillip Truitt said as many as four firefighters were hurt battling the fires Monday. He provided no details on their conditions Tuesday morning.
In northeastern Colorado near the Nebraska border, firefighters battled a blaze that burned more than 45 square miles and was 50 percent contained Tuesday. Officials said the fire had destroyed at least five homes and 15 outbuildings, with no serious injuries.
Dry conditions and strong winds had put the region at risk for wildfires. All of eastern Colorado is classified as either moderately or abnormally dry along with major parts of Kansas, almost all of Oklahoma and some of northern Texas, according to the U.S. Drought Monitor.
After several years of drought, Kansas received good to great rain the last two summers. But the taller grass provides more fuel to burn.