National GOP moves to sideline Paul backers controlling Nevada party to help Romney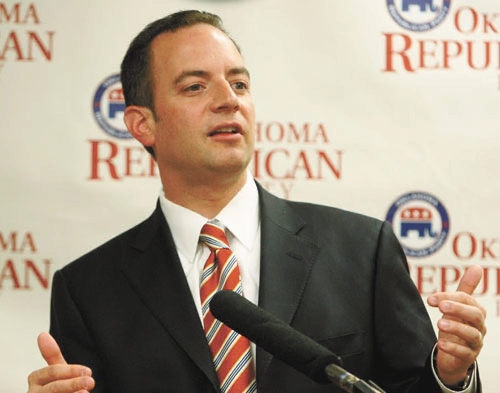 GOP presidential candidate Ron Paul's rabble-rousing troops controlling the Nevada Republican Party may be sidelined by national leaders who plan to funnel money through their own "Team Nevada" offices to back Mitt Romney's White House bid.
The Republican National Committee's strategy to work around the troubled state party and starve it of cash was revealed Wednesday, a day after Paul backers led a successful effort at a Clark County GOP meeting to rebuke RNC Chairman Reince Priebus. They passed a resolution calling on Priebus to resign for helping Romney's campaign before he has officially won the GOP nomination.
The RNC and the Romney campaign already have been operating around the Paul-controlled state and county parties to ensure a strong GOP ground game in the battleground state. President Barack Obama could score a repeat victory here in 2012 unless Romney makes a strong effort.
Last weekend, the RNC and the Romney campaign opened its first Team Nevada office in Las Vegas. Several more Team Nevada offices are scheduled to open in June in Southern and Northern Nevada as the national party and Romney campaign expand the election-year drive.
In a break from previous election years, however, the RNC will likely transfer money directly to the Team Nevada offices for campaign activities such as voter registration, voter ID and get-out-the-vote efforts instead of funneling the cash through state party coffers, a GOP operative said.
"We're just going to work around them," the operative said, speaking on condition of anonymity.
The RNC also may funnel money through the Washoe County Republican Party. It's chaired by Dave Buell, a respected Republican stalwart who has boosted GOP voter registration over Democrats in Northern Nevada during the past year. Washoe County is a must-win battleground that could determine whether Obama gets a second term or Romney replaces him.
In an interview, Buell said the Washoe County GOP is considering registering with the Federal Election Commission, which would allow the organization to raise money for federal races.
"I don't think the state party's going to raise much of anything," said Buell, a former treasurer of the state GOP. "I think people are hands off the state party right now. I have talked with the RNC and the Romney campaign and told them Washoe County will do whatever's necessary to make sure we elect Mitt Romney and Republicans up and down the line."
After the June 12 primary, Republican U.S. Reps. Joe Heck and Mark Amodei and U.S. Sen. Dean Heller will likely join the Team Nevada victory offices to bypass the state party as well.
In another sign of internal party turmoil, Paul supporters also are trying to fire David Gallagher, the executive director of the Nevada Republican Party who's seen as a GOP establishment figure.
Tuesday night, Paul supporters narrowly passed the anti-RNC resolution rebuking Priebus on a 184-182 vote during a Clark County GOP Central Committee meeting.
Paul backers accused Priebus of violating RNC rule No. 11, which outlines when the party can endorse or materially support a presidential candidate.
In late April, Priebus announced the RNC was setting up a joint fundraising operation with Romney to help defeat Obama. Romney, however, has not yet officially wrapped up the GOP nomination, although he's expected to by the time of the Republican National Convention this summer in Tampa, Fla.
The Paul contingent is angry that the RNC is helping Romney while the Texas congressman remains in the race. He's collecting hundreds of delegates from Nevada and other states to the national convention so he can influence the party platform and remain a factor in the White House contest.
Carl Bunce, director of Paul's campaign in Nevada, said the rule was designed to create an even playing field for all GOP candidates, whether they're insiders or outsiders such as Paul.
"I say why have any rules or even a party if we cannot follow the rules that have been created and crafted to protect the process," Bunce said.
Despite the anger from Paul's troops in Nevada, Paul's campaign said over the weekend that it doesn't believe the RNC is violating its rules. Paul's campaign manager Jesse Benton said Priebus also offered Paul the opportunity to jointly raise money with the RNC and Paul said no.
RNC spokesman Darren Littell said Priebus remains focused on helping Romney win.
"Chairman Priebus is 100 percent committed to defeating President Obama and electing Mitt Romney to the White House this fall," Littell said.
Michael McDonald, the new chairman of the Nevada Republican Party, sided with the RNC.
"Certainly, we do not need to wait until Tampa to assist our presumptive nominee," McDonald said. "I look forward to working with Reince to build a top-notch ground game in Nevada."
McDonald said he talked to Priebus by phone Wednesday to assure him the state party would do all it can to elect Republicans in the fall, trying to repair any damage from the Paul faction.
"We want to make sure he understands that we're here to elect Republicans," said McDonald, who was elected to the state GOP job just last month. "Just give me a chance."
Paul supporters have spent the past couple of years moving into leadership positions within the Nevada GOP at the county and state levels.
The Clark County GOP is the largest in the state with 60 percent of Nevada's Republicans.
About two-thirds of the county party executive board are Paul supporters, who make up roughly half of the ruling central committee as well.
Clark County GOP Chairman Dave Gibbs, who ran the Tuesday meeting, is not a Paul supporter but he said his backers have a right to express their opinions.
Gibbs said he did not support the resolution and would have voted against it if he had needed to break a tie as chairman of the body.
He said the resolution only divides the party.
"It's not a unifying thing. It's a dis­traction," Gibbs said. "It does nothing to elect Republicans."
Asked if he thought Paul supporters will eventually come around to help elect Romney, Gibbs said, "Some will, some won't."
"Some are not going to quit until the gavel bangs down in Tampa," Gibbs said.
Contact Laura Myers at lmyers@reviewjournal.com or 702-387-2919. Follow @lmyerslvrj on Twitter.
Republican National Committee Rule 11(a) Resolution