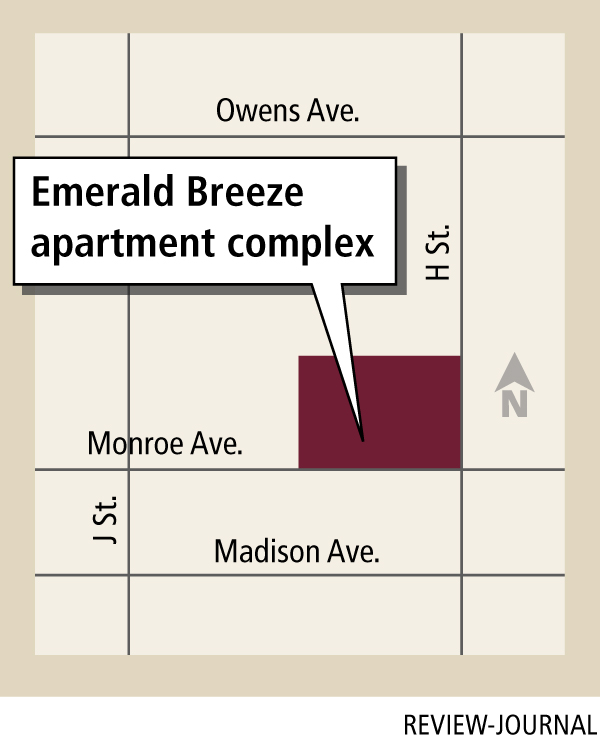 The last resident of the blighted Emerald Breeze apartment complex moved out in June, allowing the apartments to be boarded up and kept vacant — and leaving it that way, some nearby residents said, could be what's best for the neighborhood.
That's not the plan.
Last week, the Las Vegas City Council approved plans for a new, 82-unit apartment complex geared toward working-class renters. Boosters said the development, on Monroe Avenue near H Street, will inject new life into the neighborhood and attract commercial investment, but not everyone's convinced.
"I just don't like the idea of a complex like that," said Cheyenne Cook, who lives in one of the tidy but worn houses that stretch south from the apartments.
"I think they should put some houses there, not another project."
Councilman Ricki Barlow, whose ward includes the property, said opponents are being short-sighted.
"This isn't a low-income housing project," he said. "We're talking about individuals who go to work every day."
The council approved plans for the new complex over objections by neighbors. The property's owner, Community Development Programs Center of Nevada, is scheduled to be back before the council today with a request to defer loan payments to the city.
Emerald Breeze billed itself as "The Gem of the Community," but no one familiar with the complex would call it a precious stone.
Conditions were so bad in 2002 that security was provided by armed guards wearing bulletproof vests. CDPCN almost could not get financing to build senior apartments next door.
The nonprofit corporation agreed to buy Emerald Breeze to move the senior housing project forward and turned to the city to provide financing through the city's redevelopment programs.
Emerald Breeze proved too costly to operate safely, though, and in April 2006, the nonprofit gave a one-year notice that it was opting out of a contract with the Department of Housing and Urban Development. The complex would be closed.
"It was pretty bad in the sense that there was a lot of drug activity, gang activity," Barlow said.
That activity spilled out to I Street, said Glen Myers, a retired city worker whose family has owned a house just south of the apartments for decades.
"I Street was dangerous," he said. "There was so much wrongness being done."
Crime has been "cut down tremendously" since Emerald Breeze closed, and seniors have moved into the new housing next door, Myers said.
He is not as worried as some of his neighbors about the new development.
"If I say I'm worried about it, we're not giving Frank a chance."
"Frank" is Frank Hawkins, executive director for CDPCN, who did not respond to requests for comment.
In letters and comments to city officials, he has tried to offer assurances.
The main difference, he said, is that the new units will be targeted at working people. Previously, the apartments were "filled with residents who did not work," he wrote in a letter to the city.
Barlow said tenants would make between $10,000 and $25,000 a year.
Plans call for 68 of the existing 100 units to be razed. The remaining 32 units were bought with federal money and cannot be destroyed but will be remodeled.
Las Vegas put up $4.4 million in 2005 to help with the purchase of the property, an amount originally set to be paid back at 5.5 percent interest over 35 years.
Closing Emerald Breeze to prepare for demolition has put a financial strain on CDPCN, according to city documents, and staff has recommended the loans be reclassified as "deferred loans," a move that will allow the new construction.
In a letter, resident Dedra Geran said the property has been a nuisance for decades. The site was previously home to Madison Terrace apartments, which were razed after years of crime and neglect.
"Now you want to try it again," she wrote. "I don't have 15 more years to live in fear, to leave work during the day to see if my house has been broken into."
Sam Glover said that his elderly mother lives a few doors down from the apartments and that he said he has to check in regularly to make sure she is OK.
"They keep promising, but they eventually let those people back in," he said. "I hope they do something different this time.
"We don't need any more young thugs in the neighborhood. If they're going to have those kinds of people next to old people, the old people will be victimized."
Contact reporter Alan Choate at achoate@reviewjournal.com or (702) 229-6435.