Neil's show still on despite DUI arrest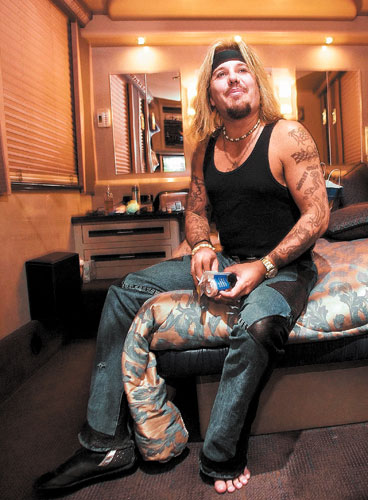 Vince Neil's poolside concert at the Palms is going ahead as scheduled Thursday, four days after his arrest on suspicion of drunken driving.
A Palms rep confirmed the solo show featuring the Motley Crue frontman was still planned.
Neil, 49, was pulled over on Desert Inn Road about 11 p.m. Sunday, minutes after leaving a Daytime Emmy party at the Hilton, where he recently opened Vince Neil Tres Rios Cantina, which is named after his tequila brand.
He was released Monday from the Clark County Detention Center on $2,000 bail.
It was his second alcohol-related arrest in Las Vegas in three years. He had a DUI-alcohol, first offense arrest on Aug. 7, 2007. He pleaded no contest two months later to a reduced charge of reckless driving and attended an in-patient drug program.
Neil spent 20 days in jail and was ordered to pay $2.5 million in restitution after being charged with DUI and vehicular manslaughter in December 1984. A passenger, drummer Nicholas "Razzle" Dingley of the Finnish band Hanoi Rocks, died in the crash near Neil's home in Redondo Beach, Calif.
Neil's tell-all book "Tattoos & Tequila," will be released on Sept. 23.
He is scheduled to do a solo tour through July before reuniting with Motley Crue for a six-date Ozzfest tour in August.
Best known for its hits "Girls, Girls, Girls," "Dr. Feelgood" and "Without You," Motley Crue is marking its 30th anniversary.
MORE MOVES AT KVBC
New anchor Dan Ball was on the hot seat Monday after his thrown-into-the-fire debut at KVBC-TV, Channel 3.
Ball, a reporter at the NBC affiliate since 2008, was the solo anchor on the 4 p.m. and 11 p.m. newscasts, after the station moved longtime evening anchors Jim Snyder and Sue Manteris to new roles.
In a move that represents a clean sweep of anchors in six months, Snyder and Manteris were assigned to the 5 p.m. and 6 p.m. newscasts.
Snyder has been anchoring evening newscasts since 1998. Manteris has been Snyder's co-anchor since June 2007, when she replaced Nina Radetich.
Snyder and Manteris had co-anchored the morning show for three years in the early 1990s. Manteris has been at the station since 1989.
Snyder said he was aware of the move for about two weeks, while Manteris reportedly got the news late last week.
"They make the decisions, and we roll with the punches," Snyder said Tuesday.
Since Radetich's exodus, the departing anchors have included Kendall Tenney, Sophia Choi, Manteris and Snyder.
THE SCENE AND HEARD
Local musician Michael Grimm, a member of this season's crop of challengers on "America's Got Talent," is taking advantage of a break in filming to perform Thursday at Ovation at Green Valley Ranch. The doors open at 8 p.m.
SIGHTINGS
NFL Hall of Famer Dick Butkus, dining at Joe's Seafood, Prime Steak and Stone Crab (Forum Shops at Caesars) on Tuesday. …
Monica Potter, who stars in NBC's sitcom "Parenthood, touring "Bodies … The Exhibition" at Luxor on Monday night. … Mayor Oscar Goodman, on hand for a presentation Monday of his likeness, which was added to the Charcoal Wall of Fame at Hussong's Cantina at The Shoppes at Mandalay Place.
THE PUNCH LINE
"We have the annual Gay Pride Parade in New York City coming up. Nothing says pride like a 40-year-old fat guy in chiffon." — David Letterman
Norm Clarke can be reached at (702) 383-0244 or norm@reviewjournal.com. Find additional sightings and more online at www.normclarke.com.