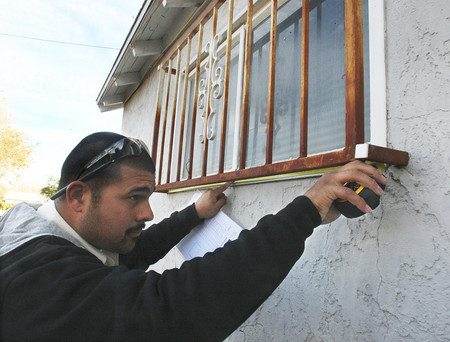 Nevada has some catching up to do if it hopes to make full use of millions in federal stimulus dollars aimed at making homes more energy efficient and creating green jobs.
Of the $18.6 million in Recovery Act funds available to Nevada for residential weatherization projects, only $607,000 had been spent retrofitting about a hundred homes by the end of last month.
The slow start is a consequence of earlier disputes at the national and state level over distribution of weatherization grants.
But Hilary Lopez, chief of federal programs for the Nevada Housing Division, said she is optimistic that the state will still meet its goal of improving energy efficiency in about 1,850 homes by the middle of next year.
If the state falls short of that mark, it risks losing the next $18.6 million allocated by the Department of Energy for weatherization.
"We're very confident that our subgrantees will be able to meet their program goals by June 30," Lopez said. "We anticipate things are going to start moving very quickly now."
Albert Weiss, weatherization program manager at HELP of Southern Nevada, one of five nonprofit recipients of Housing Division weatherization grants, said crews hired by his agency are ready to get to work.
Weiss said his group has overseen the weatherization of only about 25 homes, but that another 400 projects are in the works. He estimates his contractors have added 40 new positions to help with the expected volume of work.
Households with incomes at or below 200 percent of the federal poverty level are eligible for assistance in cutting their utility bills. That means a household of five with an annual income under $51,580 could participate in the stimulus program, which involves insulating homes and installing energy-efficient appliances for $7,500 or less.
Nevada Energy estimates that residents see an average of $1.39 in savings for every $1 invested in weatherization.
But several obstacles have prevented greater numbers of people from experiencing that benefit.
As in other parts of the country, Nevada officials waited for the government to come up with prevailing wage rates for weatherization jobs.
Then, over the summer, the Legislature's Interim Finance Committee voted to delay release of weatherization funds until it got assurance the Housing Division would comply with a new law requiring that stimulus funds help train workers for weatherization projects.
In late August, about two months behind schedule, the funds were distributed to five agencies — two each in Clark and Washoe counties and one in White Pine County — that are hiring weatherization contractors.
And the Nevada Department of Employment, Training, and Rehabilitation earlier this month entered into $1.75 million worth of contracts with four nonprofit entities that plan to supervise the training of 300 new weatherization workers by the end of June 2010.
The training is scheduled to start early next year.
Groups that won the training contracts are the Sierra Nevada Chapter of Associated Builders and Contractors Inc., CHR Inc., Easter Seals Southern Nevada, and Truckee Meadows Community College.
The state's "green jobs" law mandates that half of all weatherization jobs be filled by workers who complete their programs. But the state issued waivers that allowed companies to start weatherizing homes before the training programs were in place.
It remains to be seen how contractors will deal with an influx of newly trained weatherization laborers.
"Our understanding is our contractors feel they have enough employees in place to do the work," said Doug Kuntz, who supervises the weatherization program of Henderson Neighborhood Services, another of the Housing Division's grant recipients.
But Weiss said he thinks there will be plenty of work to go around.
Some contractors working with stimulus money are new to residential weatherization.
One of them, Thor Construction, was at the home of Las Vegas resident William Goodier earlier this week assessing the needs of his house.
Goodier, an unemployed carpenter, has gone without hot water for six months, and the thermostat in his living room read 52 degrees. Goodier said he was grateful for the help.
"I didn't know where I was going to turn, to be honest with you," he said as workers inspected his 55-year-old home near Charleston and Valley View boulevards. "I'm out of work and trying to do what I can to just keep things running."
A short time later, Goodier got some bad news: His house needed more than a few nips and tucks that would bring down his utility bills. The one-story home has major structural damage that would require extensive repair before weatherization work could happen.
Later that day, Goodier was put in touch with Rebuilding Together, a group that plans to help him with his home repairs. The weatherization crew hopes to return to his home in the spring.
Contact reporter Alan Maimon at amaimon@reviewjournal.com or 702-383-0404.