Nevada GOP conventioneers upset that Sandoval won't be there
April 11, 2014 - 12:57 pm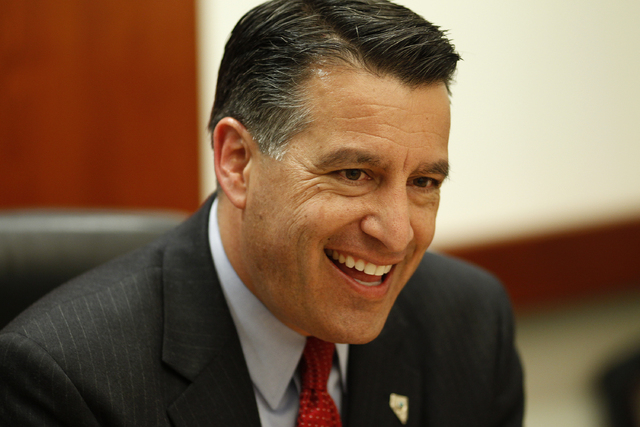 Republicans who plan to attend this weekend's Nevada GOP state convention are upset that Gov. Brian Sandoval is skipping it and snubbing the party's effort to offer pre-primary candidate endorsements.
"I just think that it's shameful for our governor not to participate in the convention," said Diane Orrock, Republican national committeewoman from Nevada, who plans to attend the annual meeting in Las Vegas. "No, we're not going to campaign against him, but when you turn your back on the base, it shows no respect."
Sandoval, who faces no strong GOP or Democratic competition, is expected to easily win re-election. He has all but ignored the state party since he was elected governor in 2010 and after failing last year to insert his own loyalist as GOP leader to replace party Chairman Michael McDonald.
The state party's central committee, which is several hundred people strong, is made up largely of conservatives and dozens of supporters of former U.S. Rep. Ron Paul of Texas, who ran for president.
The rift between Sandoval and the state party has been exacerbated because the governor has twice extended a $600 million package of tax hikes that were supposed to expire despite his pledge not to raise taxes.
The Nevada GOP state convention begins today with committee meetings at the South Point. On Saturday, the convention will start at 9 a.m. and might continue into the night as up to 1,000 delegates debate issues ranging from the pre-primary endorsements to the platform, which lays out the party's ideals.
In 2010, only 400 Republicans attended the state party convention.
McDonald, who has endorsed Sandoval for re-election, said he isn't upset the governor isn't coming to the convention. McDonald said he has recused himself from the endorsement process. Some Republicans think the party shouldn't endorse candidates before voters make their primary choices.
The convention-goers will get to vote in a presidential preference poll, too, which could generate excitement, McDonald said. With Nevada a battleground state, the survey will be the first indication of the state GOP's favorites.
Other major GOP players skipping the convention include U.S. Sen. Dean Heller, R-Nev., and U.S. Rep. Joe Heck, R-Nev. Both cited scheduling conflicts, although Heller plans Saturday night to attend the Clark County Republican Party's Lincoln Day dinner, an annual event he regularly attends.
U.S. Rep. Mark Amodei, R-Nev., plans to attend the convention, his staff said. He's a former state party chairman.
Senate Minority Leader Michael Roberson, R-Las Vegas, said he plans to go as well. Roberson is in a GOP primary battle with Carl Bunce, a former Nevada director of Paul's presidential campaign and a member of the state party's central committee. Bunce was the organizer behind the influx of Paul supporters as state and Clark County party leaders.
Assembly Minority Leader Pat Hickey, R-Reno, said he will be campaigning in Northern Nevada on Saturday. "I have a primary opponent. I thought it was important to campaign in Reno."
Hickey, like Sandoval, Roberson and other prominent Republicans, refused to participate in the pre-primary endorsement process, which involves sitting for an interview with a 15-member nominations committee.
Hickey said voters should decide in the June 10 primary who should be the GOP nominee and not "an unelected committee" he said is rumored to favor more conservative opponents running against incumbents like him.
Rob Tyree, a member of the nominations committee, said the idea is to vet candidates and incumbents and suggest to voters which Republicans would do a good job and represent GOP ideals, including smaller government and low taxes.
"What we're trying to do here is serve the best interests of the party," Tyree said. "We are not playing favorites."
Although Sandoval is boycotting the endorsement process, it's possible he could be endorsed, Tyree said.
The nominating committee can endorse one or more candidates in each race or make no endorsement, Tyree said. Convention delegates will then vote on the proposed endorsements using ballots.
In March, the Clark County Republican Party removed from its platform two planks having to do with marriage and abortion. The party previously had defined marriage as "between a man and a woman" and stated the GOP was "pro-life," or against abortion.
It's unknown whether the Nevada GOP will follow the same tactic, McDonald said. "It's hard to tell. I think it's going to be debated and I think it's going to be a good discussion."
Contact Laura Myers at lmyers@reviewjournal.com or 702-387-2919. Follow her on Twitter: @lmyerslvrj.