Nevada lawmakers OK increased schools budget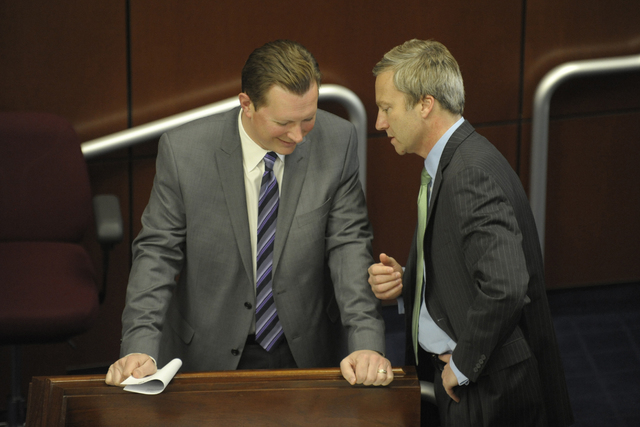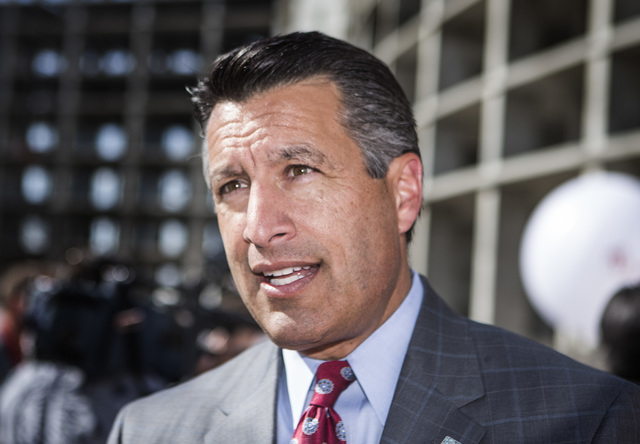 CARSON CITY — A top Nevada administrator said "history got made" Saturday after state lawmakers approved funding for much of Gov. Brian Sandoval's ambitious education reform and student achievement agenda outlined in his 2015-17 budget.
The state Senate Finance and Assembly Ways and Means committees, in a marathon budget session, approved $2.2 billion in general funds for K-12 for the next two years.
They topped it off with about $330 million in additional support for all of Sandoval's new or expanded education initiatives, from zoom schools for English language learners to a gifted and talented program to an expansion of all-day kinder­garten to all Nevada schools.
The debate over how to fund Sandoval's $7.4 billion budget is ongoing. Sandoval and lawmakers are working on a modified business tax proposal to raise the new revenue needed to fund his many education initiatives but there is no agreement as of yet.
But the votes by members of the money committees to fund the education plan was viewed as a historic day by law­makers and administration officials.
"We made some significant strides in improving the education system in our state," said Finance Chairman Ben Kieckhefer, R-Reno, at the conclusion of the nearly six-hour hearing.
"I think education history got made today," said Mike Willden, chief of staff to Sandoval. "Doubling down on zoom schools and ELL, expanding all-day kinder­garten. It's a big day for education."
The funding for the programs is also fenced off so it can't be used for other purposes, he said. There are also accountability measures for the programs.
If ultimately approved by two-thirds of the lawmakers in both houses, the general fund share of the main K-12 education budget in the coming two years would total $2.2 billion. It totals nearly 30 percent of the general fund budget.
Sandoval announced in his State of the State address in January that education reform and improved student achievement was his top priority. Nevada has long ranked poorly in most measures of student achievement when compared to other states.
Sandoval, in a statement after the budget votes, said: "Today we move one step closer toward creating an education system that equips students and teachers with the tools they need to succeed in the classroom and prepare to compete as innovators, job creators, and leaders of the New Nevada economy."
With work on the education budget completed, only the capital projects list needs to be finalized by the committees to complete work on the entire state budget.
The main K-12 budget, called the Distributive School Account, saw some revisions by the two committees.
Enrollment in the state's 17 school districts increased slightly, to a total of 449,505 students in the first year of the two-year budget, and 455,124 in the second year.
The only significant change to the budget was made to the class-size reduction program, where ratios were upped slightly. Ratios of 16 pupils per teacher in grades 1 and 2 were increased to 17, and to 20 from 19 in grade 3, reducing spending on the program by about $44 million. The class-size reduction program will now cost about $306 million over two years.
The committees voted to use the savings to increase per pupil spending by $40 a year in both years of the budget. Remaining funds, which were not immediately determined, would be allocated for career and technical education.
While supporting Sandoval's new and expanded initiatives, lawmakers did make some reductions in his recommendations totaling just under $100 million.
Lawmakers, in a series of votes that sometimes included dissent from some members, approved $27.2 million for a Read by Three program and about $15.8 million to contract with social workers and others to combat bullying. The funding for the anti-bullying program was less than the $36 million requested by Sandoval and was still being calculated precisely by legislative staff.
Lawmakers said the funding for the bullying program would cover 140 schools in the first year and 280 schools in the second year. The second year's funding of $11 million would be held in reserve so the first year's efforts could be reviewed first by the Legislature's Interim Finance Committee.
Senate Bill 504, creating the Office for a Safe and Respectful Learning Environment within the Department of Education, is already on Sandoval's desk awaiting his signature.
Contact Sean Whaley at swhaley@reviewjournal.com or 775-687-3900. Follow @seanw801 on Twitter.

RELATED STORIES
Sandoval unveils $262 million compromise tax hike plan
Assembly rejects gender-based school restroom bill
Sandoval's scholarship bill heads to Senate floor
Assemblyman seeks repeal of Common Core in Nevada schools
Sandoval challenges legislators to adequately fund education
Assembly to consider private school scholarship program
Bill would provide grants to low-income students
Teachers who have sex with students would have to register as sex offenders
See all of our coverage: 2015 Nevada Legislature.