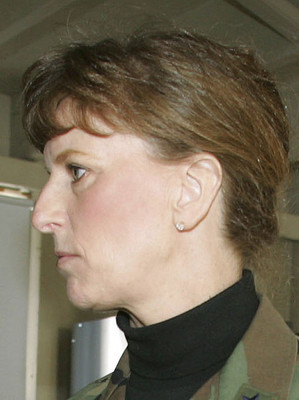 The military chief and commander of 4,000 Air and Army National Guard troops in Nevada will step down from her post when her term expires in June, a spokeswoman for the Nevada Military Office confirmed Wednesday.
Air Force Maj. Gen. Cynthia Kirkland, who has been the state's adjutant general since 2005 and was the first woman to have the job, was notified last week by Gov. Jim Gibbons' office that she will not be reappointed, according to a March 26 internal memo that Kirkland sent by e-mail to members of the National Guard.
Gibbons spokesman Daniel Burns said the governor "thanked the general for her service, but he has determined it is time for a change and he expects the Guard to continue to fulfill its mission to proudly serve Nevada and the nation."
Burns would not elaborate further.
No candidates to replace Kirkland have been announced by the governor's office, Nevada National Guard spokeswoman April Conway said.
"We have accomplished a great deal in the last four years and I attribute it all to the steadfast determination and commitment of each one of you," Kirkland wrote in her e-mail. "I have no doubt you will continue to work as hard as always in support of the people of Nevada and the Nation."
Kirkland, 55, was traveling on state military business to Scott Air Force Base, Ill., and couldn't be reached for comment late Wednesday.
Burns said the governor has some replacement candidates in mind, but he couldn't identify them because of policy.
As a colonel in April 2005, Kirkland was named by Gov. Kenny Guinn to become the first woman in charge of the Nevada National Guard.
In June 2005, she replaced Air Force Maj. Gen. Giles Vanderhoof, who had served as the adjutant general since 2001.
Kirkland became a brigadier general in November 2005, earning an annual salary of $91,304, and was promoted to the two-star rank, or major general, in June 2007. She is paid as a state employee.
Under her watch, hundreds of soldiers and airmen from the state's National Guard have been deployed for operations Iraqi Freedom and Enduring Freedom in Afghanistan.
The largest deployment of Nevada Guard troops since World War II will take place this month when the 1st Squadron, 221st Cavalry heads out for convoy security and reconstruction team assignments in Afghanistan.
The state's 1864th Transportation Company is expected to deploy to Iraq after a training stint at Camp Atterbury, Ind., next week.
One of Kirkland's first acts as adjutant general was to testify in 2005 at a Base Realignment and Closure hearing in New Mexico, where she succeeded in retaining Nevada's C-130 Hercules aircraft for a base in Reno.
Contact reporter Keith Rogers at krogers@reviewjournal.com or 702-383-0308.