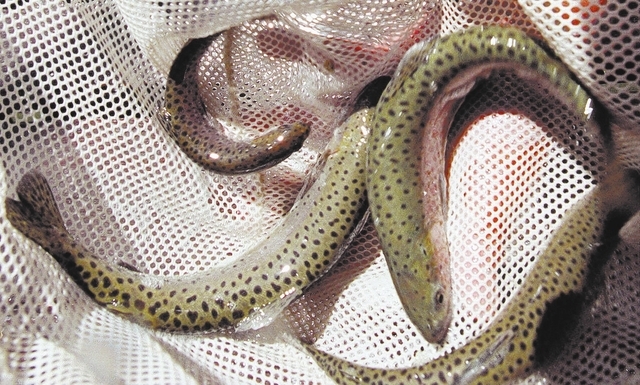 Nevada's official state fish, the Lahontan cutthroat trout, may not sound familiar to southern Silver State residents. It's native to the cold waters of Lahontan basin in northwestern Nevada, eastern California and southern Oregon.
It has been classified as threatened since 1975, according to the U.S. Fish &Wildlife Service.
The predator species evolved in the waters of Lake Lahontan, feeding on native chub and sucker, growing to 40 pounds and 50-inch lengths.
In 1844, it could be found in 11 lakes and more than 3,600 miles of streams within the major basins of Lake Lahontan. Stream dwellers reach 10-inch lengths and weigh 1 pound.
Lahontan cutthroat trout today occupy far less of a habitat, spanning about 480 miles of streams and five lakes.
Self-sustaining populations of the species occur in 10 percent of the historic stream habitats and 0.4 percent of the historical lake habitats.
However, the Lahontan cutthroat trout have made their way into one small spot of Southern Nevada. The fish can be found in Carpenter Canyon on the west side of the Spring Mountains National Recreation outside Las Vegas. They didn't come here naturally but were introduced into Carpenter's Peak Spring in the 1950s.
Threats come mostly in the way of isolation among fish populations. Like other cutthroat trout species, Lahontan is a stream spawner and needs a network of connected streams and lakes to reproduce.
Female sexual maturity is reached between the ages of 3 and 4, while males mature at 2 to 3 years of age.

Celebrating the Silver State