Nevada Poll: Voters strongly support Questions 3 and 4
October 7, 2016 - 12:36 pm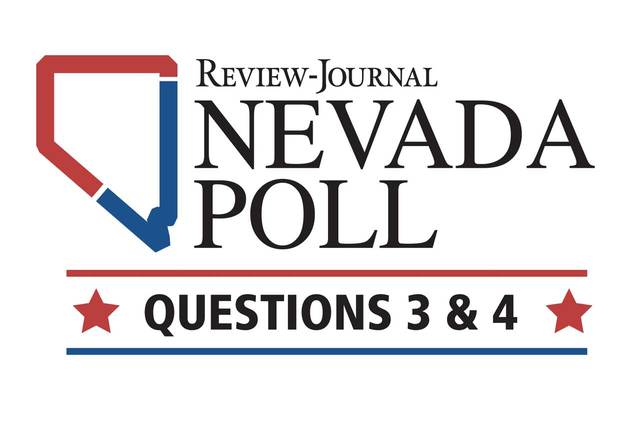 Likely voters in Nevada overwhelmingly support a state constitutional amendment that would open the electricity market to competition, according to a poll commissioned by the Las Vegas Review-Journal.
Sixty-eight percent of voters polled support Question 3 on the Nov. 8 ballot, with 14 percent opposed. Eighteen percent didn't know or didn't answer.
Supporters argue the state needs an open electricity market that allows Nevada residents to pick the power provider they desire, including companies that rely on renewable energy sources.
Voters also widely support an amendment to the state constitution that would require the Legislature to put in place a tax exemption for medical equipment, the poll found. Sixty percent of likely voters support Question 4, with 21 percent opposed. Nineteen percent didn't know or didn't answer.
"There seems to be a great appetite among voters in Nevada to open up competitive retail energy," said Fernand Amandi, principal at Bendixen & Amandi International, the research firm that completed the poll.
The 2016 election isn't the only hurdle for the two ballot measures. Questions 3 and 4 will go before voters again on the 2018 ballot if they pass in November.
The poll's level of support bodes well for the future, including 2018, Amandi said.
"It's hard to see how opposition would mount even for a second crack at the voters," he said.
If Question 3 passes in 2018, the Legislature would be required to put a law in place that establishes an open retail electricity market, provisions for lowered costs for consumers and restrictions that prevent monopolies for electricity. That law would need to be passed by July 1, 2023.
"We are pleased that the latest poll results indicate the majority of Nevada voters believe Question 3 represents a tremendous opportunity for our state," said Karen Griffin, a spokeswoman for Nevadans for Affordable Clean Energy Choices, the group backing the measure. "Question 3 will improve the access and affordability of green energy, create thousands of clean-energy careers and set Nevada apart as a national leader in green technology."
The Legislature also would have to approve legislation if Question 4 passes in 2018, but there is no set time frame for when the law would take effect.
The measure is needed to help people with chronic conditions and the dying, said Doug Bennett, owner of Bennett Medical Services, which is in Nevada and several other states. Bennett's political action committee, Alliance to Stop Taxes on the Sick and Dying, is advocating on behalf of the measure.
"They're suffering physically, and we don't think they should have to suffer financially as well, particularly when they have no option other than to use the medical equipment their physician ordered," Bennett said.
Bennett said he is optimistic that the Legislature will address the issue in the 2017 session with a bill. That would eliminate the need for the measure to be on the ballot again in 2018.
Bendixen & Amandi conducted the poll of 800 likely voters between Sept. 27 and Sept. 29 in English and Spanish. The poll has a margin of error of plus or minus 3.5 percentage points.
The company, based in Miami, has done projects for clients including The Washington Post, Hillary Clinton's 2008 presidential campaign and Barack Obama's 2008 and 2012 campaigns.
The Review-Journal is owned by the family of Sheldon Adelson, chairman and CEO of Las Vegas Sands Corp.
Contact Ben Botkin at bbotkin@reviewjournal.com or 702-387-2904. Follow @BenBotkin1 on Twitter.
2016 Nevada Poll by the Las Vegas Review-Journal by Las Vegas Review-Journal on Scribd
METHODOLOGY
Sample: 800 likely voters in Nevada
Dates of interviews: September 27-September 29, 2016
Languages of interviews: English, Spanish
Margin of error: +/- 3.5 percentage points
Source: Bendixen & Amandi International
RELATED
Nevada pot ballot measure too close to call
Nevada Poll: Likely voters back expanded background checks for firearms
RJ's Nevada Poll shows Clinton and Trump are in statistical tie
Nevada Poll shows Joe Heck and Catherine Cortez Masto are in close race for U.S. Sen. Harry Reid's seat