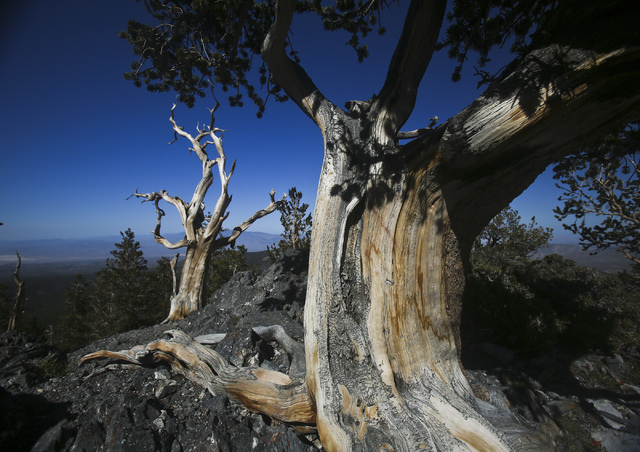 Editor's Note: Nevada 150 is a yearlong series highlighting the people, places and things that make up the history of the state.
From Jack Johnson to Muhammad Ali, from Mike Tyson to Floyd Mayweather Jr., boxing had been a vibrant part of Nevada's sporting fabric spanning three centuries.
It grew from mining towns and cow pastures in the 1800s, morphed into clubs, baseball and football stadiums, and eventually secured a spot in casinos on the Strip.
Bob Fitzsimmons beat Jim Corbett in Carson City. Johnson beat Jim Jeffries in Reno. Ali beat Floyd Patterson and lost to Larry Holmes in Las Vegas. Hundreds of champions have fought in the Silver State over the decades. There has been triumph and tragedy inside the ring.
But why boxing?
"It's a sport that fits Nevada because it's a sport that has always attracted gamblers," said Marc Ratner, the former executive director of the Nevada Athletic Commission. "People love to watch fights and bet on them, and once the hotels in Las Vegas realized that, they got involved. Almost every Las Vegas hotel has had a fight at its property at one time or another."
Tim Dahlberg, the Las Vegas-based national columnist for the Associated Press and the author of "Fight Town," a 2004 book on the history of boxing in Las Vegas, said it worked because it was one night's entertainment.
"Boxing helped a town like Las Vegas which had no major league sports," Dahlberg said. "With the biggest fights coming to Las Vegas, it's like having the Super Bowl two or three times a year.
"But the real reason boxing works in Nevada is because it draws the kind of crowd that loves action, and in a state where almost anything goes, it was a good fit."
THE DON KING OF GOLDFIELD
It likely goes back to ancient times, the idea of two men going against each other, beating each other up. That stirred the competitiveness in the human spirit. Even before Nevada became a state in 1864, fights would be staged in the mining camps as a source of entertainment. And it's likely that a wager or two was placed on the outcome of those "matches," which added to the entertainment value.
Eventually, promoters of prizefights saw Nevada as a good place to do business. Never mind that the population of the state paled in comparison to its neighbor, California, not to mention the major cities in the East, Midwest and the South. For much the same reason that people like Bob Arum, Don King and others do business in Las Vegas today, Tex Rickard saw opportunity in the promotion of fights in Goldfield and Reno early in the 20th century.
Rickard, who would later build Madison Square Garden and own the National Hockey League's New York Rangers, was first a saloon owner in Goldfield and staged a fight there to provide entertainment for what was then a flourishing mining town. Back in the 1890s, a promoter named Dan Stuart had the same vision as Rickard.
It was the first real foray into tourism for a state that now lives off its visitors. Much like the crowds that assemble today when Mayweather, Manny Pacquiao or Canelo Alvarez fight on the Strip, spectators traveled to Goldfield and Tonopah and Ely to watch those earliest bouts. They stayed in the hotels, drank at the saloons, bet on the fights and generally had a good time doing so.
Modern-day promoters such as Arum and Oscar De La Hoya of Golden Boy Promotions — and the venues that court their fights — simply took that old blueprint for success and modernized it. The sport now generates hundreds of millions of dollars in pay-per-view proceeds, gaming and non-gaming revenue for the host properties and their neighbors, and myriad taxes for the state's coffers.
From its humble, early 20th century roots, boxing in Nevada soon grew large enough to require greater oversight. The Nevada Athletic Commission was formed in 1941 to oversee the integrity of the sport with a five-member group of commissioners appointed by the governor.
It would take a few more years for boxing to really take off in Las Vegas.
FIGHT CAPITAL OF THE WORLD
The city's first big fight came in 1955 when Archie Moore met Nino Valdes for the light heavyweight championship at Cashman Field. About 6,000 showed up, signaling a shift in the town's relationship with boxing.
By the early 1960s, the newly built Las Vegas Convention Center was hosting fight cards. Emile Griffith fought there. So did a young rising heavyweight star named Cassius Clay in 1961.
In 1963, Las Vegas hosted what would be the first of hundreds of world heavyweight championship fights as Sonny Liston stopped Patterson in the first round. By then, the hotels realized that boxing was a vehicle to draw traffic to their properties.
Caesars Palace, the Las Vegas Hilton, the Sands and the Riviera all began to hold fights. Later, smaller properties such as the Showboat and the Silver Slipper made boxing a regular part of their entertainment menu. By the middle of the 1970s, Las Vegas had become the undisputed Fight Capital of the World. Former greats such as Joe Louis would find work as casino hosts.
Caesars built an outdoor arena behind its massive swimming pool for the really big fights, while its Sports Pavilion served as a home for smaller cards. The Hilton also had an outdoor arena but later moved its big fights indoors.
Ali was still a big name, though his career was in decline, when he faced Leon Spinks at the Hilton in 1978. Ali lost that night and would return to Las Vegas to lose to another rising heavyweight star — Larry Holmes — in 1980.
George Foreman, who would dominate in the 1970s and make a big comeback in the 1990s to regain the heavyweight title, also was a regular in Las Vegas.
One of the biggest fights of that decade came in 1982, when Holmes met Gerry Cooney in one of the most anticipated fights in years. Cooney, a white heavyweight, conjured up visions of a modern-day Jim Jeffries, with Holmes cast in a villainous Jack Johnson role.
The fight at Caesars Palace attracted a crowd of 29,214, a record that still stands today. As Johnson did to Jeffries in Reno in 1910, Holmes dominated Cooney, whose corner came into the ring during the 13th round and stopped the fight.
CLASSIC CONTESTS AND CRAZINESS
The 1980s were especially big for boxing in Nevada, particularly in Las Vegas. Sugar Ray Leonard, Thomas Hearns, Marvin Hagler and Roberto Duran were dominating the junior middleweight and middleweight divisions at the time. On the night of Sept. 15, 1985, the Caesars outdoor ring played host to arguably the greatest single round of boxing ever, when Hagler met Hearns for the world middleweight title.
The word "war" doesn't do the opening round justice. Both fighters were knocked down and were throwing punches at such a frenetic pace, referee Richard Steele became convinced the fight would never go the distance. His instincts proved accurate in the third round as Hagler, bloodied from cuts sustained early in the fight, dropped a reeling Hearns and prompted Steele to stop the fight.
Two years later, Hagler and Leonard would meet in a thrilling fight that saw Leonard learn from Hearns' performance and keep a safe distance from Hagler. Leonard would win by decision, prompting Hagler to retire from boxing.
Leonard went on to fight Hearns a second time in 1989 and, a year later, open The Mirage against his nemesis, Roberto Duran.
By then, new stars had emerged. Mike Tyson, Evander Holyfield and Riddick Bowe were breathing new life into the heavyweight division while Julio Cesar Chavez was endearing himself to Mexican boxing fans as a lightweight and later welterweight champion. The 1990s also saw Oscar De La Hoya's rapid rise to stardom, as the 1992 Olympic gold medalist quickly became a main event attraction along with Felix Trinidad.
It was also a time for weirdness in Las Vegas. When Holyfield and Bowe fought in 1993, an intruder flew into the ring at Caesars Palace, temporarily stopping he action in the seventh round.
The parachutist, who became known as "The Fan Man," set off a chaotic scene when he dropped out of the sky into the ring. Eventually, though, the fight continued with Holyfield winning a majority decision.
Holyfield would be involved in another bizarre incident, this time in a rematch with Tyson. The two had their long-awaited first meeting in 1996 with Holyfield dominating in an 11th-round TKO. Seven months later at the MGM Grand Garden, a sellout crowd anticipated another huge battle.
What they got was shocking.
Holyfield was out-boxing Tyson and frustrating him. Tyson claims Holyfield was holding him while hitting him and he took matters into his own hands. He bit Holyfield's ear not once, but twice. As a bloodied Holyfield yelped in pain, referee Mills Lane disqualified Tyson after the third round and all hell broke loose. Fans were showering the ring with debris. Fights were breaking out in the stands. And when the mayhem spilled out into the casino, security quickly found itself with its hands full.
Tyson would be suspended 18 months and fined a record $3 million by the athletic commission.
NEW CONTENDERS, COMPETITION
As the 21st century dawned, the attention turned away from the heavyweights to the welterweights, and Mayweather was well on his way to becoming boxing's pound-for-pound champion. His 2007 fight with De La Hoya at the MGM set a record for most pay-per-view buys — 2.5 million — and the gate of $18.4 million stood as a record for Nevada until last September, when Mayweather and Canelo Alvarez topped it with just over $20 million in ticket sales.
But Mayweather wasn't the only star of the new millennium. Pacquiao emerged as a fan favorite as he worked his way up the ranks, winning titles at featherweight, super featherweight, lightweight, junior welterweight and welterweight. His fights at both the MGM and Mandalay Bay were sellouts as he battled Juan Manuel Marquez, Erik Morales, Ricky Hatton and Miguel Cotto.
Other top fighters such as Shane Mosley, Julio Cesar Chavez Jr., Amir Khan, Danny Garcia and the late Diego Corrales were regular visitors to Las Vegas and helped keep boxing alive in the city. But the fight everyone wants to see — Mayweather vs. Pacquiao — has yet to materialize.
Today, boxing faces stiff competition for the discretionary sports dollar, and not just from football, basketball and baseball. Other combat sports now garner a great deal of attention and money, most notably the mixed martial arts of the Ultimate Fighting Championship, a billion-dollar entity headquartered in Las Vegas.
But while boxing may not be a staple of the mainstream sporting consciousness as it was back in the 1950s and '60s, a big fight in Las Vegas still generates excitement. Celebrities from film, television, music, sports and business flock to town to be part of the scene.
A dizzying array of lights, music, lasers and glitz bracket the action in the ring, and a prime seat can cost you well over a thousand dollars.
It's a far cry from when Tex Rickard was going from saloon to saloon in Goldfield to persuade people to sit in the dirt and watch two miners beat the hell out of each other.
Though the competition grows from modern arenas and Indian casinos across the country, Nevada — and its largest city, in particular — endures as the place where reputations are made and champions are immortalized.
"It's still the goal of every boxer to fight in Las Vegas," Ratner said. "It validates their career once they've fought in Vegas."
Contact reporter Steve Carp at scarp@reviewjournal.com or 702-387-2913. Follow him on Twitter: @stevecarprj.

Celebrating the Silver State