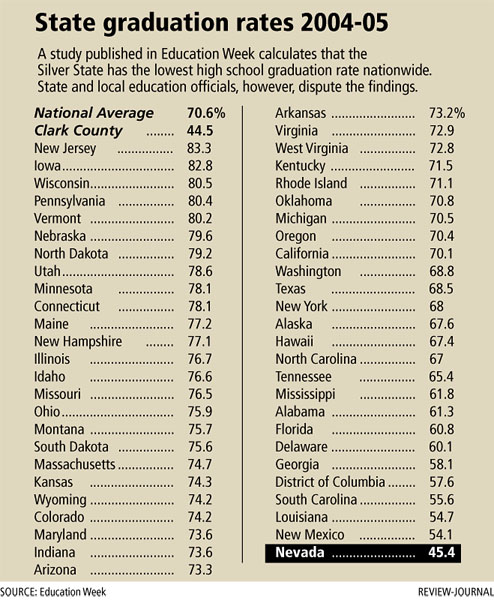 Graduation is hardly a proud moment for Nevada. A study published in Education Week calculates that the Silver State has the lowest high school graduation rate in the country at 45.4 percent. The national average is 70.6 percent.
State and local school officials are skeptical about the methodology of Diplomas Count 2008. Gloria Dopf, the Nevada deputy superintendent, said it's "not a graduation rate, it's an attrition rate" because it emphasizes the loss of students.
Based on its projection for the class of 2008, Nevada will have more non-graduates than graduates, said Sterling Lloyd, a senior researcher for Editorial Projects in Education. It found that 109 students leave the Nevada public school system each day.
Clark County, the fifth- largest school district in the nation, represents 70 percent of the state's K-12 enrollment. It has a similar graduation rate of 44.5 percent, ranking fifth from the bottom among the nation's 50 largest school districts.
The Diplomas Count 2008 study is based on 2004-05 school district census data from the U.S. Department of Education, which is the most recent available information.
Nevada's graduation rate has declined since 2001, when it was 54.7 percent, according to Lloyd, the senior researcher for the study. The state appears to be going in the opposite direction of the nation since the United States has improved its graduation rate by 2 percent since 2001.
Clark County Schools Superintendent Walt Rulffes acknowledged that the county's graduation rate has been "deplorable" and "shamefully low." Since taking over in 2005, the superintendent began a slogan called "Keep Your Eyes on the Cap" to focus staff and students on the goal of graduation.
The School District has increased its rigor in math instruction so that students will perform better on proficiency tests, the exit exams required for graduation.
But Rulffes and Dopf said the Diplomas Count 2008 numbers are skewed by its methodology, which does not account for Nevada's very transient population and does not distinguish between dropouts and those who legitimately leave the School District to attend school elsewhere.
"The whole computation is based on a nonmobile population," Dopf said. The study is "looking at how many students we lose each year as opposed to how many will graduate." The state calculates its graduation rate at 65 percent, which is nothing to brag about but "it is a different picture than the 45 percent," Dopf said.
Nevada calculates its graduation rate by taking the total number of diplomas for a year, and then dividing that number by the total number of estimated dropouts from the senior class's last four years plus the number of seniors who completed their coursework but did not graduate. The result is then multiplied by 100 to get a percentage. Under this formula, if a state undercounts its dropouts, its percentage of graduates improves.
By this standard, Rulffes noted that the county's graduation rate has improved over the past two years, reaching 63.5 percent in 2006-07 compared to 60.5 percent for 2005-07. He said the Diplomas Count 2008 data is very dated since it is based on 2004-05 information.
Compared to graduation rates calculated by all 50 states, the Diplomas Count 2008 reports a lower graduation rate for every state except Alaska.
But Lloyd alleges that the states' methodology undercounts the number of high school dropouts because school districts do not have accurate means for tracking them.
"Think about it, dropouts do not draw attention to themselves," said Lloyd. "They sort of disappear."
In figuring its graduation rate, Diplomas Count 2008 takes a different tack by calculating the likelihood of graduation rather than the percentage of students who will graduate in four years.
It multiplies the percentages of high school students who advance each year to the next grade level and graduation to come up with an overall percentage of how many students probably would graduate in four years.
Lloyd acknowledged the criticism from Nevada officials. "It's true we don't take into account mobility," he said. "The data to make that adjustment is not available."
But Lloyd added the study minimizes the impact of mobility by looking at figures for one year instead of a four-year snapshot.
Because of the controversy over the different standards used to evaluate graduation, U.S. Secretary of Education Margaret Spelling is urging the 50 states to adopt a uniform cohort model, which would track students over their four years in high school.
Rulffes said the School District faces more challenges than academics in boosting its graduation rate. It is also up against societal and economic factors. In a district telephone survey of dropouts, many said they had to leave school to support their families.
Because the low graduation rate impacts minorities by the most, Rulffes added, "this is really a social justice issue."
Contact reporter James Haug at jhaug @reviewjournal.com or 702-383-4686.