Nevada unions could split with Democrats over Obamacare
February 8, 2014 - 10:27 pm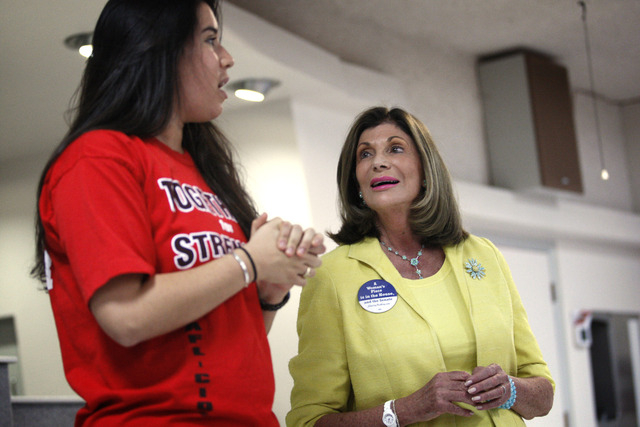 Union workers upset with President Barack Obama's health care law might stay home this election year, hurting Democratic chances at the ballot box, according to union leaders who say their nonprofit insurance plans are being treated unfairly.
D. Taylor, the head of UNITE HERE, which represents 265,000 members in casino, hotel, restaurant and laundry services nationwide, came away last week from Washington meetings angry at the Obama administration for allowing the Affordable Care Act to harm nonprofit health care plans like the union's.
"I'm not thinking about November elections, nor are my members," Taylor said in a statement to the Las Vegas Review-Journal. "It's almost impossible to get excited for any election with the loss of our health plans looming over us and no fix in sight."
Danny Thompson, the executive secretary-treasurer of the AFL-CIO, was just as blunt.
"Union members have serious concerns with how the ACA will affect their plans," he said in a statement. "We have to prioritize. Workers will make the decision about elections. I can't imagine the threat to their health plans won't be a factor."
Union leaders argue the health care law has subjected union-negotiated plans to new taxes ($63 per person) and costly mandates without corresponding benefits and subsidies ($1 trillion over 10 years) available to companies that offer private coverage to workers.
In the Las Vegas area, the Culinary Health Fund has added nearly 15,000 adults younger than age 26 to the plan since Oct. 1, 2009, at a total cost of $41.3 million through October 2013, the union said.
In 2009, the fund on its own added 1,722 dependent adults younger than age 23 and in school, at a cost of $2.6 million. Obamacare in 2010 bumped the age limit to 26 and eliminated required student or dependent status. The cost has risen each year, hitting $16.3 million for 2012 alone.
Qualifying individuals and for-profit companies can get subsidies while nonprofit union plans aren't allowed to compete against for-profit insurance companies on the new health exchanges. Union leaders predict their plans will become noncompetitive over time, forcing union workers to switch to Obamacare or private plans.
"Our members like their plans, period. They want to keep them, period," Taylor wrote in a scathing opinion piece Friday on Huffington Post. "It is stunning how little they (Obama administration officials) understand, or deliberately choose to obfuscate, the facts concerning their own health legislation."
Taylor said the easiest fix would be for the federal government to simply deem nonprofit union plans "qualified health plans for the purposes of receiving subsidies and participating in the exchanges."
The Culinary Workers' Union, which represents about 55,000 workers in Nevada's casinos, hospitality and tourism sectors, said no formal decision has been made to sit out the elections in protest, but union leaders and members are frustrated.
"I don't think we're at the decision-making point, but our members are very concerned about this considering how hard they fought for the health care that they have," said Yvanna Cancela, spokeswoman for Culinary Local 226. "Our primary concern is that our plans are treated differently than the for-profit plans, and therefore it stifles the ability to compete and ultimately could push our plans into extinction."
THE POLITICAL LANDSCAPE
Midterm elections are usually low-turnout affairs, so a lack of Democratic enthusiasm in 2014 could hurt the party's candidates up and down the ballot and allow the GOP to win more state offices and close congressional contests and possibly take control of the state Senate.
There is no presidential or U.S. Senate race to drum up excitement in Nevada, and GOP Gov. Brian Sandoval is expected to win re-election. The primary is June 10; the general election is Nov. 4.
The highly competitive lieutenant governor's race could be affected. Two top Republicans are vying for the GOP nomination, former state Sen. Sue Lowden and state Sen. Mark Hutchison, who is Sandoval's pick. The likely Democratic contender, Assemblywoman Lucy Flores, hasn't formally announced yet.
Democratic registered voters out­number Republicans by 78,000 statewide, and Hispanics recently have made up to 18 percent of the electorate, which could boost Flores' hopes. Any union help for her candidacy could make a difference.
In the Nevada Legislature, Democrats control the state Senate with an 11-10 advantage over Republicans. In 2014, 11 Senate seats are up for election: six Republican and five Democratic. Most are safe seats for incumbents, but three competitive races are expected to decide control — Districts 8, 9 and 20, all with a Democratic edge.
Democrats think they can win the open District 8 seat with the GOP incumbent, Barbara Cegavske, termed out and running for secretary of state. Democrats also believe freshman state Sen. Justin Jones, D-Las Vegas, will hold on to his District 9 seat. Under that scenario, Democrats would pick up one seat for a 12-9 advantage.
But Republicans are convinced they can win all three seats, including District 20, now held by Senate Minority Leader Mike Roberson, R-Las Vegas. In that case, Republicans could take the Senate with a 11-10 advantage.
U.S. Rep. Joe Heck, R-Nev., who represents the 3rd Congressional District in Southern Nevada, has the most competitive race. His Democratic opponent, Erin Bilbray, would have a harder time if unions don't boost her campaign.
Democrats have long counted on union forces to canvass neighborhoods and get out the vote, including in 2008 when an early Culinary union endorsement of Obama helped him win the Democratic nomination over Hillary Clinton and take the White House.
Unions also pulled out all the stops in 2010 for U.S. Sen. Harry Reid's re-election and in 2012 for Obama and Steven Horsford, a former state senator now defending his 4th Congressional District seat this year. Horsford was the chief executive officer of the Culinary Training Academy in Las Vegas.
But the unions couldn't save then-U.S. Rep. Shelley Berkley, D-Nev., who lost a 2012 U.S. Senate race to Sen. Dean Heller, R-Nev., the appointed incumbent.
COUNTERING THE ANGER
With elections in mind, both Reid and Horsford are working on trying to solve the union's problems with the new health care law.
But Democrats and the White House also fear proposing a legislative fix that might give Republicans an opportunity to push other changes or even kill the Affordable Care Act.
"Sen. Reid is working with the administration and with Culinary and D to address their concerns," Reid spokes­woman Kristin Orthman said last week.
Reid told reporters, "I'll talk with D" after learning Taylor met last week with U.S. Senate Minority Leader Mitch McConnell, R-Ky.
"It was a fairly brief meeting, but it's safe to say this is a good example of some of the president's union constituents who were very enthusiastically for him who think Obamacare has been a disaster for them," McConnell said after the meeting.
Reid has acknowledged difficulty making legislative changes with Republicans doing all they can to block or kill the health care law, particularly in the GOP-controlled House.
"It would be better if we could do some work legislatively, but until there's a change in the House of Representatives, especially, we won't get it done," Reid said in a radio interview in August.
Reid also said the White House is making administrative changes to improve the law and address union worries. But union leaders in a Jan. 27 letter to Reid and House Minority Leader Nancy Pelosi, D-Calif., said those tweaks have not helped nonprofit plans. The letter came from Taylor and Terry O'Sullivan, general president of the Laborers' International Union of North America.
Taylor said he has in recent years met with Obama administration officials to no avail — a total of 15 sessions with White House staff, 14 with Health and Human Services, 20 with the Department of Labor and 25 with the Treasury Department, which determined non­profit plans cannot get tax breaks or subsidies in the exchanges.
Horsford said the problem with the law goes beyond Culinary union concerns and affects all so-called Taft-Hartley plans, which are collectively bargained and run jointly by unions and employers to allow workers to change jobs without losing coverage. Construction workers typically rely on such plans.
"It's not just the Culinary Health and Welfare Trust Fund that's affected by this," Horsford said, noting he favors a change in the law to help unions. "My concern is that there are some 250,000 Nevadans, people who are my constituents, who are covered either by Taft-Hartley plans (including IBEW workers, firefighters, carpenters) or self-insured plans (including the Las Vegas Metro Chamber, which covers thousands of small businesses)."
"Most of the large gaming companies also have their own self-insured plans," he added. "I will continue to work with anyone to make sure Nevadans on these plans are treated fairly, and I will continue to raise the issues with the administration."
Nationwide, 20 million people are covered by self-funded, nonprofit Taft-Hartley plans, Taylor said.
In an interview last week with Nevada Public Radio, Horsford said other major pieces of social legislation in the past, including Medicaid and Social Security, were amended after initial passage to make improvements or fix flaws.
"It's the job of Congress to review any law to make it work better," Horsford said. "It's incumbent upon Democrats and Republicans to work together to identify changes that need to take place."
Nevada Democratic Party spokesman Zach Hudson said he isn't worried about the union discontent, mostly because Nevada Republicans are distracted by internal rifts, making them less competitive this year.
"Considering the Tea Party civil war currently engulfing the Nevada Republican Party and their gross incompetence every election cycle at putting together a functioning ground game, Nevada Republicans are the ones who should be worried," Hudson said.
David Damore, a political science professor at the University of Nevada, Las Vegas, said union leaders are trying to increase the pressure on the president and Congress by threatening to sit out the election, but in the end, union forces will help Democrats.
"Do they sit out? My sense is no," Damore said. "There may be less door knocking, a slight decrease, but they have other issues, like immigration."
That said, Damore recalled that unions sat out the 1994 elections because they were unhappy with former President Bill Clinton's health care reform efforts. That year, Republicans took control of both the House and the U.S. Senate.
Contact reporter Laura Myers at lmyers@reviewjournal.com or 702-387-2919. Follow her on Twitter @lmyerslvrj.