Nevadan recounts his life as wandering son
December 15, 2009 - 10:00 pm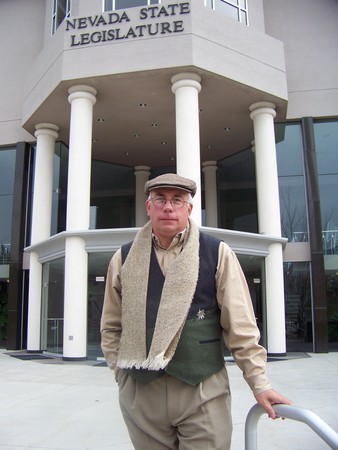 CARSON CITY — Former Assemblyman Pat Hickey didn't leave much of a lasting impression during his single session as a Reno legislator.
Hickey, now 59, was a nice guy, friendly with the press, but he did not pass any significant bills during the largely uneventful 1997 session.
Few were aware at the time that Hickey had spent nearly 20 years as a state leader and regional spokesman for the Unification Church in America. He often traveled with the Rev. Sun Myung Moon, who picked Korean native Myung-Hee as Hickey's wife.
In the midst of the Vietnam War, conservative Republican Hickey also refused induction into the Army and then started on a spiritual quest across the country and around the world.
"I wasn't trying to hide anything from anybody," Hickey said. "But then I didn't talk about it unless I was asked."
Hickey has written "Tahoe Boy: A Journey Back Home," which is a memoir about his journey to find God and happiness.
No longer active in the Unification Church, Hickey remains a religious man. There is nothing about sex or use of drugs in his book, out of respect for his wife and a desire to be a good example to his children, he said.
It's a fun-to-read book, along the lines of Jack Kerouac's "On the Road," that will appeal to many baby boomers who spent some of their own lives on spiritual quests.
What comes out most is Hickey's wit and self-deprecating sense of humor. He isn't trying to preach to anyone, but just show the bumpy and funny path he took to find himself.
He compares his journey with the characters in "The Wizard of Oz."
"They discovered everything they thought only 'He' could provide was already within them," he wrote.
Hickey found lasting love in family. His arranged marriage from 1982 has produced four children, now all in their 20s, and left him a happy man. His 96-year-old father lives with them.
"On my way to heaven," says Hickey in his book, "I put my parents through hell. In a span of just three years, I'd dropped out of college, refused induction into the Army and traipsed through Canada in a hippie van headed nowhere. Culminating my departure from the mainstream was the joining of a new religious movement that most would soon consider a cult. It was a lot for my middle-of-the-road American folks to digest."
Along the way, he discovered the Unification Church, founded in 1954 in Korea by Moon.
Moon has said that he met Jesus when he was 16 and that he was told by him to finish the work that remained to be done. Members consider Moon the Messiah.
In the 1970s, Moon relocated to the United States and found many young people anxious to recruit members on his behalf. Often parents felt Moon was brainwashing their children, and some hired people to kidnap them from the church.
Moon came under criticism, even by members of his own family, over the wealth he accumulated from members. He spent 18 months in prison in the early 1980s on tax fraud charges. Members considered his conviction a form of persecution.
Hickey frequently traveled to Asia and South America on behalf of the church. He knew Moon personally and once went fishing with Moon.
The funniest part of his book is the extreme step Hickey took to locate a picture of the young Korean girl who Moon had selected to be his wife.
It seems single "Moonies" submitted large photos of themselves, which were used by Moon for matches. Before meeting their mates, they were permitted to look at a photo of their chosen partner.
One day the bridal photos arrived at a hotel in Boston where the church was holding a conference. All of the young men except Hickey received manila envelopes holding pictures of their future wives.
Frantic, Hickey, whose family ran the trash collection business at South Lake Tahoe, Calif., figured the envelope must have fallen from a desk and been tossed out by a maid. He scoured through the hotel trash.
"After rummaging for two hours, I spotted the corner of an envelope protruding from a bag in the pile," he wrote. "Saying a prayer to be properly pure at the moment of my introduction, I opened the bag and found a manila folder with my name written on it, Korean style — Hickey Patrick. Tears mingled with garbage stains and at exactly 2:58 a.m. on the morning of Nov. 25, 1978, I saw her for the first time."
To his delight, she was beautiful. They would marry four years later at a mass wedding conducted by Moon in Madison Square Garden in New York. But he got to know his bride through constant letters and a trip to Korea to meet her and the in-laws.
Hickey's humor extends to his thoughts about the Nevada Legislature.
"Acting intelligent, or actually being so, isn't a prerequisite for being a Nevada legislator," he wrote.
At one point in the 1997 session, he tried unsuccessfully to pass a bill sought by eighth-graders in his district. They wanted to change a state law to require only a single license plate on vehicles.
The youngsters found 19 states required only a single plate and reasoned the state could save money by manufacturing fewer plates. Then the state or civic groups could make money by selling commemorative plates for the front bumper.
The bill died in the Assembly Transportation Committee.
On his way out, Hickey was stopped by a prison representative.
He told Hickey his bill would have hurt the "take-home pay" of inmates who are paid for making license plates.
It suddenly dawned on Hickey that he had witnessed a perfect example of "the inmates running the asylum. It didn't matter that it would save the taxpayers millions, only that it would hurt the bottom line on a felon's paycheck."
There exists a mindset in government, according to Hickey, "that programs for those in need can and should be created and business can always be taxed more to pay for them."
Such political digs, however, are scant in his memoirs. "Tahoe Boy" is more a tale of a prodigal son who returned home and found what was missing was in front of him all the time.
Hickey, who now owns a Reno paint company, says his journey is not over.
He even might dabble again in politics.
In the end, he knows everything will turn out right.
Contact Capital Bureau Chief Ed Vogel at evogel@reviewjournal.com or 775-687-3901.
Order Pat Hickey's book at tahoeboy.net