Nevadans in Congress list their assets, liabilities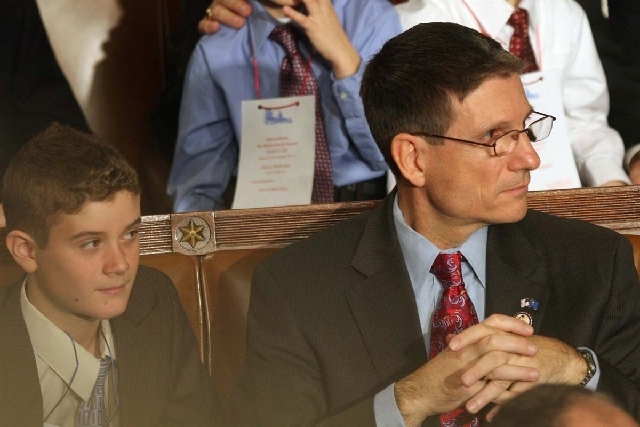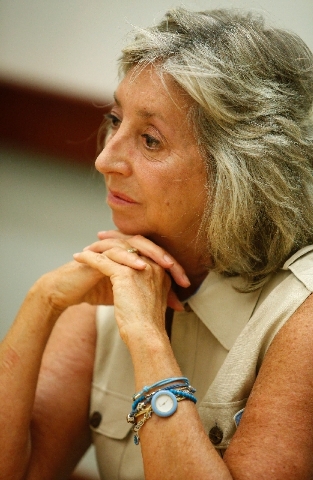 Rep. Steven Horsford and his wife, Sonya, bought stock in Facebook on the day the company went public. Rep. Joe Heck and his wife, Lisa, opened a college savings account for their son Joey Jr. Rep. Dina Titus and her husband, Tom, like to invest in electricity companies.
Those details and others can be found in the latest financial disclosure reports that members of Congress are required to file each year. Reports covering 2012 became available last week.
The documents draw a general picture of lawmakers' financial standings, listing what investments they own and what liabilities they hold, including their mortgages. They are not precise: Values are reported in broad ranges.
The reports also do not list the lawmakers' annual salaries, which are $174,000.
Here are thumbnails of House members from Southern Nevada:
■ Horsford, a Democrat elected in November, and his wife, who is an education leadership expert, hold investments in stocks and stock funds valued at between $27,000 and $230,000.
Before leaving for Washington, Horsford, 40, collected $190,840 in his final year salary and severance as chief executive of the Culinary Academy of Las Vegas, according to the report.
When Facebook went public on May 18, 2012, the Horsfords bought between $1,000 and $15,000 in stock.
Horsford plans to file an amendment reflecting the couple holds a $389,000 mortgage on their home in Las Vegas, a spokesman said. A rental time share in Newport, Calif., is valued at $25,000.
■ Heck, a Republican in his second term, and his wife, who is a nurse, hold bank accounts of between $15,000 and $50,000, and annuities and retirement accounts containing between $199,000 and $561,000.
Heck, 52, reported he still is paying off between $50,000 and $100,000 in student loans from his education to become an osteopath. The family last year began participating in a college savings plan for their teenage son.
Heck and his wife hold a mortgage of between $250,000 and $500,000 on their home in Henderson.
■ Titus, 63, a Democrat in her second term, and her husband, a retired professor at the University of Nevada, Las Vegas, hold assets valued between $2.1 million and $7.6 million. Retirement plans, life insurance and IRAs account for most of their wealth.
The couple also has between $179,000 and $725,000 invested in stocks, including a range of power companies — including NV Energy, Dominion Resources in Virginia, Pinnacle West in Arizona, and American Electric Power — that service 11 states in the South and Midwest.
— Steve Tetreault
HAPPY BIRTHDAY NEVADA!
Esther Carter, a Las Vegas management analyst who served on the city's centennial celebration commission and handles city special events, has been named executive director of the state's Sequicentennial Commission.
Lt. Gov. Brian Krolicki announced her appointment Wednesday during a state Tourism Commission meeting.
Carter could not attend because she still is working on city of Las Vegas events. She will be on leave from that job while working on the 150th state anniversary celebration that begins Oct. 31 and ends Oct. 31, 2014. Nevada became a state on Oct. 31, 1864.
"We are making progress" on the 150th celebration, said Krolicki, chairman of the NV150 Commission, as the shorter version of the Sequicentennial Commission is known.
Their goal is to have 150 events during the yearlong celebration. Special 150th anniversary state license plates will become available at Department of Motor Vehicles' offices in July. There is no sign-up list.
A commemorative 150th anniversary silver medallion likely will not be sold until close to Oct. 31. The silver comes from a 1,000-ounce bar donated to the state by the Coeur Rochester mining company.
Sources said Krolicki wants to hold a contest to come up with the best design for the medallions, which will be minted on the old coin press in the Nevada State Museum in Carson City. The museum was the U.S. Mint where the "CC" mint mark coins were made in the 19th century.
In discussing the new license plates, Krolicki claimed when he purchased his 100th Las Vegas anniversary license plate he received one with the letters and numbers NV150, the same as the commission he now chairs.
While other commissioners said he was pulling their legs, Krolicki insisted it was all a matter of luck that he got that plate.
— Ed Vogel
SANDOVAL VETOES LISTED
From universal background checks for gun purchases to the sale of raw milk, all 17 bills vetoed by Gov. Brian Sandoval from the 2013 legislative session can now be found in one convenient location on the Legislature's website.
The vetoes, along with the messages from Sandoval explaining his reasoning for rejecting the measures, are all posted at: http://www.leg.state.nv.us/Session/77th2013/Reports/vetoedbills_messages.cfm
Sandoval's 2013 vetoes are 11 fewer than the 28 measures he rejected in the 2011 session.
Democrats have controlled both houses of the Legislature during the Republican governor's first term in office.
Sandoval's vetoes pale in comparison to the record set by former Gov. Jim Gibbons in the 2009 legislative session.
Gibbons vetoed 48 bills from that session, but 25 of the measures were approved anyway when the Legislature overrode his vetoes with two-thirds votes in both the state Senate and Assembly.
According to an article by former State Archivist Guy Rocha, Gibbons beat out Gov. Henry Blasdel, who vetoed 38 bills and saw 11 veto overrides in Nevada's first state legislative session in 1864-65.
No Sandoval veto has been overridden yet by the Legislature.
Sandoval's most controversial veto from the 2013 session was the universal gun background check measure, Senate Bill 221.
In his veto message, Sandoval said the provision of the bill pertaining to background checks for the private sale and transfer of firearms constitutes "an erosion of Nevadans' Second Amendment rights under the United States Constitution and may subject otherwise law-abiding citizens to criminal prosecution."
Another controversial veto was Senate Bill 457, which would have allowed voting by wards for council members in Henderson, Reno, Sparks and Carson City. In his veto message, Sandoval noted Reno voters overwhelming rejected ward voting and that Henderson and the other cities opposed it, too.
— Sean Whaley
Contact Stephens Washington Bureau Chief Steve Tetreault at stetreault@stephensmedia.com or 202-783-1760. Follow him on Twitter @STetreaultDC. Contact Capital Bureau Chief Ed Vogel at evogel@reviewjournal.com or 775-687-3901.
Contact Capital Bureau reporter Sean Whaley at swhaley@reviewjournal.com or 775-687-3900.