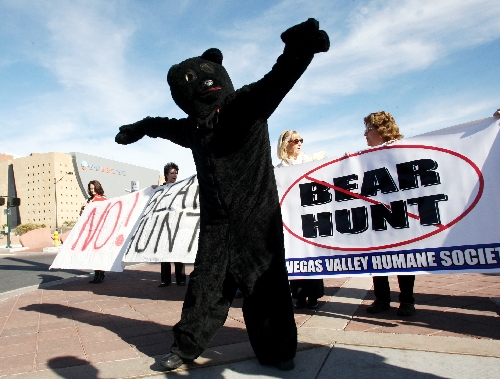 Nevada wildlife commissioners defied a contingent of bear hunt opponents Friday, voting 7-1 to hold a season this year for killing 20 black bears in Northern Nevada.
The vote confirmed a Dec. 4 decision to establish the state's first regulated bear hunt. The dissenting vote came from Charles Howell of Las Vegas, who represents sportsmen on the nine-member panel. He said the 20-bear limit was "ridiculously low," considering that California hunters were permitted to take 1,900 black bears last year.
Chairman Scott Raine didn't vote because he breaks ties only.
In public comments and at a rally outside the Clark County Government Center, opponents castigated the Board of Wildlife Commissioners for setting the season. They said public sentiment was overwhelming against it.
One protester, Christine Schwamberger, of nobearhuntnv.org, filed an Open Meeting Law complaint with the state attorney general's office, alleging commissioners committed criminal and civil violations for failing to admit thousands of public comments against the hunt when it was approved Dec. 4.
Schwamberger said 3,090 e-mails about the hunt were submitted to the commission by individuals, and 3,028 opposed it.
"Until the legal, procedural and ethical proposals in this regulation are resolved, this regulation should be tabled," she said. "And gentlemen, no-bear-hunt-nevada-dot-org is not going away."
Schwamberger questioned regulations that allow hunters to use dogs and bows-and-arrows.
"It is one thing to hunt an animal for food and to kill that animal quickly and painlessly. It is quite another to terrorize an animal to death and brutalize it for hours and even days," she said.
Before the meeting, Gina Greisen, president of Nevada Voters for Animals, and a dozen other protesters held "No Hunt" signs while a woman in a bear costume danced on the sidewalk.
"I was a bear killed in the Lake Tahoe basin. I ate too much human food and was killed by biologists as a nuisance bear," said the woman in the bear suit, Kathryn Bricker of Zephyr Cove.
Schwamberger called for the resignations of Raine and Commissioner Hal Shrum, saying they had violated their oaths to serve the public.
Wildlife biologist Carl Lackey should be removed for advising the panel that the state's 250-bear population in the Lake Tahoe basin is more than adequate to support a hunt, Schwamberger said.
Lackey said Nevada's 250 bears are part of "one big population in the Sierra Nevada" that numbers between 10,000 and 15,000. Even if 40 bears were harvested, the population in Nevada would still grow, he said.
Commissioners emphasized that the hunt was approved not as a method of dealing with specific bears that invade homes and vehicles in residential areas, but because hunters requested a season to coincide with those in neighboring states.
"There is a lot of emotion on this issue, I realize that," Commissioner Daryl Cappuro said. "At no time did we say we were having a hunt to get rid of problem bears."
The Department of Wildlife held a drawing for 45 black bear tags for a season that will run from Aug. 20 through Dec. 31, or until the quota of 20 is reached. Hunters are prohibited from killing a cub or a sow accompanied by a cub. Only six females can be killed. Other details will be announced later.
Two people spoke in support of the hunt Friday.
One, Jeliedo Tiberti, gave his view in a single sentence: "I'm from Southern Nevada, and I would like to go up there and whack one of those big bears."
Contact reporter Keith Rogers at krogers@reviewjournal.com or 702-383-0308.