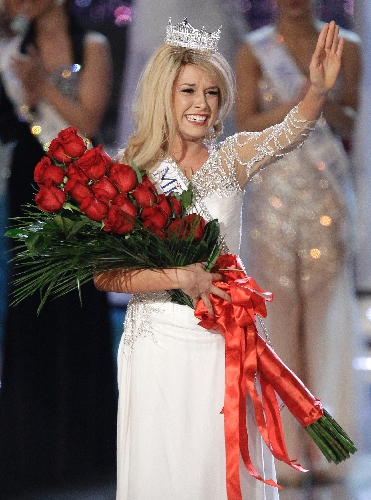 Here she comes, a precocious 17-year-old Miss America from rural Nebraska who is "way beyond her years," according to her father.
"What you see is what you get. She's the genuine article," said Mark Scanlan, a psychiatrist whose home-schooled daughter Teresa became the youngest Miss America in decades on Saturday night at Planet Hollywood Resort.
She charmed seven judges with a maturity and poise rarely seen in the pageant world, where it often takes years of seasoning to win at the state level alone.
She won't have to worry about what to do with a boyfriend over the next year as she carries out her duties.
Asked if she is dating, she cracked up the press room with the line of the night:
"17-year-old boys? Enough said."
NEIL COULD FACE JAIL
There's courthouse buzz that the attorney-of-the-stars David Chesnoff has been negotiating an outcome on rocker Vince Neil's June DUI arrest.
The Mötley Crüe frontman was pulled over in June shortly after attending the Daytime Emmys at the Las Vegas Hilton and getting into a camera-busting altercation with an amateur female photographer.
"He could be going to jail," a source said.
District Attorney David Roger and Chesnoff worked out a plea agreement involving Paris Hilton's drug charge last fall that would send her to jail for a year if she was arrested for anything besides a minor traffic violation.
For her cocaine possession charges, Hilton was given a year of probation and must complete a drug abuse program, pay a $2,000 fine and serve 200 hours of community service.
TOUGH WEEK
It was a challenging week for Brooke Burke, co-host of the Miss America pageant.
She grew up in Tucson, Ariz., and was devastated by the Jan. 8 shootings that left six dead and 13 wounded, including U.S. Rep. Gabrielle Giffords, D-Ariz.
Earlier in the week, the co-host of ABC's "Dancing With the Stars" asked her 1.7 million Twitter followers to pray for her hometown.
In an e-mail Saturday, Burke said she watched the memorial service with her family and was saddened that President Barack Obama "was in my hometown for those reasons."
Burke's recent success was the result of a fortuitous second chance. When ABC approached her in 2005 about being on the first season of "Dancing With the Stars," she recalls in her upcoming book saying, "This will never work in America."
In Season 7 she was the last star cast and won with professional dancer Derek Hough, no small achievement given the friction between them. He was "beyond distant," she wrote, and "clearly hadn't gotten the Prince Charming memo."
"What was going on backstage was more train wreck than tango," she wrote.
They faked compatibility on the dance floor, but they were so dysfunctional the show's producers ordered them to counseling to mend the relationship.
Her book, "The Naked Mom," a collaboration with former Pulitzer Prize-winning Washington Post writer Tamara Jones, comes out Feb 1.
SIGHTINGS
We hear Tiger Woods' No. 1 mistress, Rachel Uchitel, has been hanging out in Las Vegas country music saloons to avoid the photographers at the big clubs. She has even been seen on the dance floor. … ABC talk-show host Jimmy Kimmel, comedian Lisa Lampanelli and John Krasinski of "The Office," at comedian Rob Riggle's show at the Palms on Friday. … Houston Texans quarterback Matt Leinart, with a lady friend at Marquee (The Cosmopolitan) on Friday.
THE PUNCH LINE
"It's the first time you've been in front of a judge without handcuffs." — From David Letterman's Top Ten Signs You're Not Going To Win The Miss America Pageant
Norm Clarke can be reached at 702-383-0244 or norm@reviewjournal.com. Find additional sightings and more online at www.normclarke.com.