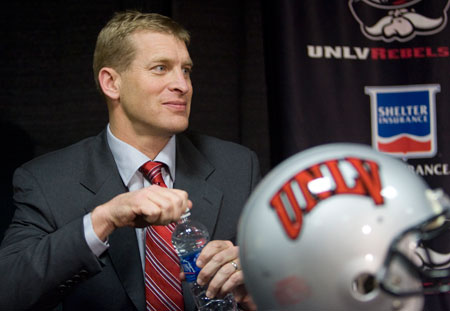 New UNLV football coach Bobby Hauck, unlike predessor Mike Sanford five years ago, did not unveil a list of grand promises at today's introductory news conference at the Thomas & Mack Center.
Watch excerpts from Hauck's press conference
• Rebel Nation: Hauck promises a physical team
Hauck, instead, promised the Rebels would play tough, physical football with an emphasis on detail and doing "things right" as well as generating enthusiasm with his players and in the community, where Hauck said he would be visible.
"I think people here are hungry to have a football team that plays well and wins some games," Hauck said. "Enthusiasm will be generated if we're worth watching."
His Montana teams definitely were worth watching. Hauck, 45, went 80-17 over seven seasons, won seven Big Sky Conference championships and advanced to three Football Championship Subdivision national title games.