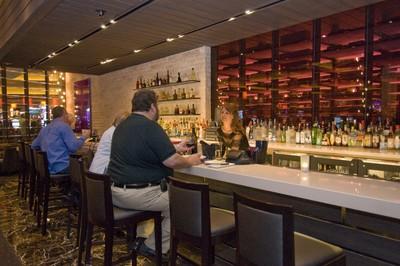 To accompany its growing list of world-class chefs, Las Vegas has attracted more master sommeliers than any other U.S. city. Las Vegas provides the ultimate wine tasting experience, mixing Old World tradition with contemporary technology.
Two of the city's newest hotel-casinos opened with wine bars.
At the M Resort's Hostile Grape, guests can enjoy more than 120 wines by the glass in this contemporary cellar. A unique wine dispensing system allows guests to enjoy pours of 1, 3 or 5 ounces. The collection includes fine American, Italian and French wines as well as selections from Spain, South Africa, Germany and more.
The preservation system concept has also turned up at two new Station Casinos wine bars. At Aliante Station in the northwest, Pips Cucina & Wine Bar lets guests purchase individual pours of 32 different wines. On the southeast side of the valley, Green Valley Ranch Resort's Terra Verde wine bar, a choice of 32 different wine options is complemented by a small plates menu.
Double Helix Wine Bar, located in The Shoppes at The Palazzo, includes a circular bar featuring more than 50 wines by the glass, available in either 2- or 5- ounce servings. An adjacent boutique offers nearly 300 bottles of rare and hard-to-find labels from all over the world.
Aureole at Mandalay Bay displays its huge inventory of wine bottles in a four-story "Mission: Impossible"-inspired wine tower. Guests select their wines from a wine list and "wine angels," who are trained acrobats and gymnasts, scale the tower with the aid of cables to retrieve each bottle from its carefully controlled 55-degree Fahrenheit environment.
Napoleon's Champagne Bar at Paris Las Vegas ensures the French are known for more than just fine wine. Napoleon's boasts a selection of more than 100 champagnes and sparkling wines by the bottle and by the glass. Guests can sip everything from Moët to Dom Perignon.
Onda Wine and Cheese Lounge at The Mirage is an Italian-inspired lounge where guests can enjoy a selection of wines by purchasing a tasting flight or individual glasses. A selection of artisan cheeses and meats complements each tasting and all wines are available for purchase.
The Wine Cellar and Tasting Room at the Rio is home to an impressive public wine collection featuring 50,000 bottles valued at more than $10 million. Amongst the bottles — an 1800 Madeira from the cellar of Thomas Jefferson. The wine bar at the Wine Cellar is a one-of-a-kind experience, offering more than 100 wines by the glass.
But it's not just the resorts that cater to wine aficionados. Wine bars are located all over the valley.
The Grape wine bar is attracting patrons to its new Town Square Las Vegas location. The venue is the first Grape to grace the West Coast and boasts more than 100 different bottles of wine, which are available for purchase by the glass, tasting flights or bottle. Patrons have the privilege of tasting any wine before making a purchase.
On the west side of town, Nora's Wine Bar & Osteria across from Boca Park in Summerlin has a wine list of more than 350 bottles and uses a preservation system that can accommodate more than 48 bottles.
On the east side, Sunset & Vines provides a relaxing atmosphere on the shore of Lake Las Vegas. The restaurant offers more than 500 boutique wines from top-flight Bordeaux to Mosel Riesling and Cóte Rotie.
Area restaurants offer opportunities for residents to try different kinds of wines by holding wine-tasting dinners throughout the year. And regularly scheduled free tastings events are held by local wine retailers such as WineStyles on the west side; Valley Wine & Cheese in Henderson; unWINEd, Marché Bacchus and Vino 100 in the northwest; and Khoury's Fine Wine & Spirits on both sides of town.
Annual and monthly events allow participants to taste a wide selection of wines for a fee. Monthly events include the wine walks at Boca Park, Town Square Las Vegas and Lake Las Vegas and the tastings held by Rock 'n' Wine at various venues. Annual events include O-Vino, benefiting Opportunity Village, Vino Therapy, benefiting Bishop Gorman High School; and UNLVino, three days of wine-tasting benefiting UNLV's Hotel College.
And for those who desire a real hands-on experience, Grape Expectations in Henderson just completed its second year of wine making. During the nine-month program, customers choose their varietal or blend and then are involved in crushing the grapes, pressing the juice, racking the wine and bottling the final product.