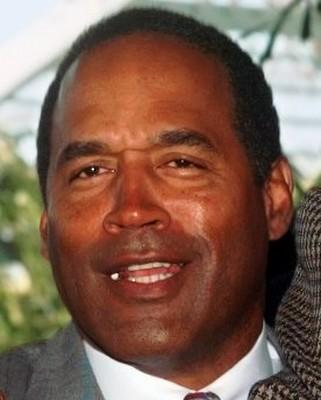 The name of another possible witness surfaced Thursday in the O.J. Simpson armed robbery case, and the judge said she expects prosecutors will turn evidence over to defense teams preparing for trial in September.
Lawyers for Simpson and co-defendants Charles Ehrlich and Clarence "C.J." Stewart complained they hadn't received copies of reports of police interviews with the previously undisclosed witness — Lowell Katz, a Las Vegas limousine driver who was introduced to Simpson on Sept. 13 by collectibles broker Thomas Riccio.
Katz was not among the 78 people on a witness list prosecutors have filed in the case. But Riccio, who arranged O.J. Simpson's ill-fated meeting later that day with two sports memorabilia dealers in a Las Vegas hotel room, mentioned Katz in a book released Monday.
The book also includes a photo that Katz snapped of Riccio and Simpson during a Sept. 13 meeting in Simpson's hotel room at the Palms.
"I was just there to meet with (Simpson) and take a picture," Katz, 44, said Tuesday when asked during a brief telephone interview about the meeting. "That was the only time I ever met him."
Katz was not present several hours later, when Simpson, Riccio and five other men confronted two sports memorabilia dealers at the Palace Station in an encounter that spawned felony charges, including kidnapping and armed robbery against Simpson, Ehrlich and Stewart.
Each of the three men has pleaded not guilty to all charges. A conviction on the most serious charge, kidnapping, carries a possible sentence of life in prison with parole. A robbery conviction would carry mandatory prison time.
Simpson maintains he was retrieving items that belonged to him and that no guns were involved. But Riccio, has immunity from prosecution, and three former co-defendants who took plea deals and testified for the prosecution, said there were guns in the room.
Katz, who once advertised a service catering to customers seeking a place for trysts with women while cruising on the Strip, also was once represented in a criminal case by Robert Lucherini, one of the defense lawyers in the Simpson case.
Katz's case stems from an arrest in January 2007. It was reduced from five felonies, including pandering and living off the earnings of a prostitute, to a single misdemeanor disorderly conduct charge, Lucherini said. Katz remembered paying a $500 fine.
Lucherini, who represents Stewart, said he no longer represents Katz. He said defense lawyers hoped to match Katz's police statement with Riccio's accounts and testimony.
"It will either support or suggest inconsistencies in Riccio's story," Lucherini said.
Katz said he didn't have much to tell Las Vegas police detectives who interviewed him some time after a three-day preliminary hearing in November.
"They were asking me what I heard in the room that day," Katz said Thursday.
Police became interested after Riccio, one of eight witnesses to testify at the hearing, appeared to avoid providing the name despite questioning by defense attorneys.
Lucherini and John Moran Jr., representing Ehrlich, told District Court Judge Jackie Glass they want to know more about Katz, details of what he told police and why Riccio wouldn't say Katz's name during the preliminary hearing.
"We don't have anything about Mr. Katz," Moran said.
The judge told prosecutor Chris Owens to provide relevant materials to the defense, including any police reports about Katz.
"Now we're all on notice about this person," she said.
Simpson's lawyer, Yale Galanter, took part in the court hearing by conference call from Miami. Simpson, Ehrlich and Stewart were not required to attend.
Glass also set a May 22 status check in the case, saying she wanted to go over a proposed jury questionnaire both sides have been editing.
She said she intends to stick with a Sept. 8 trial date, and said she has arranged for another judge to handle her caseload while she focuses on trial, which she has said could take up to six weeks.