New York-New York's 'sultry' Lady Liberty at center of stamp lawsuit
December 2, 2013 - 2:24 pm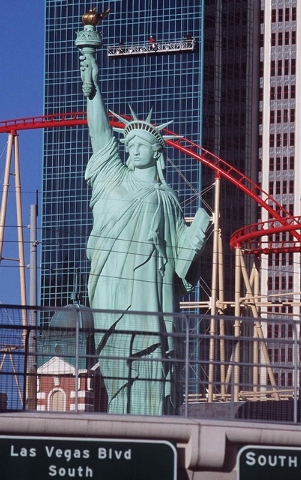 LAS VEGAS — An embarrassing mistake involving a Statue of Liberty stamp could come back to haunt the U.S. Postal Service.
The "forever" stamp design released in 2011 was not based on the statue in New York Harbor, as intended, but on a replica outside the New York-New York casino hotel in Las Vegas.
Now, the sculptor who made the Lady Liberty of the Las Vegas Strip is suing the government for copyright infringement.
Attorneys for Robert Davidson argue in a suit filed last week that the Sin City statue was more "fresh-faced" and "sultry" than the original. They say these differences led the government to prefer Davidson's statue.
A spokesman for the Postal Service did not immediately return calls. The Statue of Liberty in New York Harbor has appeared on more than 20 stamps.
Davidson's attorneys say the Lady Liberty who welcomes weary gamblers has a more feminine form. The original, they say, was just an "inspiration" that provided "loose height, width and depth requirements." The claim notes that Davidson never visited the New York statue while creating his diminutive copy.
The two ladies do look unmistakably different. The Las Vegas sister has more stylish hair, and appears to be smirking slightly. Her crown also features a plaque, visible but not legible in the stamp, that reads, "This One's For You Mom."
Davidson's attorneys did not respond to calls from the Associated Press, and it's unclear why the sculptor waited so long to sue.
In September, the artist who created the Korean War Veterans Memorial in Washington, D.C. won a settlement of more than half a million dollars from the Postal Service on similar copyright infringement grounds.
The post office selected the close-up photograph of the statue's head and crown from a photography service and did not find out about the error until a stamp magazine ran an expose.
When they were alerted, officials said they still liked the design and had no plans to pull it out of circulation. By late 2011, the Postal Service had already printed more than 5 billion copies of the Las Vegas Lady Liberty forever stamps, according to the complaint.
—-
Hannah Dreier can be reached at HTTP://TWITTER.COM/HANNAHDREIER .