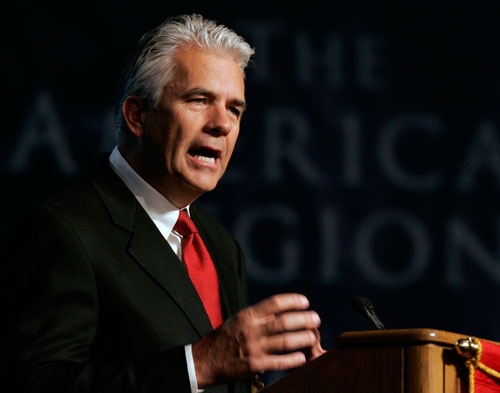 WASHINGTON — The Department of Justice has informed Sen. John Ensign that it has no plans to charge him with crimes related to the fallout from an extramarital affair with his campaign treasurer, also the wife of a top aide, an attorney for the Nevada Republican said Wednesday.
Investigators notified Ensign that he is "no longer a target" in the criminal investigation, said Paul Coggins, a Dallas-based white-collar defense lawyer, one of at least three attorneys Ensign hired to fight various allegations of wrongdoing.
Neither Ensign nor Coggins would provide details of discussions with the Justice Department, but Coggins said prosecutors broke the news by telephone earlier this week.
"Obviously this is great news for us," Ensign, 52, said Wednesday outside a Senate hearing room. "It's a pretty nice early Christmas present."
Ensign has maintained he broke no law nor violated any Senate rules involving the affair.
The government's decision not to prosecute is the second break Ensign has received in the past two weeks in a controversy more than a year old that has threatened his political career and shattered relationships with longtime friends and allies in Nevada.
The Federal Election Commission announced Nov. 18 that it was dropping a campaign finance complaint that could have led to a fine against Ensign. But the Justice Department investigation was viewed as the most serious because an indictment on criminal charges would have ended his career and left him fighting possible prison time.
Ensign acknowledged he remains under investigation by the Senate Ethics Committee on allegations similar to those examined by Justice. Although Justice sought evidence that would warrant a criminal prosecution, the Ethics Committee has broad jurisdiction to pass judgment on any behavior that might cast the Senate in a negative light.
That investigation could result in action ranging from outright dismissal of the matter to a reprimand or a recommendation that the full Senate consider censure or expulsion.
"We are hoping that the Ethics Committee will see the FEC has dropped their (investigation) and that Justice has dropped theirs … and I hope they see that quickly," Ensign said.
The committee had no comment.
Investigators were trying to determine whether Ensign broke ethics rules or laws in an attempt to cover up an affair with Cindy Hampton, his former campaign treasurer and the wife of Doug Hampton, a longtime friend who came to Washington to become his top administrative assistant.
Both Hamptons left Ensign's employ in late April 2008, several months after the affair was discovered and caused rifts between their families. The major allegation centered on Ensign's efforts to call Nevada firms and find lobbying work for Doug Hampton as a way to cushion the aide's departure and loss of salary.
Authorities investigated whether Ensign made his office available to Hampton and his new clients in violation of federal laws that forbid high-level Senate aides from lobbying senators for a year.
Although Ensign maintained he has been cleared, it was uncertain whether the Justice Department was continuing the investigation in other directions.
Dan Albregts, a Las Vegas lawyer for Doug Hampton, said Justice Department lawyers have not informed him that the investigation has been completed.
"Given my understanding of the investigation, I'm shocked by their claim," Albregts said. "In fact, my understanding is that the investigation is still ongoing."
Asked whether the investigation could be proceeding with Hampton as a target, Albregts responded, "It's in the realm of possibility. But if that's the case, I sure would be interested in finding out why."
Laura Sweeney, a Justice Department spokeswoman in Washington, would not comment on the investigation.
Without confirming specifics of the probe, Ensign said, investigators were "thorough. They investigated everything. They were complete, that is all I can tell you. They went through everything. They were exhaustive."
Citizens for Responsibility and Ethics in Washington, a watchdog group that filed complaints against Ensign and urged that he be prosecuted, said the Justice Department "chickened out" by halting the probe.
"It is a sad day for America when the Department of Justice declines to take action against a senator who has violated the law as blatantly as Senator Ensign," said Melanie Sloan, CREW executive director. "The department had abundant evidence, including witnesses who could testify regarding the senator's criminal conduct, yet failed to act.
"Exactly what will a politician have to do for the Department of Justice to sit up and take notice?" Sloan said in a statement. "The department might as well disband the Public Integrity Section for all the good it does. This is not the kind of change we signed on for."
Kirk Lippold, a Nevada Republican who briefly considered running for the Senate this year and has been mentioned as a possible candidate in 2012, also registered unhappiness.
No matter the Justice Department decision on Ensign, "it does not excuse his behavior," said Lippold, a retired Navy commander who was the commanding officer on the USS Cole when it was bombed by al-Qaida in Yemen in October 2000.
"I still believe his actions are beneath acceptable standards for someone serving in the United States Senate," Lippold said in a statement.
Ensign, who has said he plans to run for re-election in 2012, said that on hearing the news, he first told Senate Minority Leader Mitch McConnell, R-Ky., and also Sen. John Cornyn, R-Texas, who is chairman of the Republican Senate campaign committee.
"I just wanted them to know because this is good news," Ensign said.
He had yet to tell fellow Nevada Sen. Harry Reid. Reid did not respond to a request for comment.
Cornyn did not comment Wednesday, and McConnell's reaction was brief.
"I am sure Senator Ensign was pleased by the announcement," he said.
Last month, the FEC dismissed a complaint against Ensign pertaining to a $96,000 payment his parents made to the Hamptons in late April 2008, as they were leaving Ensign's staff.
Doug Hampton described the payment as severance for his wife, which triggered a complaint that it was an unreported and illegal campaign contribution to Ensign. The FEC said evidence supplied by Ensign's family backed their contention that it was a legal gift.
In a revelation forced by a furious Doug Hampton's attempt to leak the affair to Fox News, Ensign in June 2009 acknowledged the relationship took place over nine months, from December 2007 to August 2008.
That began his descent from a rising star in the Republican Party to a back bencher who reportedly was shunned by colleagues. In Nevada, close friendships with political associates were ended, and Republicans said he was rarely seen at party functions.
Ensign maintained he had patched up his family relationships and apologized for the affair while denying any wrongdoing. He stepped up his public appearances over the summer, leading to his confirmation last month that he planned to run for a third term in the Senate.
A statement from Ensign's office Wednesday reads as follows:
"Senator Ensign is certainly pleased that the Department of Justice no longer views him as a target in their investigation, and has long-stated that he acted in accordance with the law. Our office and the Senator have been cooperative with this investigation, and it's important that the truth in this matter is finally coming to light. It is the Senator's hope that the Ethics Committee soon follows suit. Senator Ensign looks forward to continuing his hard work on behalf of the people of Nevada."
Contact Stephens Washington Bureau Chief Steve Tetreault at stetreault@stephensmedia.com or
202-783-1760. Contact Jeff German at jgerman@review
journal.com or 702-380-8135