Airport express bus can save time, marriages
December 19, 2010 - 12:00 am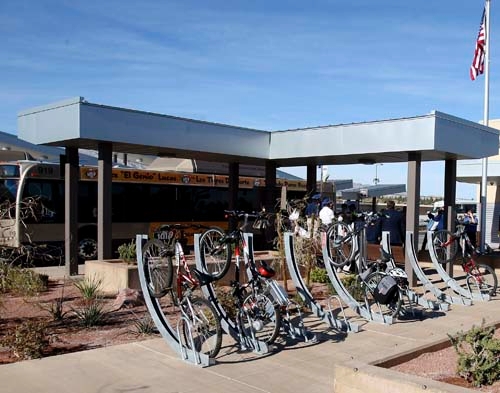 New bus routes do the obvious in providing more expedient trips to various destinations. They also generate some level of excitement. And, apparently, at least one new route can be credited with saving a marriage.
Seriously, just ask Warren Anderson and he will tell you the Westcliff Airport Express unveiled a week ago kept his wife, Tammy, from killing him.
Las Vegas isn't the worst place to be trapped when your flight is canceled because of a snowstorm. But those stranded, like the Andersons, would rather be bellied up to a bar or tossing dice on a craps table than slowly winding through town on a public bus.
That slow winding is how Warren and Tammy spent part of their day Tuesday after opting to take a bus from McCarran International Airport back downtown.
"About a quarter of the way we knew we made a huge mistake," Anderson said. "The bus driver should have told us this was the worst choice of transportation. We wouldn't have done it. She threatened divorce."
How bad could it have possibly been?
"I can't count how many times it stopped. It stopped everywhere," Warren said, clearly dissatisfied with the ride that took well over an hour. "We saw all of Vegas."
Tuesday evening, Warren learned of the Westcliff express line that he hoped would persuade his wife to get back on the bus Wednesday and put his marriage back on track.
The couple hopped the Westcliff Airport Express at Fremont Street and Casino Center Boulevard at 9:25 a.m. A half-hour later, they were toting their baggage into the airport.
"This was the last chance to keep her as a bus person," said Warren, who has a split personality as a gambler and a penny-pincher. "We lost her, but I think we got her back."
Jacob Snow, general manager for the Regional Transportation Commission, said last week the average time from the new facility at Westcliff and Durango drives to McCarran was 38 minutes. I reluctantly included that figure in a news story, but thought it would be appropriate to take a ride before pitching this as an alternate method of transportation to the airport.
On Wednesday, I took three round trips. One early, one midmorning and one late afternoon. I was convinced that, with four stops in between, the bus couldn't possibly make it to the airport in 40 minutes or even an hour, which is what transit officials said the trip might take during rush hour.
U.S. Highway 95 east toward downtown is consistently choked with vehicles on weekday mornings. On the route that departed Westcliff at 7:25 a.m., the driver slid into the high-occupancy vehicle lanes and past traffic merging onto Interstate 15. Fifteen minutes later, we pulled into the Fremont Street stop, and 47 minutes after departing Westcliff, we were at the airport.
The 9:13 a.m. route was even quicker, because traffic downtown and along Interstate 15 had mostly dissipated by that hour. That trip, which featured the Andersons from Columbus, Ohio, took all of 40 minutes.
Chad Cleere, a tourist from Fort Worth, Texas, said he used the Westcliff route all week because he stayed downtown but likes to gamble at the MGM and New York-New York. The Westcliff line's stop at Tropicana and the Strip was ideal, a far better option than Strip routes delayed by traffic and tons of stops.
"This is a whole lot better," Cleere said. "This is the one I took, because this is the end of the Strip I wanted to be at anyway."
My final experimental journey pulled away from Westcliff at 3:18 p.m. — and I must say these buses leave right on time — and turned out to be no worse, even though traffic was beginning to back up at the Spaghetti Bowl and downtown was more congested. Still, it took us 42 minutes to reach McCarran.
Anyone who travels Interstate 15 knows the northbound lanes slow down around 4 p.m. Despite coming to a complete stop twice, we arrived back at the Westcliff station in 47 minutes.
The route is bound to become faster when the city wraps up the major roadwork project downtown. Both Bonneville and Clark avenues are being converted into one-way streets between Main Street and Las Vegas Boulevard.
Transportation officials said the bus would take advantage of the high-occupancy vehicle lanes on Highway 95 and express lanes on Interstate 15, but that is not entirely true. The high-occupancy lanes are used on the way downtown from Westcliff, but not when headed back to the facility. The drivers said it isn't worth it, because it would be quite a task to move across multiple lanes during traffic to exit on Summerlin Parkway.
The express lanes aren't used at all because vehicles are not allowed to exit them between Sahara Avenue and Russell Road; the bus exits on Tropicana.
I thought what a nightmare it would be if there was an accident, knowing how quickly traffic on Interstate 15 comes to a halt. The drivers said they were instructed to call dispatchers, who will map out a new route to the airport.
The Westcliff route also benefits those who don't live near the station. It departs from the Suncoast hotel-casino, or passengers can catch it at its other stops, which are Casino Center at Fremont, the Bonneville Transit Center, Grand Central Parkway in front of the Premium Outlets or on Tropicana just east of the Strip.
For four bucks, two to get to McCarran and two to return, this route appears to be a great way to get to the airport and avoid paying ridiculous parking fees. Apparently, I'm not the only one who feels this way.
During the Andersons' next visit to Las Vegas, Warren will have no problem getting Tammy back on the bus.
"Wow! This is the way to go," Tammy said as the now-happy couple headed for their flight.
If you have a question, tip or tirade, call Adrienne Packer at (702) 387-2904, or send an e-mail to roadwarrior@reviewjournal.com. Include your phone number.
• The right auxiliary lane on northbound Interstate 15 between the Sunset Road bridge and Russell Road will be closed for an unknown period of time.
• For seven months, traffic on Russell Road at I-15 will be routed to the north side of the bridge with two lanes in each direction.
• Hinson Street between Charleston and Oakey boulevards will be closed to through traffic until Jan. 2 for installation of storm drains. The intersection of Mountain View Boulevard and Hinson also will be closed.
• No ramp closures are planned on exit ramps on Interstate 15 or Interstate 215 this week. However, officials with the I-15 south design-build project said there might be some intermittent lane restrictions on ramps.