Another small segment of Interstate 11 opens Feb. 1
January 7, 2018 - 11:09 pm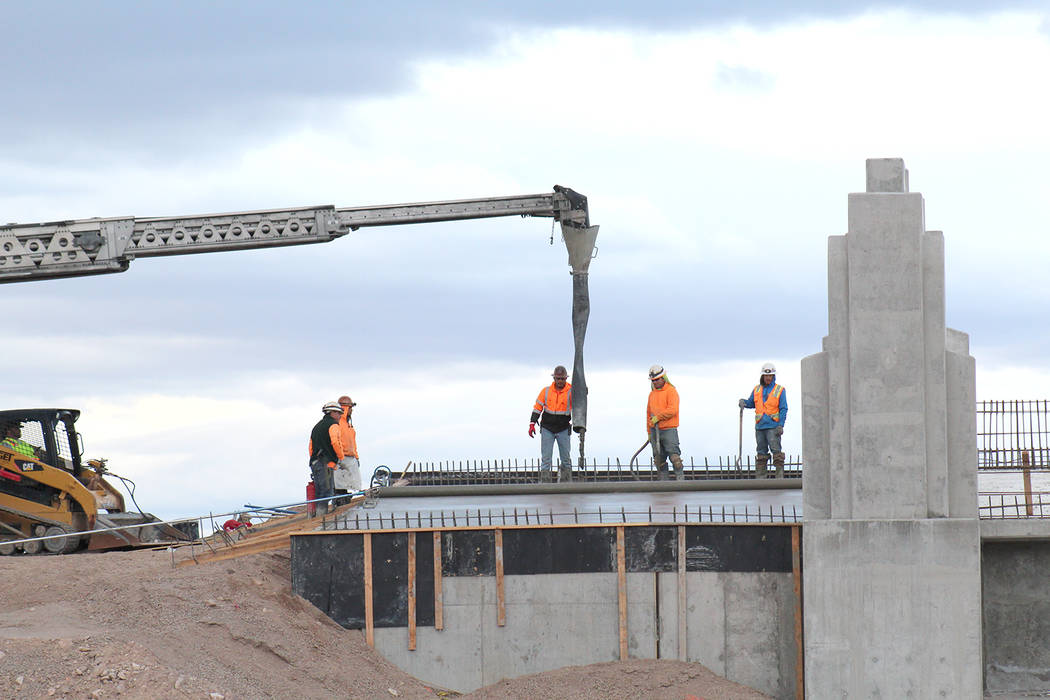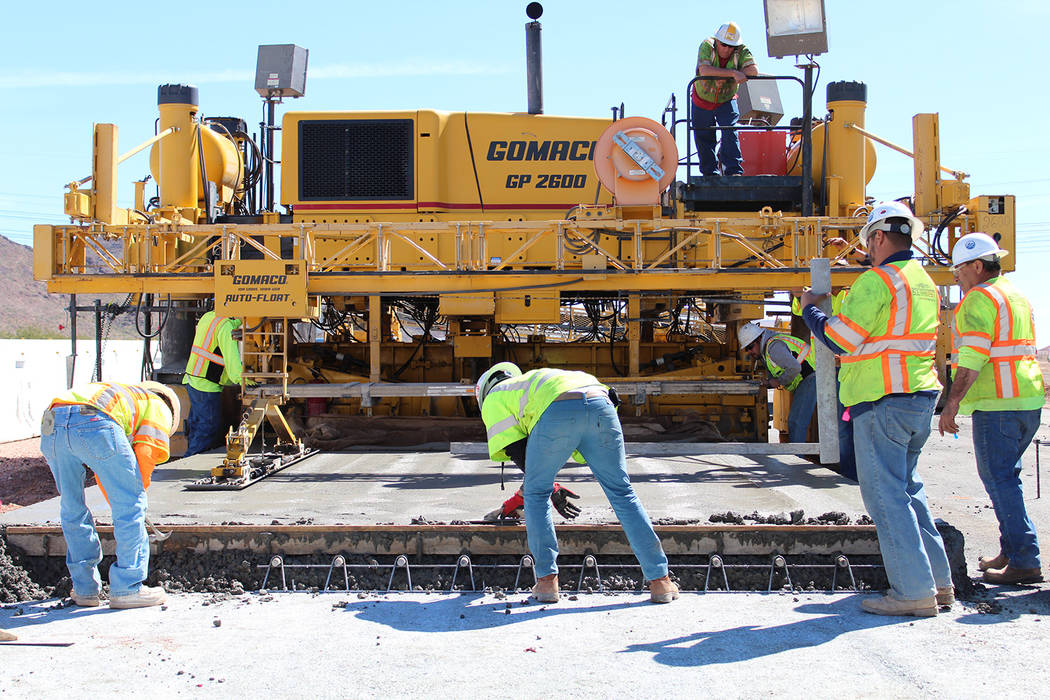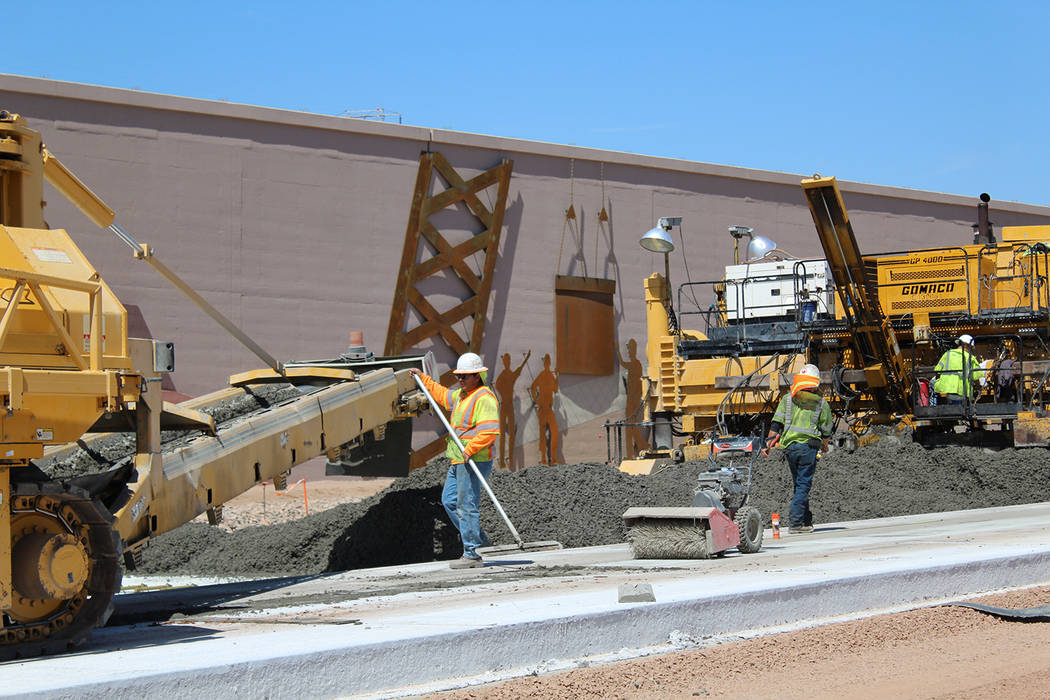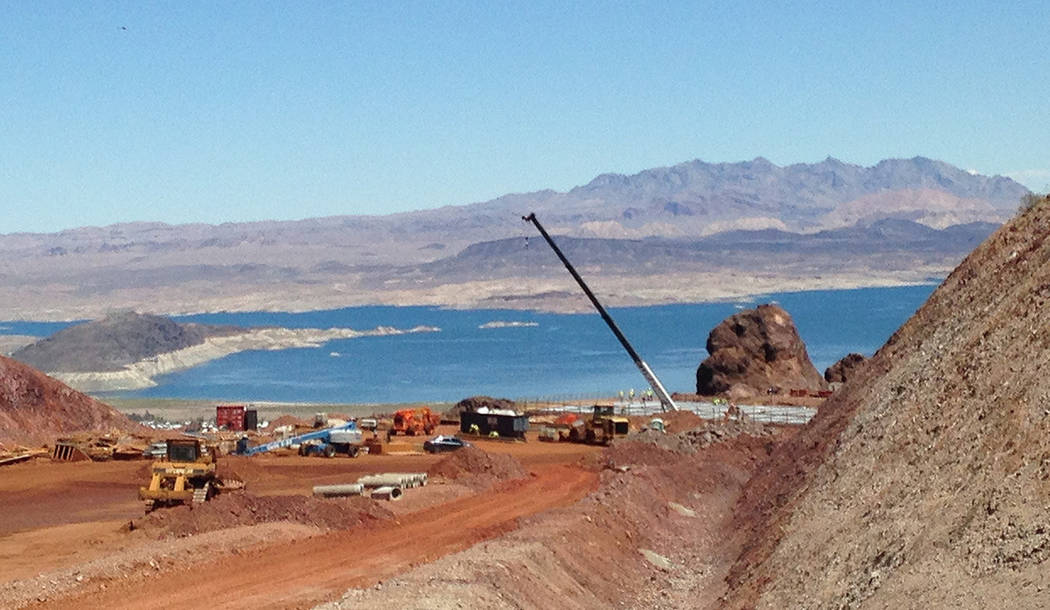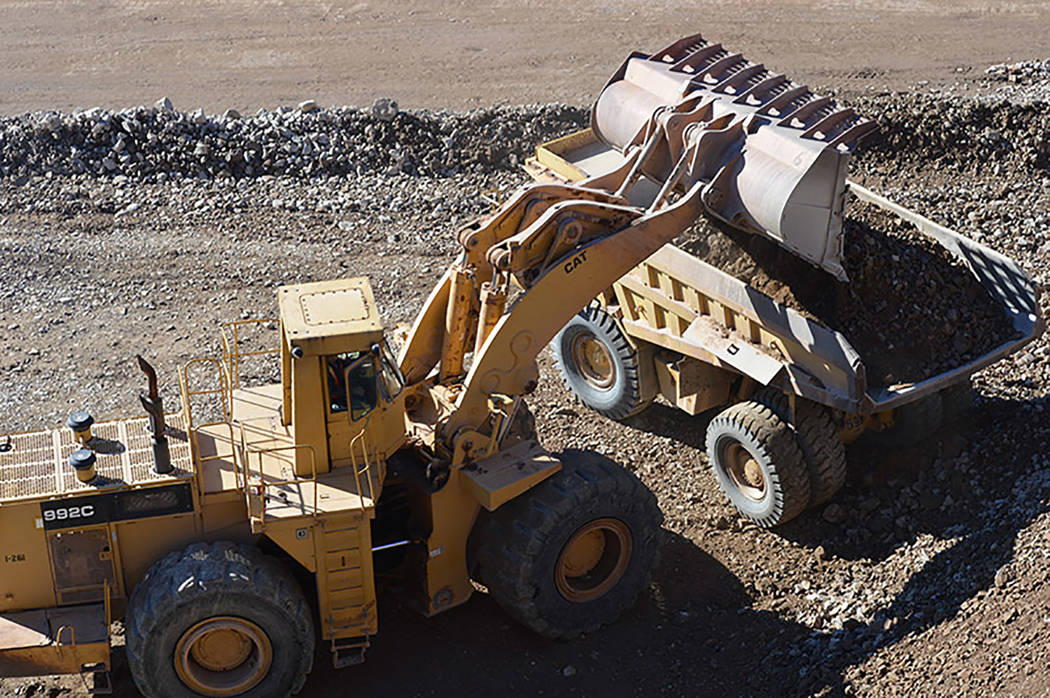 The work is incremental but important.
Another small segment of Interstate 11 is scheduled to open Feb. 1, when motorists will be allowed to drive in the northbound lanes between Silverline Road and Foothill Drive, according to the Nevada Department of Transportation.
The move comes after the first 2.5-mile stretch of southbound I-11 opened in August, running between the U.S. Highway 95 interchange and Railroad Pass Casino.
Opening the new freeway in piecemeal fashion is aimed at getting drivers acclimated to a new route, NDOT spokesman Tony Illia said.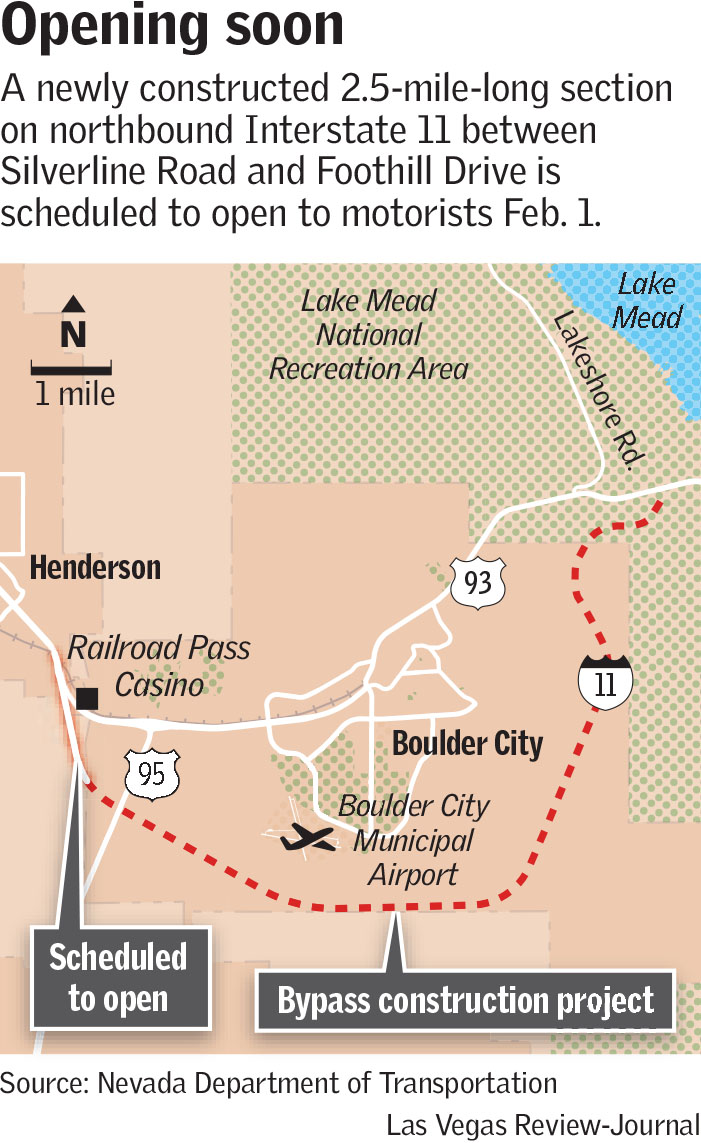 "Rather than wait for the entire project to be complete, we're opening Interstate 11 in phases to make it accessible to motorists as soon as possible," Illia said.
The phased approach continues March 1 when a new interchange will open at I-11 and Railroad Pass.
Work is expected to wrap up by April 13, when southbound I-11 drivers will be able to merge onto southbound U.S. 95 to Searchlight, Illia said.
The remaining 12.5-mile asphalt segment headed to the Colorado River is scheduled to open to traffic by October, according to the Regional Transportation Commission of Southern Nevada.
The $318 million freeway segment, funded by federal and state money along with Clark County's fuel revenue indexing tax, started construction in April 2015 with work split between NDOT and the RTC.
With higher speeds and no traffic signals, the new four-lane highway is expected to reduce travel times up to 30 minutes between Henderson's southern border and the O'Callaghan-Tillman Bridge downstream from Hoover Dam, Illia said.
On a large scale, I-11 is expected to ease cross-border trade from the Mexico border to Canada by running through Arizona, Nevada and Idaho. Although the route could take decades to build, the new freeway also would provide a much-needed direct link between Las Vegas and Phoenix, the only two cities with populations of more than 1 million that are not linked by an interstate.
"Interstate 11 plays an integral role serving the mountain west region, which is expected to add 32 million more residents between now and 2030," Illia said.
NDOT is conducting a $5.3 million study of the Las Vegas Valley's freeway corridors, including the next segment of I-11. Three proposed routes are under consideration:
— West on the 215 Beltway, linking to a new connection with U.S. 95.
— North on U.S. 95 through the Spaghetti Bowl freeway interchange to the northwest end of the valley.
— Build a new freeway running from the Lake Mead National Recreation Area past Frenchman Mountain, about 8 miles east of Las Vegas, before emerging at I-15 to connect with the 215 Beltway and west to U.S. 95.
Stuck on Sahara
Like many evening commuters, Paul from Las Vegas said he usually is stuck in a long line of vehicles on eastbound Sahara Avenue at Las Vegas Boulevard. He has noticed that drivers headed west on Sahara also wait for long traffic signals at Paradise Road.
"Yet, there is no delay and little traffic at this time on Las Vegas Boulevard at the Sahara signal," Paul wrote in an email to the Road Warrior. "It is clear the timing for these signals needs recalibration."
The Regional Transportation Commission of Southern Nevada is working with the city of Las Vegas and Clark County to figure out how to relieve the congestion on Sahara without affecting traffic on Las Vegas Boulevard and Paradise Road, Las Vegas city spokeswoman Margaret Kurtz said.
That's a pretty tough balancing act. One of the factors affecting the "green time" for drivers on Sahara is the time allocated for pedestrians to cross the Strip and Paradise, Kurtz said. Special events and emergency vehicles also might upend any signal coordination.
Bridge opening soon
Greg from Las Vegas wanted to know when work will be completed on a new bridge that will carry pedestrians and bicycles over Charleston Boulevard in the east valley. A chain-link fence recently was blocking the bridge's entry at Stewart Avenue.
The bridge is part of a larger flood control channel improvement project that also brought upgrades to the hiking trails around the Las Vegas Wash, Clark County spokesman Dan Kulin said.
The entire $22 million project was funded by the Regional Flood Control District.
The bridge, scheduled to open "within the next few weeks," costs just under $1.5 million with funding provided by the Southern Nevada Public Lands Management Act, Kulin said.
Questions and comments should be sent to roadwarrior@reviewjournal.com. Please include your phone number. Follow @RJroadwarrior on Twitter.
Road work ahead
Downtown
— Main Street is restricted between Bonneville Avenue and Las Vegas Boulevard through May. Crews are working on a storm drain.
— Sections of Bonneville Avenue, Charleston Boulevard, Grand Central Parkway and Martin Luther King Boulevard will have closed or disrupted lanes surrounding the Spaghetti Bowl as crews work on Project Neon through July.
Northwest
— The 215 Beltway will close in both directions between Durango Drive and Ann Road from 8 p.m. to 5 a.m. nightly through Friday. Crews are removing construction support work.
— Grand Teton Drive will close between Fort Apache and Oso Blanca roads from 7 a.m. to 4 p.m. Tuesday through Thursday. Crews will make asphalt repairs.
Henderson
— Center Street is restricted between Burkholder Boulevard and Lake Mead Parkway through June. Crews are making various road improvements.
North Las Vegas
— Nellis Boulevard is restricted between Cheyenne Avenue and Las Vegas Boulevard from 6 a.m. to 3:30 p.m. weekdays through July. Crews are installing sewer pipes.
Gasoline prices
The average gasoline price Friday in the Las Vegas Valley was $2.59 per gallon. It was $2.64 in Nevada. The national average of $2.49 is up 1 cent from a week ago, up 2 cents from a month ago and up 13 cents from a year ago.