A's see transportation benefits of potential Vegas ballpark site
Updated May 3, 2023 - 7:02 pm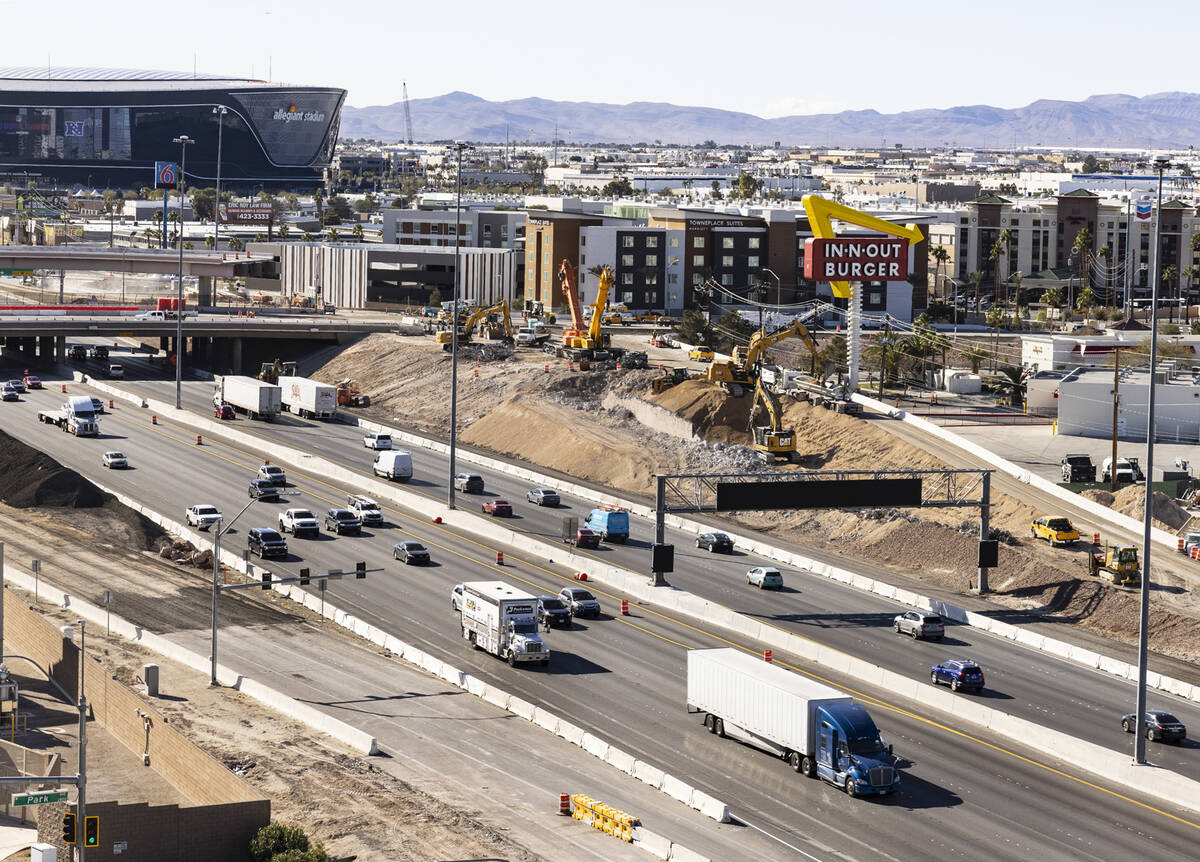 As the Oakland Athletics focus their attention on landing a $1.5 billion major league ballpark in Las Vegas, team brass are excited about the potential transportation prospects for their chosen site.
The A's announced earlier this month that they had entered into a binding purchase agreement with Red Rock Resorts for 49 acres of land at Tropicana Avenue and Dean Martin Drive. That site happens to be right where the major $305 million Interstate 15/Tropicana Avenue project is taking place.
The project began last year and is scheduled to wrap up in the first half of 2025, which means the traffic benefits the project will create will long be in place before the A's potentially start playing ball there. That, team President Dave Kaval told the Review-Journal, is expected to happen in 2027.
"Long term, that's a huge benefit to that site," Kaval said. "That all this investment, hundreds of millions of dollars, is going in, making it easier to go in and out. Right now, it's not so great. But over time that's going to mean that site is going to be easier to get to for people coming from all parts of Southern Nevada."
Plans for the project call for the Tropicana interchange to be completely rebuilt. The Tropicana bridge will be widened and raised 4 feet, with the flyover ramp from I-15 southbound also being partially reconstructed.
NDOT Deputy Director Jeff Lerud believes the project will be able to handle the capacity the A's planned stadium would bring to the area that is already home to Allegiant Stadium, T-Mobile Arena and the south Strip.
"With the A's coming, we had a land use for that northwest corner. It wasn't necessarily for a baseball stadium, but I think in the long run I think it will be better that it's a stadium-type of thing than a daily trip generator during peak hours," Lerud said. "Because, I think, typically stadiums are. You think about the Knights, it's typically 7 o'clock at night. There's some day games, but those are usually on the weekends. I think baseball is very similar, early-evening games, so we're kind of lucky in that impact, because it's not going to add to our peak hour traffic."
One key feature that will play into improving traffic at both Allegiant Stadium and a potential A's ballpark is the reconfiguration of Dean Martin at Tropicana. Instead of having to wait at the four-way stop currently in place at the meeting point of the two roads, Dean Martin will soon travel under the Tropicana bridge. That will provide a more streamlined option for those driving to either stadium.
"I think that it is going to be really good," Lerud said. "The way that (traffic at) Tropicana and Dean Martin backed into the interchange, it's definitely going to help traffic flow through that area a lot better than it is today.
"In the long run it's really beneficial that we're constructing it the way we are. I think it will be able to handle the traffic on those sports days pretty efficiently."
Red Rock Resorts, which in late 2021 raised issues with a portion of the project as it relates to the now potential ballpark site, has since worked out its issues with NDOT.
A new pedestrian access to and from Tropicana to T-Mobile Arena is also part of the project, which would create easier access for those who might walk over from the resort corridor to catch an A's game at the former Wild Wild West site. Kaval also told the Review-Journal that the A's are contemplating constructing a pedestrian bridge over I-15, between T-Mobile Arena and the Wild Wild West site, should their stadium plan move forward.
Another potential benefit of the site is that it is already on the planned route of stations for The Boring Co.'s Vegas Loop project.
The Vegas Loop project is still in the permitting stage, as the company recently filed to expand its planned tunnel system to almost double the amount of stations along Las Vegas Boulevard between Blue Diamond Road to the south and Fremont Street to the north.
Kaval has already had discussions with Boring Co. President Steve Davis about the loop project and how it could benefit a major league stadium in Las Vegas.
"They have a station planned over there at the (Wild) Wild West site," Kaval said. "That would be another great way to connect from the Strip for tourists to that location. So that's another win-win at that site."
Contact Mick Akers at makers@reviewjournal.com or 702-387-2920. Follow @mickakers on Twitter. Send questions and comments to roadwarrior@reviewjournal.com.