'Cha-ching' parking crises get easier to fix in some areas of downtown Vegas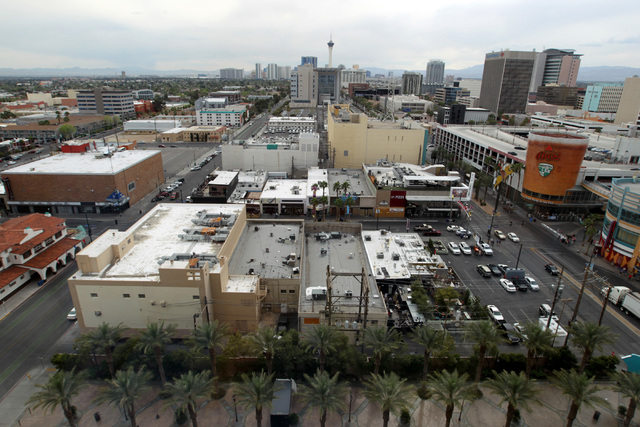 We've all been there at one time or another.
Restaurant food service slows down, lunch gets a little long, the one-hour business meeting goes past time.
And your car is parked at a metered parking spot downtown or in metered lots with time counting down to citation time.
You almost can hear the cha-ching of the city coffers when time expires.
Instead of bolting out the door to feed the meter — or in this case, making a debit or credit card transaction — you now will be able to pay up with a new smartphone app.
It's still a cha-ching but definitely a smaller one.
The city of Las Vegas is working with Parkmobile LLC of Atlanta and North Carolina-based Passport to provide a means to add meter time via phone.
Both the Parkmobile app, for on-street meter parking, and the PassportParking app, for several lots, are available for free for Apple and Android devices through iPhone and Google Play stores. Parkmobile also can be downloaded for Windows, BlackBerry and Amazon devices.
The parking lots included in the Passport program are: Goldspike Lot, 208 Las Vegas Blvd. N.; Carson Lot, 200 Las Vegas Blvd. S; Matlock Lot, 408 E. Clark Ave.; DTC Lot, 300 N. Casino Center Blvd.; Downtowner Lot, 108 N. Eighth St.; Container Park Lot, 146 S. Seventh St.; Llama Lot, 900 Fremont St.; and the Symphony Park Lot, 850 W. Clark Ave.
The city also is standardizing rates as of today, implementing new premium and supplemental street parking zones with different rates.
The premium zones, which will go for $2 an hour with a four-hour limit between 8 a.m. and 7 p.m., seven days a week, are generally near the Fremont Street Experience, the Fremont East Entertainment District and the Regional Justice Center. The spots near the Justice Center will be free Saturdays and Sundays.
The supplemental zones, designed for downtown employees or frequent visitors, go for $1 an hour with no time limit, Monday through Friday from 8 a.m. to 6 p.m.
Spaces are throughout downtown, and permits will be offered for those spaces at $30 a month.
Customers can download the apps for free, and the sign-up process includes providing a cellphone number, an email address and a credit card number.
Signage will designate which zones are premium and which are supplemental. In addition, the city is removing 91 metered spaces and making them free.
Most of those new free spots are along the southern and western edges of downtown on Main, Fourth and Sixth streets and Garces and Bonneville avenues.
"We are seeing a lot of instances of employees of the various downtown businesses parking in the spots closest to the businesses, creating a frustrating situation for those coming to enjoy the attractions and offerings of downtown," city of Las Vegas Parking Manager Brandy Stanley said. "We have created premium zones close to the businesses for visitors, and at the same time we have created supplemental zones nearby at a reduced price that would be an option for employees."
AIRPORT NOISE
Warrior reader Valerie is a little annoyed with jet noise in her neighborhood, but for her and other people who live north of McCarran International Airport, there might be some — and I stress the word "some" — relief on the horizon.
"Why are the majority of flights now coming off of the short north-south runway and over my house? We used to see this pattern during conditions associated with storms and winds, but now it's day and night with no regard for midnight flights or any noise abatement. I live on Kensbrook Street in Braewood Heritage, close to Boulder Station, so I'm curious as to why the dramatic change in our quiet neighborhood."
Not to be insensitive, Valerie, but you do realize that your home is well outside the Federal Aviation Administration's designated high-noise contours where property use is restricted due to high noise levels?
And yes, sometimes it gets a little loud at midnight thanks to our 24-hour economy.
But Chris Jones, public affairs and marketing manager for McCarran, has a little news that might be welcome to you and others who have seen — and heard — an increase in air traffic in the past few months.
"It's normal for there to be more departures to the north during the cooler, winter months," Jones said. "A bump in northerly departures happens every year because of seasonal wind patterns."
But you might have noticed an even higher level of activity since the end of October when McCarran embarked on the first half of a runway rehabilitation project, Jones said.
That's when work began on Phase 1 of the Runway 25R/7L project that will transform the airport's longest runway from an asphalt surface to more durable concrete.
The good news is that Phase 1 is almost done. By the end of April or early May, work will stop and planes will go back to using that runway, the busiest one at McCarran handling about one-third of the airport's annual traffic.
The not-so-good news — Phase 2 will get cranked up at the end of October and won't be completed until the end of April 2016.
So enjoy those noise-free outdoor summer barbecues while you can.
At my house, we're constantly exposed to jet traffic participating in Nellis Air Force Base's Red Flag exercises, some of which occurs late at night.
We just remember it's "the sound of freedom," and the noise abates in about 15 seconds.
For you, it's "the sound of a healthy economy."
And remember, one less jet flying over your house might mean one more flying over someone else's.
We can't expect White Pine County-like sound levels when we live around the seventh-busiest airport in the country.
I-11 GROUNDBREAKING
A little hubbub will be going on across the street from the Hoover Dam Lodge — right where four lanes pinch down to two — on Monday morning, so you can expect traffic to slow along U.S. Highway 93 on the highway to Phoenix between about 9:30 a.m. and noon.
Dignitaries galore will be present for the groundbreaking of the Interstate 11 Boulder City bypass project.
Although it's a two-year project, it's not going to have much of an impact on traffic during construction since most of the route is away from existing roads.
Questions and comments should be sent to roadwarrior@reviewjournal.com. Please include your phone number. Follow @RJroadwarrior on Twitter.
ROAD WORK AHEAD
■ Traffic delays are expected and lanes restricted on Charleston Boulevard between Sixth and 11th streets during the construction of new median islands, a pedestrian crosswalk and a solar-powered flashing beacon at 11th. Three medians will be landscaped with trees and shrubs and one will feature decorative rock. Work is planned weekdays from 9 p.m. to 5:30 a.m. through early June. One westbound lane will be closed April 6-13.
■ Street, sidewalk, lighting and landscaping improvements are scheduled on Bridger Avenue between Main and Sixth streets through April. Traffic will be restricted to a single lane each direction.
■ The northbound lane of Dean Martin Drive will be closed for a half-mile from just north of Blue Diamond Road through the end of April, Mondays through Fridays from 9 p.m. to 5 a.m., for a water reclamation line project. Traffic will be pushed to the south and center lanes and business access will remain open.
■ Simmons Street will be restricted to one lane southbound between Lone Mountain and Craig roads for local access only through mid-May. There will be no northbound access.
■ Roads within the Lake Mead National Recreation Area are being repaired with smooth surfaces to accommodate bicycles from Lake Mead Boulevard to Milepost 20.6 on Northshore Road. Roads in the Echo Bay area, including the campgrounds, will be resealed. Officials expect 15-minute delays at the construction site. Work is planned weekdays through May 22.
■ The northbound sections of Rancho Drive and Decatur Boulevard are part of a street-widening project. Two lanes will be open in each direction. Other portions of the project will continue through May.
■ The westbound lanes of Warm Springs Road from the Warm Springs-Eastern Avenue intersection to the Warm Springs-Spencer Street intersection will be restricted through June 9. Eastbound and westbound lanes of traffic will be shifted to the south half of Warm Springs during construction.
GASOLINE PRICES
The average gasoline price Friday in the Las Vegas Valley was $2.79 per gallon. It was $2.79 in Nevada. The national average of $2.40 is down 3 cents from a week ago, down 5 cents from a month ago and down $1.18 from a year ago.