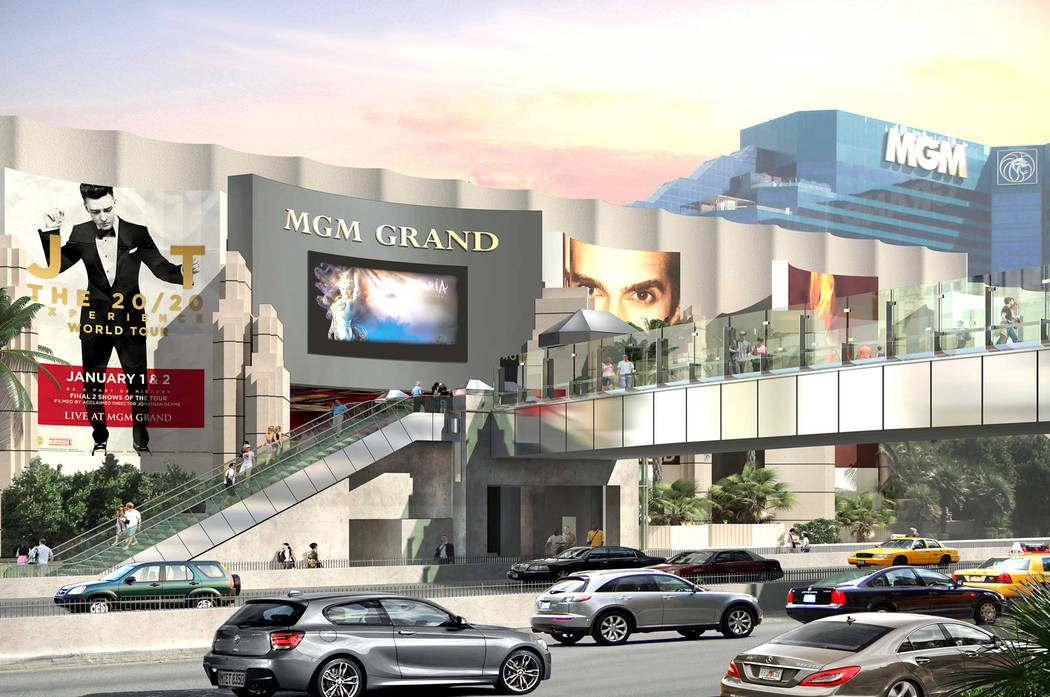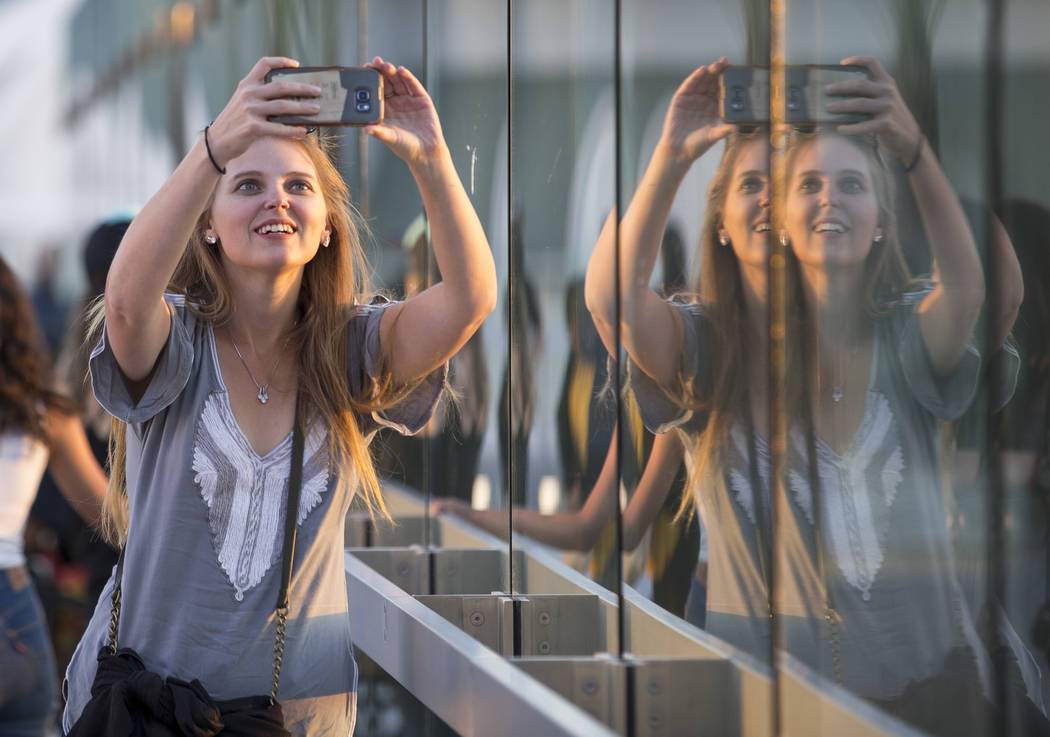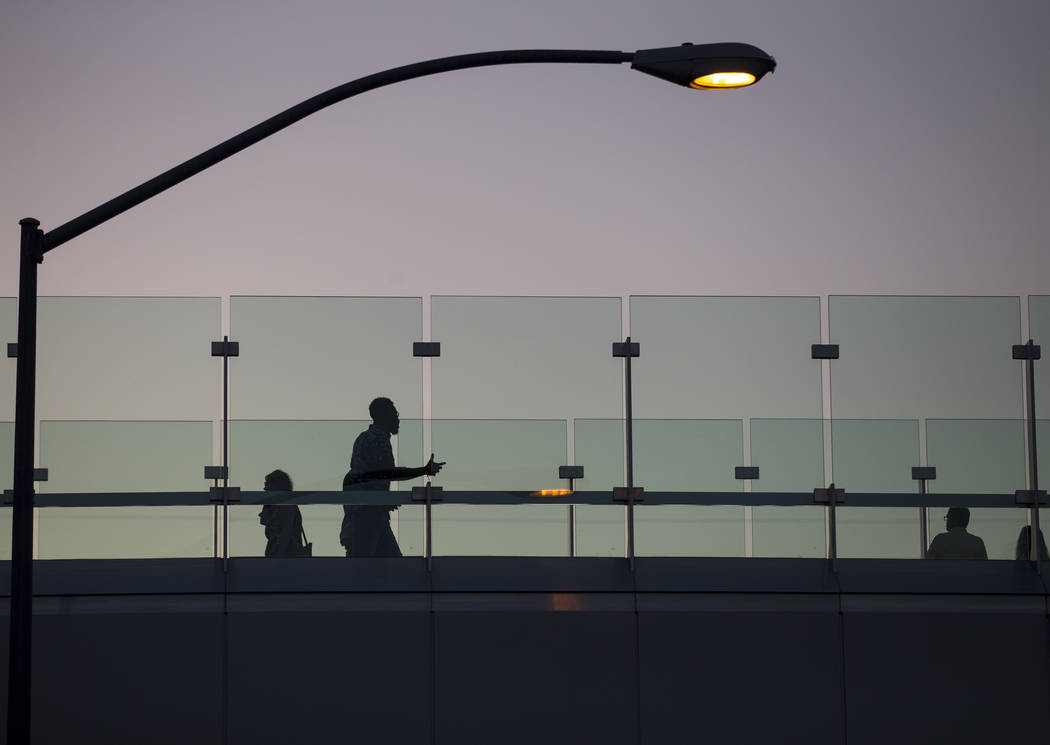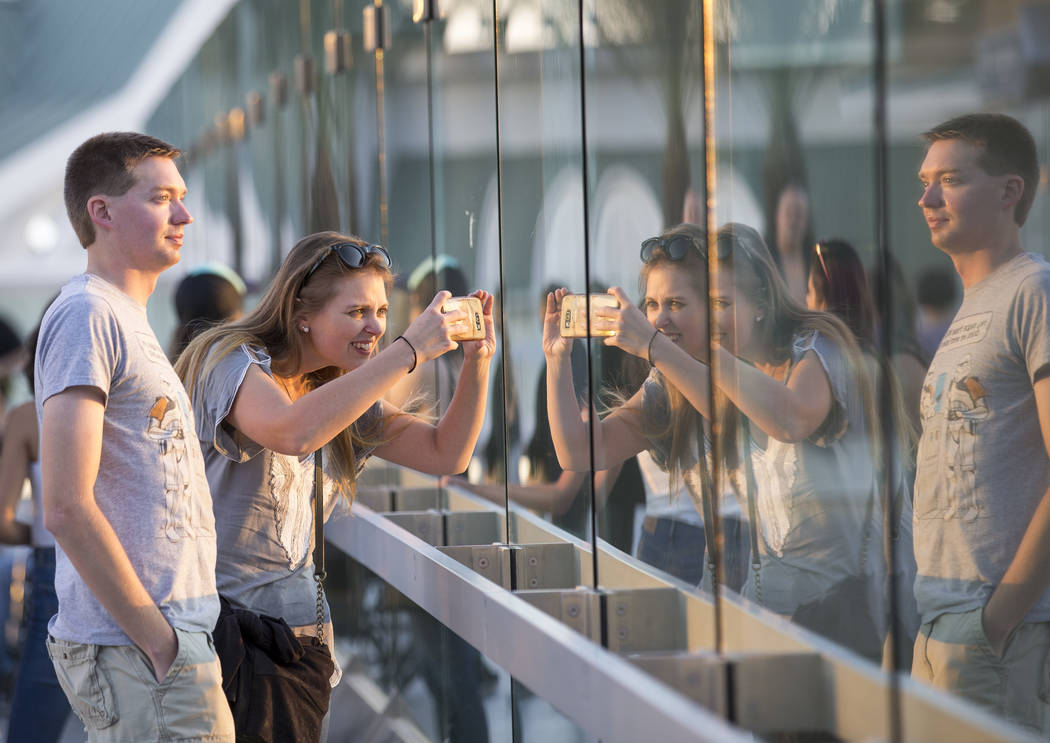 Three down, one to go.
The pedestrian bridges at the southern end of the Strip have undergone a complete transformation over the past year, and the work is nearly finished.
Up next: the bridge connecting New York-New York and Excalibur will close Monday as crews make a series of upgrades matching three other completed bridges at Las Vegas Boulevard and Tropicana Avenue.
Construction will continue through Dec. 29, with ongoing traffic lane restrictions beneath the span running from 10 p.m. and 8 a.m. on weeknights, according to the Nevada Department of Transportation.
The closure is not expected to affect Golden Knights fans who park at Excalibur, riders of the T-Mobile Express bus route or ride-share passengers headed to the hockey game. The bus stop and designated ride-share areas are at the northwest corner of the Excalibur's new garage. From there, hockey fans can walk along Frank Sinatra to access T-Mobile Arena.
Anyone who's taken a recent stroll on the refurbished bridges may have noticed some pleasant aesthetic changes since renovations began in June 2016.
Gone are the clunky chain-link fences that made the area seem more like a prison yard than a vacation destination. Tempered glass panes and aluminum panels now line the 165-foot-long spans to finally match the newer, sleek pedestrian bridges farther north on the Strip.
The elevators were fitted with air conditioning units, while a new set of escalators and handrails are now brightly lit.
The bridge linking Excalibur and Tropicana was completed first, in December 2016, followed by the span connecting Tropicana and MGM Grand in June. The bridge between New York-New York and MGM Grand reopened in September.
The $30.2 million makeover is primarily funded by the Las Vegas Convention and Visitors Authority. Clark County will assume responsibility for the bridges when the project concludes.
The renovation was supposed to be completed by mid-2018, but construction was sped up so that all four bridges would be open in time for New Year's Eve, when a 3-mile stretch of the Strip will shut down to make room for revelers ringing in 2018.
Expediting the work drove up construction costs by $235,000, NDOT officials said.
The 23-year-old pedestrian bridges are not just the oldest in Southern Nevada but also one of the state's busiest crossings, with roughly 130,000 pedestrians daily.
Let's get physical
Mary from Las Vegas said her husband received a notice from the Department of Motor Vehicles stating that he needs to undergo a physical examination to renew his driver's license because he is older than 71.
Mary wanted to know why 71 is the magic number and how long this requirement has been in place.
"That age seems a little young, but I'm glad if it's something that helps keep unsafe drivers off the streets," Mary wrote in an email to the Road Warrior.
Maybe your husband should renew his driver's license in person at a DMV office.
The physical exam applies only if drivers 71 and older want to renew their licenses by mail, DMV spokesman Kevin Malone said.
The DMV has not tracked the failure rate since this rule was established in 1995, the same year that mail-in driver's license renewals started in Nevada.
Southeast concerns addressed
A couple of safety concerns in the southeast end of the valley were brought to the Road Warrior's attention.
Greg from Henderson noticed some major road cracks on Tropicana Avenue, from Stephanie Street east until it turns into Broadbent Avenue and meets with Russell Road.
And Luigi from Las Vegas would like to see a traffic signal installed at Cactus Avenue and Bermuda Road, which is currently a four-way stop near Liberty High School.
Clark County spokesman Dan Kulin said there are plans to repave this stretch of Tropicana and install a signal at Cactus and Bermuda, but a construction schedule has not been set for either project.
Lights out
Dave from North Las Vegas noted that the streetlights along Casa Norte Drive, near Commerce Street, operate intermittently once or twice a week.
"Most of the time, the street is dark and this is an unsafe situation," Dave said.
"It appears the powers-that-be believe that safety is only necessary in a piecemeal fashion, but they are seriously deluded because the street lights need to be turned on every night."
Crews were recently dispatched to take a look at the problem and make the necessary repairs to the outage, which was likely caused by a short in the wiring, North Las Vegas city spokeswoman Delen Goldberg said.
Questions and comments should be sent to roadwarrior@reviewjournal.com. Please include your phone number. Follow @RJroadwarrior on Twitter.
Road work ahead
Downtown
— Southbound Interstate 15 will be restricted between Washington Avenue and U.S. Highway 95 from 10 p.m. Monday to 6 a.m. Oct. 26. Crews are installing traffic management signs.
— Washington Avenue is restricted between Robin Street and Rancho Drive through Thursday. Crews are working on a channel project.
— Washington Avenue is restricted between Rainbow and Decatur boulevards from 7 a.m. to 4 p.m. weekdays through first week of December. Crews are laying new pavement and adding medians.
— Main Street is restricted between Fremont Street and Ogden Avenue through Dec. 20. Crews are demolishing a building.
— Ninth Street is closed between Carson and Main streets through Dec. 31. Crews are installing water and sewer lines.
— U.S. Highway 95 is restricted between Rancho Road and just east of Interstate 15 through January 2018. Crews are building a new flyover ramp for high-occupancy vehicles as part of Project Neon.
— The Martin Luther King Boulevard onramp to northbound Interstate 15 is closed through January 2018. Crews are building a carpool ramp.
— The ramp connecting southbound U.S. Highway 95 to northbound Interstate 15 is closed through January 2018. Crews are building a carpool ramp.
— Main Street is restricted between Bonneville Avenue and Las Vegas Boulevard through May 2018. Crews are working on a storm drain.
— Sections of Bonneville Avenue, Charleston Boulevard, Grand Central Parkway and Martin Luther King Boulevard will have closed or disrupted lanes surrounding the Spaghetti Bowl as crews work on Project Neon through July 2018.
Southwest
— Fort Apache Road is restricted between Sunset and Post roads through Oct. 31. Crews are doing sewer work.
— Sunset Road is restricted between Fort Apache Road and Ivesdale Street through Oct. 31. Crews are doing sewer work.
— Jones Boulevard will be intermittently restricted between Warm Springs and Robindale roads through Oct. 31. Crews are doing field survey work.
Northwest
— Grand Teton Drive is restricted between El Capitan Way and Buffalo Drive from 7 a.m. to 4 p.m. weekdays through early January. Crews are making road improvements.
East valley
— Northbound U.S. Highway 95 will be restricted between Wyoming Avenue and Charleston Boulevard from Monday to Thursday. Crews are making bridge repairs.
Henderson
— Appaloosa Road is restricted between Wagonwheel Drive and Rawhide Drive through late October. Crews are installing a storm drain.
— Wigwam Parkway will be intermittently closed in both directions at Gibson Road through the end of December. Crews are installing a new traffic signal and making sidewalk improvements.
— Center Street is restricted between Burkholder Boulevard and Lake Mead Parkway through June 2018. Crews are making various road improvements.
North Las Vegas
— The ramp linking northbound Interstate 15 to the 215 Northern Beltway will close from 7 p.m. Monday to 5 a.m. Tuesday. Crews are paving the road.
— Nellis Boulevard is restricted between Cheyenne Avenue and Las Vegas Boulevard from 6 a.m. to 3:30 p.m. weekdays through July 2018. Crews are installing sewer pipes.
Gasoline prices
The average gasoline price Friday in the Las Vegas Valley was $2.66 per gallon. It was $2.71 in Nevada. The national average of $2.47 is down 2 cents from a week ago, down 17 cents from a month ago and up 22 cents from a year ago.