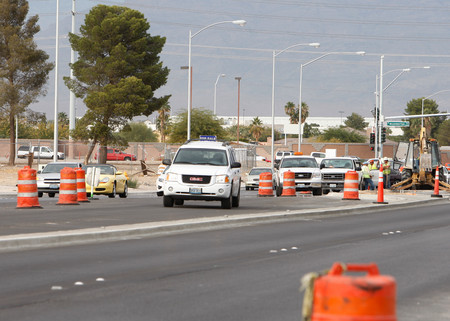 F rustrations over the ongoing road work along Martin Luther King Boulevard continue to brew. The city of Las Vegas is widening the stretch between Carey Avenue and Alta Drive to three lanes in each direction.
Here's Rich's question: In what decade will construction on Martin Luther King be finished?
Good question Rich. The project is six months overdue and it's difficult to pin down exactly why. Wells Cargo, the contractor, has not returned repeated phone calls. City officials have said crews unexpectedly ran into some old underground utilities, sending engineers back to the drawing board. A month ago, the city's answer to your question was the first quarter of 2010. But a request for an update resulted in this answer: The second quarter of 2010. We shall see.
A reader from Down Under wants to know what type of paint is used to line Vegas roads since it seems every summer those lines marking the lanes disappear.
Government agencies are making the move to reflective tape or buttons to lower the cost of maintenance. According to Jennifer Knight, spokeswoman for Clark County, 70 percent of county roadways use these markers.
When paint is used, it's an oil-based paint that stands up to wear and tear but still, the dust, blistering sun and heavy traffic takes their toll. The county repaints the striping once a year; twice a year on arterials that are more heavily used. However, budget constraints have made it more difficult to keep up with the maintenance.
John is concerned about Interstate 15: Can someone please explain to me where the new lane on I-15 northbound on the Sahara bridge came from and why? I've had two close calls at that spot already.
This new lane was opened up to traffic a few months ago as part of the I-15 express lanes project. While the southbound lanes include one express lane, designed for vehicles traveling from Sahara Avenue all the way to the Las Vegas Beltway, the northbound lanes near Sahara are for general traffic.
But John may have a point about safety. Of the last 19 accidents reported on Las Vegas highways, nine have occurred on I-15 north at Sahara. Stay tuned for more on this.
Rick's question is about Whitney Elementary School: All of us park on streets that have signs that say "No Parking." On all the streets around the school this is how it is but we have no choice. I wanted to know if they are planning to build a legal parking space for parents to park when they pick up their kids or when there are school plays.
Unfortunately Rick, there are no new plans to add parking spaces on the school grounds. According to Michael Rodriguez, a public information officer for the Clark County School District, the parking lot was expanded and number of spaces increased in 2004.
If you have a question, tip or tirade, call Adrienne Packer at (702) 387-2904, or send an e-mail to roadwarrior@reviewjournal.com. Include your phone number.
The Interstate 15 southbound exit to Lake Mead Boulevard will be closed starting Thursday through Dec. 24. The Lake Mead Boulevard on-ramp to I-15 north also will be closed through Dec. 24..
Interstate 15 south at Tropicana Avenue will be subject to lane restrictions as crews conduct bridge inspections from 9 p.m. to 1 a.m. Thursday into Friday.
The Las Vegas Beltway at U.S. Highway 95 will be closed from 9 p.m. to 7 a.m. on Nov. 21 and Nov. 22 for sign replacement. Over that same weekend, the Beltway eastbound ramps at Gibson Road and Stephanie Street also will be closed.
Beginning at 9 p.m. Thursday through 6 a.m. Friday, construction will continue on Flamingo Road between Audrie Street and Koval Lane and just east of Koval. The alley behind Bill's Gambling Hall will be closed during construction hours.