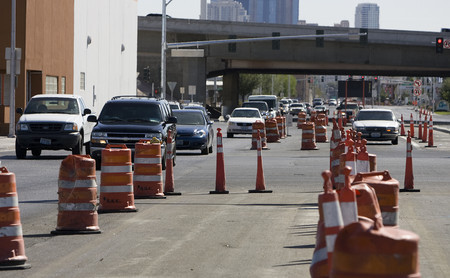 It's Thanksgiving weekend, so what better time to express gratitude for some transportation projects that have made life a little easier and, well, hurl turkeys at others that seem never-ending.
We're stuffed and cranky because we're forcing ourselves to go to the gym, so why not launch a few turkeys first.
Here, Wells Cargo, catch this feathery beast. This company is charged with widening and repaving Martin Luther King Boulevard. How hard can this possibly be, you ask?
As previously noted, it has taken nearly as long to repair this road as it has for construction workers to erect the massive CityCenter. Crews ran into old underground utilities, and that was unexpected. Of course, we heard this from the city since the company won't return calls.
Fine, these things happen. But what's with the phantom workers? What's with cones planted willy-nilly along stretches that seem perfectly fine to drive. What's with the steel grates protruding from the roadway ready to rip the rubber right off your tires?
Here's another turkey, for the Las Vegas Monorail. Of course, we won't fire this bird from the vicinity of the airport because we don't want to interfere with air traffic, and it would a waste of time, a sure miss since the train doesn't go there.
I haven't hopped on the monorail-bashing brigade just yet, but I did take a ride recently. Two young guys at the ticket kiosk summed up my opinion best: "Dude, let's just take a cab; it's cheaper."
Seriously. Ten bucks for a round-trip from the Sahara to the Las Vegas Convention Center? That's about a mile.
Speaking of rail systems, or lack thereof, I'd lob a couple turkeys the way of U.S. Sen. Harry Reid and Gov. Jim Gibbons for squabbling over which high-speed train would best fit the Las Vegas community: the Maglev or the DesertXpress.
I'd hate to feign that I am more in tune with Southern Nevadans than these seasoned politicians, but based on reader comments I see and hear on the subject, here's a tip: The consensus among Las Vegas residents is that we'd like a train to Los Angeles, not to podunk Egypt, aka Victorville. If nothing else, we could just hook up our monorail to Disneyland's — link the Most Sinful Place on Earth to the Happiest Place on Earth — and call it a day.
Gibbons gets an extra bird for failing to expeditiously spend our stimulus money on transportation projects and put hundreds of Nevadans back to work. If he was as prolific with creating these jobs as he is with firing off text messages to female acquaintances in the dark of the night, it might knock a few percentage points off our unemployment rate.
Since turkeys are heavy and difficult to toss — and this requires rapid fire — I'll spray a few Cornish hens around, too. One definitely goes to the project at St. Rose Parkway and Pecos, where once again, cones exist, workers don't, and the road work goes on and on and on.
Another hen is aimed toward Summerlin, where the utility work at Rampart Boulevard and Alta Drive has dragged on for months.
And how about Oakey Boulevard? Lanes shift, lanes are restricted, and sometimes the street is completely closed, infuriating motorists.
Now, fearing I might be sounding like a complete Negative Nancy, there are a few things for which we should give thanks.
Most notably, perhaps, are the express lanes on Interstate 15, which allow motorists to zip down to the Las Vegas Beltway from Sahara Avenue without dealing with merging drivers. It's also a relief to see our community join other larger cities and actually designate lanes for high-occupancy vehicles.
And how about Brian Hoeft with the Freeway & Arterial System of Transportation. The guy doesn't brush off motorists' complaints about out-of-synch traffic signals as coming from whiners. He actually sends technicians out to the problem locations and fixes the lights when necessary.
Plus the guy is a San Francisco Giants fan. Who wouldn't give thanks to someone who would stick by those turkeys?
If you have a question, tip or tirade, call the Road Warrior at 387-2904, or e-mail her at roadwarrior@reviewjournal.com or apacker@reviewjournal.com. Please include your phone number.
The Interstate 15 southbound exit to Lake Mead Boulevard will be closed Thursday through Dec. 24. The Lake Mead Boulevard onramp to I-15 north also will be closed through Dec. 24. Lake Mead is closed at Interstate 15.
Continue to expect disruptions on Oakey Boulevard between Valley View Boulevard and Rancho Drive. It might be best to avoid the intersection, as there have been unexpected closures because of the installation of a drainage system.
Bonanza Road is reduced to one lane in each direction at Interstate 15 until Dec. 10.
Lane closures will be in effect on Cheyenne Avenue between U.S. Highway 95 and Nellis Boulevard from 9 p.m. to 5 a.m. Sundays through Thursdays.
LAS VEGAS REVIEW-JOURNAL