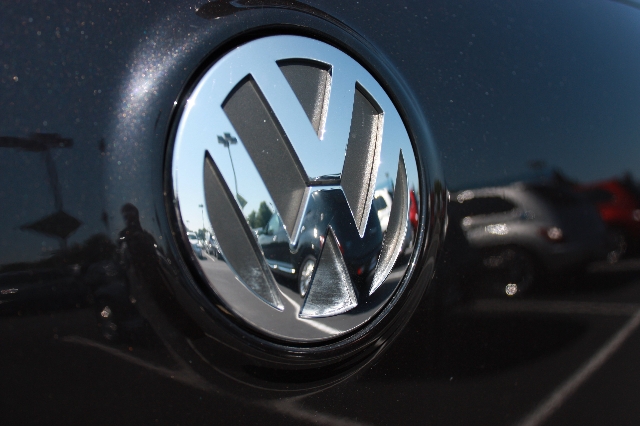 Nevada Volkswagen owners can breathe easier.
And they may not even breathe any toxic gases when they do.
You've probably heard that the makers of the Beetle, Golf, Jetta and Passat VW models have a full-blown scandal on their hands when they admitted that since 2009 they've been installing software on their "clean diesel" cars — about 482,000 of them in the United States and 11 million worldwide — that tell engine testers that they are compliant with environmental standards.
In essence, the cars' pollution-control systems worked only when they were being tested but not when on the road.
The Environmental Protection Agency could fine Volkswagen up to $18 billion, and the Department of Justice may seek criminal charges for the violations. The company's CEO has resigned, and company stock prices have cratered.
The EPA has ordered Volkswagen to fix all affected vehicles, but those details haven't been worked out yet.
The scandal inspired Warrior reader Robert to make this inquiry: "Presumably VW has sold several hundred VW 'clean diesel' cars in Clark County. Presumably, they all passed smog for the initial registration and the renewals afterwards. VW has now publicly admitted that it programmed the car computers to turn off certain emissions equipment when being tested.
"I understand from news articles that the actual emissions from these vehicles may be considerably higher than what was showing on the emissions tests. What happens to the people who bought these cars but may now have vehicles that cannot pass a genuine, objective emissions test regardless of vehicle condition? The real emission results, measured differently now, may exceed the legal limits."
Robert says he isn't a VW owner, but he is curious about what friends and neighbors are going to go through.
Turns out they won't go through much.
"The Nevada diesel emissions test measures opacity — the density of the exhaust — and tampering," said Kevin Malone, a spokesman for the Nevada Department of Motor Vehicles. "We do not measure the levels of any gases and so would not detect any unusual levels. The VW vehicles in question will pass as long as they are within the limits for opacity and haven't been altered."
In Nevada's case, the software manipulation isn't considered a part of tampering with the system because onboard diagnostics, where the software is housed, aren't used in our state's emissions testing. Nevada does use onboard diagnostics on 1996 and newer vehicles with gasoline engines, but not diesel.
James Cobbs, general manager of Findlay North Volkswagen, said customers who own diesel VWs haven't been directed to do anything yet as the company and regulators sort out a settlement.
Cobbs noted that there are no safety concerns involved with the deceptive software, and he directed consumers to a website outlining the company's stance and a listing of all the models that have the software. The site is vwdieselinfo.com/.
New I-15 exit
The last time the Nevada Department of Transportation undertook a project to develop a new exit on Interstate 15, we got the Cactus Avenue interchange, just south of Silverado Ranch Road. It changed commute patterns, particularly for residents of Southern Highlands, who could access I-15 without having to go all the way south to St. Rose Parkway or north to Silverado Ranch or even Blue Diamond Road to get on the freeway.
But it also spurred some aggravation about Cactus east of Las Vegas Boulevard, where some motorists complained about speed limits in residential areas and whether the street should be widened.
Now, a new I-15 exit is on the horizon with plans to add a traditional diamond interchange at Starr Avenue.
Department of Transportation officials said improvements would include a full-access interchange at Starr plus the construction of Starr between Dean Martin Drive and Las Vegas Boulevard with new traffic signals, signs, flood-control measures, landscaping and aesthetics.
People who want to weigh in on the plan will be able to do that at a public meeting Thursday at Schorr Elementary School's multipurpose room, 11420 Placid St.
An open-house style meeting is scheduled 4-7 p.m., with a brief presentation at 5:30 p.m., followed by a question-and-answer session.
A court reporter will take comments, and people will be allowed to email comments though Nov. 6.
NDOT meetings like this are informative because the project engineers and managers are there to answer questions and even take suggestions — much better than being surprised by something bad after the project is done.
— Questions and comments should be sent to roadwarrior@reviewjournal.com. Please include your phone number. Follow the Road Warrior on Twitter @RJroadwarrior