How to drive safely? Let's count the ways
August 26, 2007 - 9:00 pm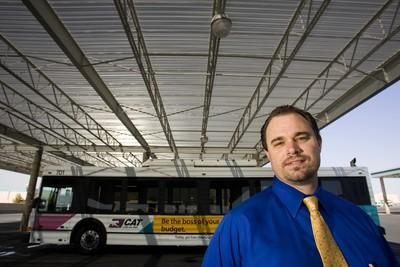 Keep two hands on the steering wheel. An object in the rearview mirror may be closer than it appears. If you're not sure which one is the brake pedal, you have a one-in-two chance of getting it right the first time. But you may not get a second chance.
No, there's not too many safe driving tips in practice on Las Vegas Valley roads these days. Unless you're spying on a bus driver, that is.
Over at Citizens Area Transit, drivers-in-training are put through a patented safe-driving course called the "Smith System," first invented in the 1950s and offered to bus drivers, truckers and other commercial drivers nationwide by the Texas-based Smith System Driver Improvement Institute.
"It was designed to assist the professional driver with the hazards and conditions of the road they have to deal with," Louis Young, the Las Vegas safety training manager for Veolia Transportation, told me recently.
Veolia is the private firm that's contracted to operate CAT service in the valley.
The system has a pretty simple premise that revolves around five basic tenets aimed at giving the driver extra time and space to evaluate road conditions and avoid traffic troubles that seemingly pop out of nowhere.
Drivers at CAT are expected to adhere to the Smith System's guidelines whenever they are steering a bus, though many take that aspect of work home with them.
"I thought myself to be an excellent driver before coming to CAT," Young said. "It (the Smith System) has changed my driving habits as a coach operator and a personal driver."
The cost for formally schooling and drilling each CAT driver on the Smith System is around $1,800. That's spare change you and I may not have lying around. For nothing more than the cost of the Sunday paper you hold in your hands, I'll give you a crash course on the system. Its advice includes:
• Aim high. "It tells the driver we need to look 15 to 18 seconds ahead of us to get an idea of what kind of conditions you're heading into," Young said. Many drivers tend to simply look one car ahead, so their first sign of approaching trouble is often brightened brake lights just a few feet away.
"Aiming high, you see (brake) lights go on three, four cars ahead of you," Young said. And that gives you enough time to safely react to a sudden change in driving conditions.
• Get the big picture. "Look around you," Young said. "You're taking in everything that's going on around you," such as "the person walking on the sidewalk. The light that's about to change." And evaluating risks accordingly.
• Keep your eyes moving. "This prevents you from getting tunnel vision" and missing a visual cue of impending trouble, Young said. "You're so enamored with what's going on in front of you, you're not always aware of what's going on around you.
"You're scanning your mirrors" constantly, he said. "We do that every five to seven seconds."
• Give yourself an out. "This is done by maintaining a space cushion in front of you," Young said. "We're required to have five to seven seconds (of travel space) in front of us.
"Driving too close, you don't give yourself time to properly brake safely," he said. By maintaining a space cushion around other traffic, "we're able to give ourselves an out so we're not slamming on the brakes, throwing everybody around the vehicle."
• Make sure they see you. "It comes down to eye contact" with passers-by at any intersection, Young said. And Young's definition of "intersection" is any kind of lane that can bring traffic onto a road. A driveway is an intersection, for example. Or a fast-food drive-through lane.
"We're constantly scanning those areas and keeping our eyes moving, making eye contact with that person (about to enter the road), making sure they see you," Young said. "(Eye) contact is made back and forth. You get an idea of what they're about to do."
Young said the Smith System has worked well for him, both on-duty and off.
"I've been able to avoid several accidents, just by using the five simple keys to defensive driving. I also pass it on to my family."
Now you can, too.
And, by the way, the brake pedal is the one on the left.
If you have a question, tip or tirade, call the City Desk at 383-0264, or send an e-mail to roadwarrior@reviewjournal.com. Please include your phone number.
ROAD WARRIORMORE COLUMNSDiscuss this column in the eForums!
The southbound U.S. Highway 95 onramp and offramp at Jones Boulevard will be closed through Oct. 18 to allow road work. Drivers are advised to use ramps at Rainbow Boulevard or Decatur Boulevard as alternates. During that time, there will be lane reductions on Jones Boulevard between Alta Drive and Washington Avenue. The southbound U.S. Highway 95 onramp at Valley View Boulevard will be closed through Nov. 6 to allow road work. Drivers are advised to use alternate ramps at Decatur Boulevard or Rancho Drive during that time. Drivers can expect lane restrictions on U.S. Highway 95 between Foothills Drive and the Las Vegas Beltway interchange in Henderson through 5 a.m. Monday to allow resurfacing work. Delays can be expected. Boulder Highway is suggested as an alternate route. Starting Monday, drivers can expect lane closures on northbound Nellis Boulevard between Sandra Road and Owens Avenue until at least Wednesday to allow underground sewer repair work.