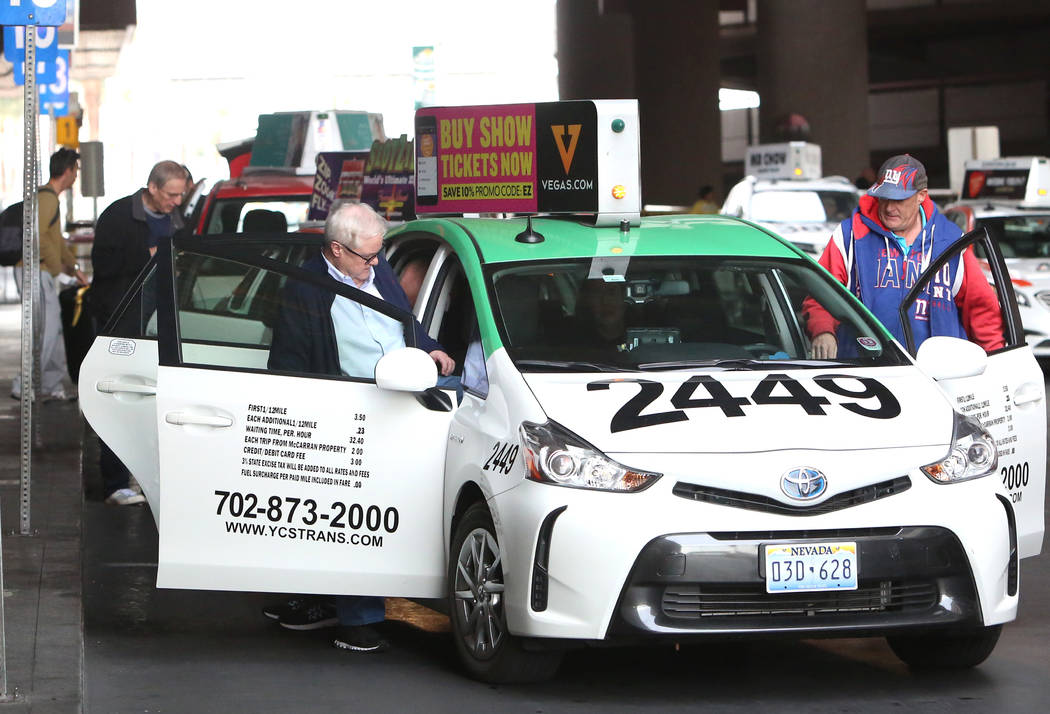 Sometimes, airmen need to travel by ground.
A select few taxi drivers might be chosen to pick up passengers at Nellis Air Force Base after undergoing rigorous criminal background checks by the military.
For now, out-of-town military officers and those living on the sprawling base must walk to the main gate to catch a cab, Senior Airman Anthony Flynn said. Unauthorized vehicles must undergo a rigorous search before being allowed on base.
The plan, Flynn said, is to work with Southern Nevada's 16 taxicab companies willing to dispatch drivers who are certified by the military.
"We're going to vet folks ahead of time, give them a credential and accept a certain form of risk by assuming they're a good actor who will pick-up our personnel when it's needed," Flynn said.
Air Force officials dropped by the Nevada Taxicab Authority's meeting on Thursday to suggest the idea, which could help with the local taxi industry's rapid declines in revenue and ridership amid the rise of ride-hailing companies.
Southern Nevada's taxi companies logged 8.85 million trips during the first five months of the year, a 12.7 percent decline from the same period last year. Revenue was down 12.8 percent during the same time, standing at $142.2 million
Uber and Lyft would not be a part of the proposed program, Flynn said.
"Frias would love to assist in any way we can, and I'm sure the rest of the industry would as well," John Marushok, general manager of Frias Transportation Management, said during the Taxicab Authority meeting.
The Taxicab Authority does not need to approve the plan, but logistics still need to be worked out between the cab companies and Nellis Air Force Base.
It's unclear how many drivers will be granted the special access or whether a taxi staging area will be set aside at the base.
"We do know that most of the folks there want this," Flynn said. "There's definitely a demand."
Henderson headache
Traffic gets pretty backed up at the U.S. Highway 95 interchange with the 215 Beltway in Henderson, according to Bob from Las Vegas. Also, Bob pointed out that it's difficult for southbound U.S. 95 drivers to merge west onto the 215, which competes with traffic coming from Auto Show Drive.
"This is a mess, and it's only going to get worse," Bob wrote in an email to the Road Warrior.
The Nevada Department of Transportation is conducting a $5.3 million traffic study analyzing major freeway corridors across the Las Vegas Valley, including this interchange, NDOT spokesman Tony Illia said.
The results won't be released until spring 2018, but Illia said the report will help "inform decisions about future improvements and repairs."
Keeping up with laws
With the end of Nevada's legislative session earlier this month, Kang from Las Vegas wanted to know how drivers are supposed to keep track of new traffic laws.
"There's no requirement for us to keep up-to-date on these changes," Kang said. "What used to be illegal is now legal and vice-versa."
The most immediate way is to check the Nevada Legislature's website to look-up specific laws or visit the Nevada Department of Motor Vehicles website for law changes, Nevada Highway Patrol trooper Jason Buratczuk said.
"The newest law that may impact drivers is that vehicles must now maintain the posted speed limit in the far left lane," Buratczuk said. "If they go below the posted speed limit, then they must move to another lane."
Starting July 1, drivers should also be aware of an increase in minimum liability insurance coverage to $25,000 for bodily injury or death of one person, $30,000 for two or more people and $20,000 for property damage, DMV spokesman Kevin Malone said.
Another law requires mopeds to drive in the far right lane on a multi-lane road unless it is safe or they are preparing to turn left, Malone said. Mopeds cannot move into the left lane more than a quarter mile away from making a turn.
And drivers arrested with a 0.08 blood alcohol concentration and above will be required to use ignition interlock systems interlock for 90 days after an arrest, Malone said.
Questions and comments should be sent to roadwarrior@reviewjournal.com. Please include your phone number. Follow the Road Warrior on Twitter: @RJroadwarrior
Road Work Ahead
Downtown
■ U.S. Highway 95 will be closed in both directions between Casino Center and Las Vegas boulevards from 11 p.m. Wednesday to 4 a.m. Thursday. Crews are installing new traffic management signs.
■ Las Vegas Boulevard will be closed between Bonanza Road and Stewart Avenue from 7 p.m. Wednesday to 6 a.m. Thursday. Crews are installing new traffic management signs.
■ First Street is restricted between Lewis and Bridger avenues through June 30. Crews are working on street improvements.
■ Ogden Avenue is restricted between First Street and Casino Center Boulevard through July 5. Crews are replacing a water valve.
■ Martin Luther King Boulevard is closed between Oakey Boulevard and Interstate 15 through July. Crews are installing drainage boxes.
■ Oakey Boulevard is closed between Main and Commerce streets through July. Crews are installing underground utilities and storm drain infrastructure.
■ Washington Avenue is restricted between Martin Luther King Boulevard and Rancho Drive through Aug. 1. Crews are installing gas lines.
■ U.S. 95 will be restricted between Valley View Boulevard and Rancho Drive through the end of August. Crews are installing foundations for traffic management signs.
■ U.S. Highway 95 will be restricted between Rancho Road and just east of Interstate 15 through January 2018. Crews are building a new flyover ramp for high-occupancy vehicles as part of Project Neon.
■ Main Street is restricted between Bonneville Avenue and Las Vegas Boulevard through May 2018. Crews are working on a storm drain.
■ Sections of Bonneville Avenue, Charleston Boulevard, Grand Central Parkway and Martin Luther King Boulevard will have closed or disrupted lanes surrounding the Spaghetti Bowl as crews work on Project Neon through July 2018.
East valley
■ Eastern Avenue will be restricted between Flamingo Road and Rochelle Avenue from 9 p.m. to 6 a.m. Sunday through Thursday until Aug. 11. Crews are doing sewer work.
■ Owens Avenue will be restricted between Lamb Boulevard and Lovebird Avenue through Aug. 10. Crews are doing sewer work.
■ Owens Avenue will be restricted between Nellis Boulevard and Lamont Street through Aug. 21. Crews are doing sewer work.
Summerlin
■ Summerlin Parkway's westbound lanes will be restricted between Buffalo Drive and Rampart Boulevard through July. Crews are building a new auxiliary lane and making other improvements.
■ The 13-mile scenic route at Red Rock Canyon National Conservation Area will be repaved in one-mile increments through August.
Gasoline Prices
The average gasoline price Friday in the Las Vegas Valley was $2.60 per gallon. It was $2.66 in Nevada. The national average of $2.26 is down 3 cents from a week ago, down 10 cents from a month ago and down 5 cents from a year ago.
Las Vegas Review-Journal