Nevada's Freeway Service Patrol helps motorists in need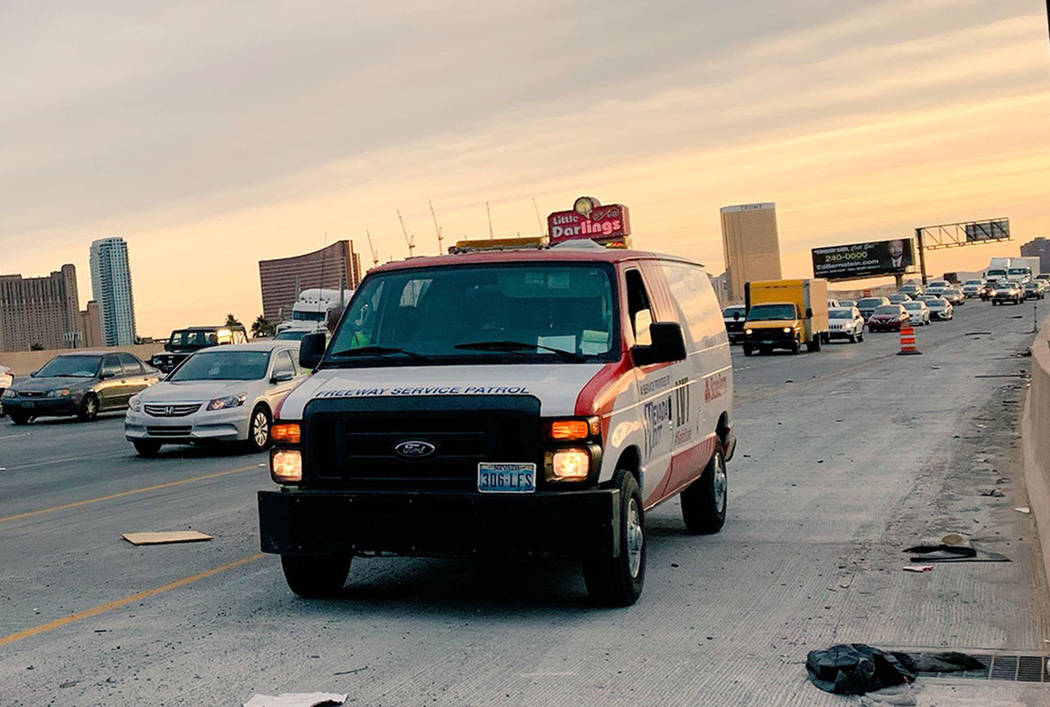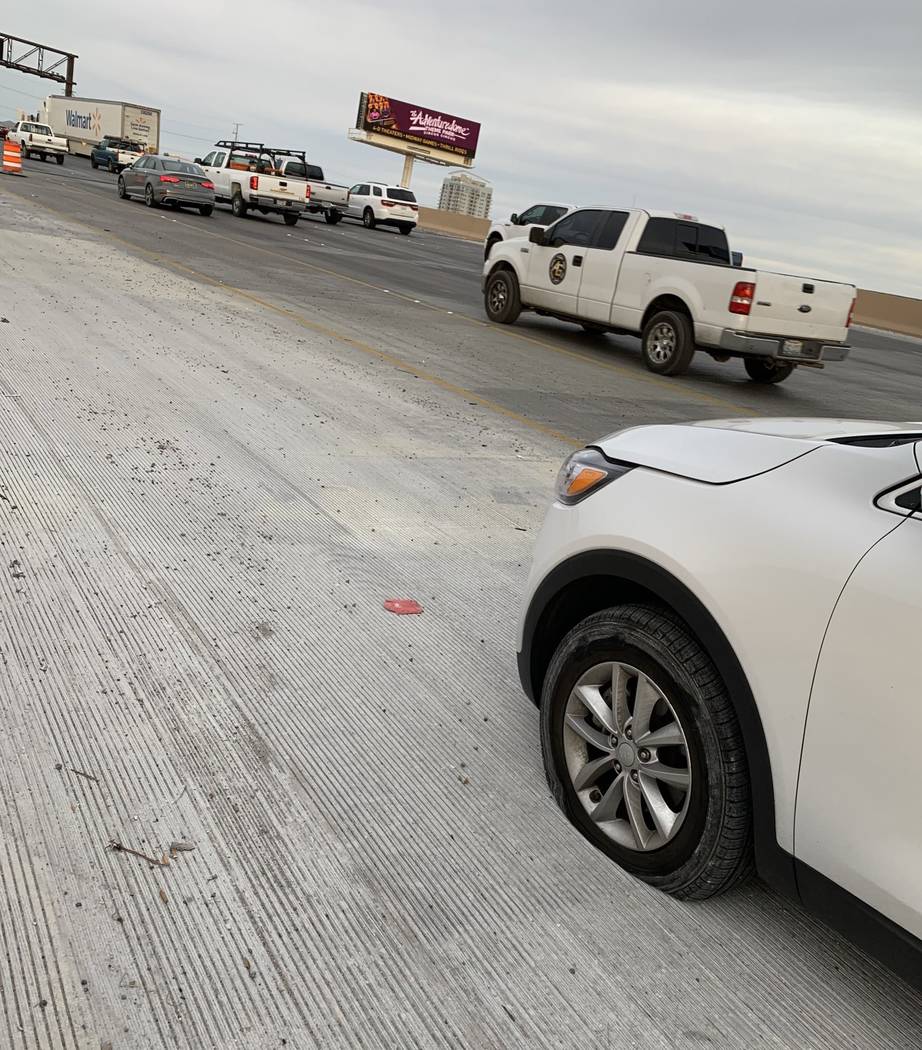 You can't have the title "Road Warrior" bestowed upon you without enduring a battle behind the wheel, right?
As I hit the final stretch of Interstate 15 headed back to the Review-Journal after an over 200-mile trip to Southern California to research another story, boom, I was welcomed to my new beat by the very roads I cover.
An auto part apparently fell off the back of a truck onto I-15 northbound near the Charleston Boulevard exit. A nearby semitruck driver and I then were lucky enough to run it over, blowing out both of our front driver's side tires.
After assessing the damage, I sat back in my vehicle and let my editor know I'd be a little later than I hoped. No stranger to changing a tire myself, having replaced more than a few over the years, I then got out to grab the spare from underneath my vehicle.
While retrieving the spare, I heard the honking noise usually heard when a law enforcement officer is looking to get someone's attention.
As I turned around, it was not an officer, but rather a member of Nevada Department of Transportation's Freeway Service Patrol.
Stephen 506 — as he was identified by the card he gave me — checked my spare to find out it was not properly inflated. So he filled it to its recommended tire pressure, removed my flat and attached the spare in under 10 minutes.
After his service, I went to give him a tip and he refused, saying the service was no cost. If anything, he said, I could leave a positive survey about my experience on their website.
Stephen was right. State Farm provides almost $330,000 in annual sponsorship to fund the Freeway Service Patrol, allowing NDOT to fund other vital transportation programs with taxpayer money.
Last year the service made over 36,000 freeway mitigations, aiding almost 18,000 disabled vehicles in Clark County.
Eighty-two percent of the mitigations were cleared in less than 15 minutes — as mine was — which improves travel time, reduces fuel consumption and vehicle emissions, and betters motorist and first responder safety.
"Roadway incidents including crashes, breakdowns and debris account for 25 percent of traffic delays," said Tony Illia, NDOT spokesperson. "For every minute a freeway lane is blocked, the resulting traffic congestion takes four minutes to clear and increases secondary crashes by nearly 3 percent."
The service is free of charge and runs from 5 a.m. to 8:30 p.m. seven days a week. Unfortunately, if you're a motorist in need of assistance you can't call them. They have to come across a stranded motorist while on their regular route.
So, although the flat was an unwelcome surprise, it's nice to know that if you're in need of assistance on valley freeways, there is a free and reliable service ready to step in and get you back on the road.
Relief coming to Green Valley
For Henderson residents living around the Arroyo Grande Parkway and Wigwam Avenue area, an early Christmas present is coming your way.
The $6.3 million improvement project that rehabilitated and reconstructed a stretch of Arroyo Grande Parkway between Sunset Road and Horizon Ridge Parkway is set to be complete by mid-December.
Disrupting traffic on the 3.4-mile stretch of road since March, the project included paving replacement; modifications to sidewalk ramps; fiber optic conduit and cable installation; sewer line removal and installation and the addition of a new traffic signal at Wigwam and Arroyo Grande parkways, replacing the previous four-way stop.
Comments, questions?
As I jump in the driver's seat and take the helm of the Road Warrior moniker, I'd love to hear your thoughts on traffic and road conditions throughout the Las Vegas Valley. Send me your questions and I'll try to get answers.
Questions and comments should be sent to roadwarrior@reviewjournal.com. Please include your phone number. Follow @RJroadwarrior on Twitter.